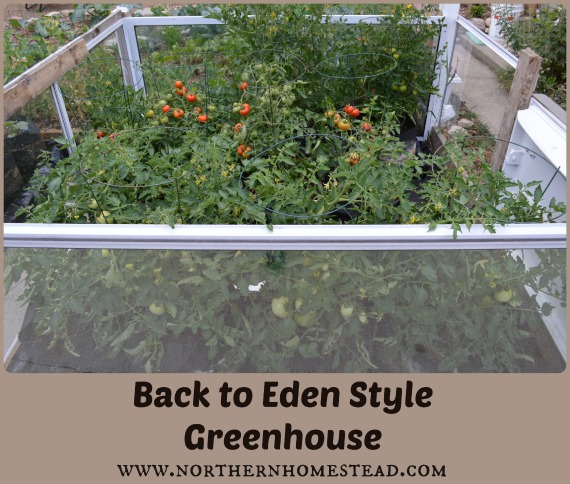 As you know, we are very much into the Back to Eden gardening method. It is so easy and works great for us! I like to watch Paul Gautschi on YouTube. He offers so much free information. If you have seen some of his videos, you might have noticed that Paul's greenhouse is roofless. Paul was reading an article about an experiment on tomatoes growing in direct sunlight as well as in a greenhouse, and the tomatoes in the greenhouse had much less nutrients. He tells the story about how his greenhouse rooftop was blown away in a storm. He wanted to replace it, but God reminded him not to. See the episode for yourself if you wish, starting at 7 minutes.
Hearing Paul, I was inwardly debating with him about the roofless greenhouse. I get it, that there are less nutrients behind glass or plastic, but it is just too cold here to have a roofless greenhouse. For us it is tomatoes with less nutrients or no ripe tomatoes at all. We even struggle sometimes to get tomatoes to ripen in an enclosed greenhouse. Again and again I was reminded of this video to try the roofless greenhouse. Sure, Paul does not know how cold it is here, but God knows. There is no way I can win a debate with God. So finally we are tried out the roofless greenhouse.
Our roofless greenhouse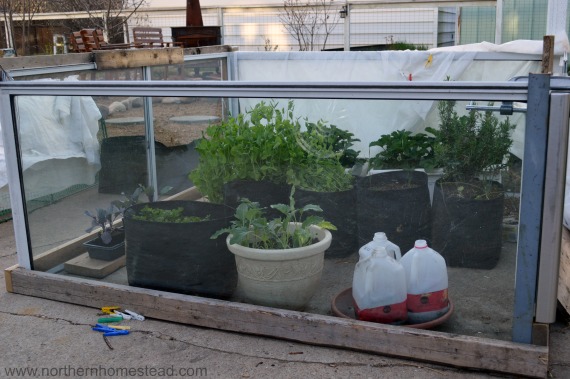 We did not plan to build a roofless greenhouse, I do not think Jakob would have agreed to do so. But last year we built a temporary greenhouse to harden off plants in the spring. It worked so well that we decided to do it again this year. Since this year Jakob was the one in charge of building it, he did not want to make it as temporary as last year. He had better tools and better ideas, so it turned out really nice. He used some recycled windows and patio doors for the walls, and a recycled door to get into it. Plus, we had all those grow bags that we would not use in the greenhouse this year. It seemed to be the perfect opportunity to try the roofless greenhouse.
Using the roofless greenhouse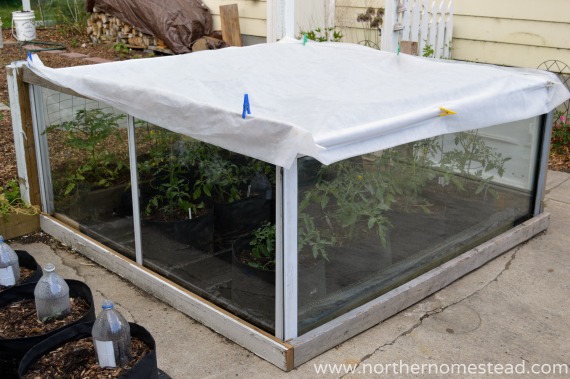 This tomatoes were seeded on March 25 indoors and planted into the grow bags on May 21. We covered the roof of the roofless greenhouse as needed on very cold (below 6C – 42.8F) and rainy nights, sometimes even days. For covering we used Frost Blankets
and/or plastic, depending on the weather. But most of the time the greenhouse top is open and the plants are getting some direct sunshine. I must say that this was an unusually warm spring and summer so far. Unusual to us, but still night temperatures do drop below 10C – 50F on a regular basis.
Roofless greenhouse results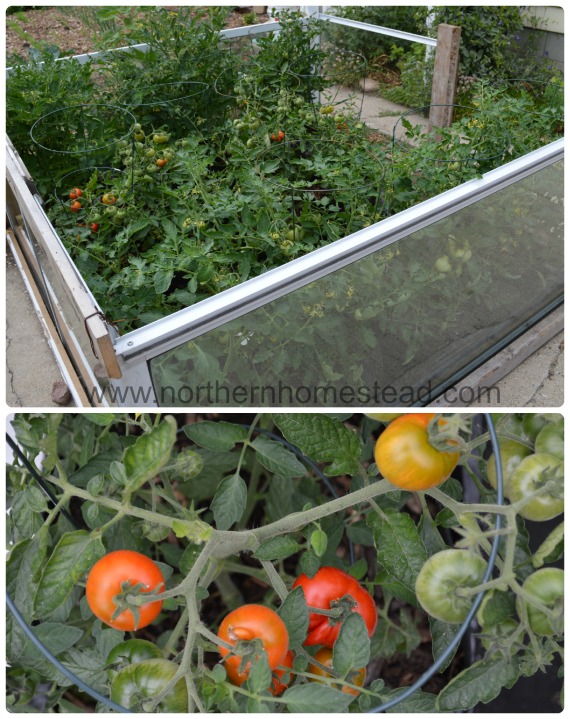 If Paul would have been the one saying that a roofless greenhouse is better, I would not have even thought about trying it out. But since he claims God told him so, and God also reminded me again and again to try it, I just had to. And I am blown away with the results. Honestly, I do not remember ever having had such early ripe tomatoes! We picked the first ones at the end of June! Plus, the plants are really healthy and loaded with fruit.
I am sure the black grow bags help too, but right next to the roofless greenhouse we planted some cucumbers just the same in bags, and they do well, but not amazingly great like the tomatoes IN the greenhouse do.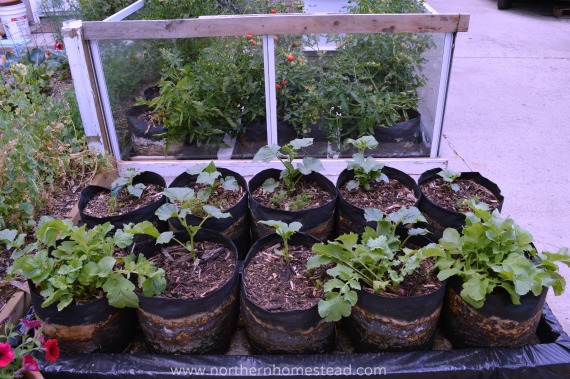 The roofless greenhouse definitely works, even in our cool Canadian summers. I know, it is against my logic, but God knows best, right? I am humbled and amazed with this experiment.
Excited about God
It fascinates me to know that God cares about our garden and the way we do things. He wants us to succeed. God communicates with us even about daily little things. He is there with us in the garden. That is how God is, he was with Adam and Eve, the first people on earth, in the garden, too (Genesis 2). If you know Him, walk with him in the garden. He might tell you things that will blow you away as well.

We invite you to subscribe to Northern Homestead and follow us on Facebook or Pinterest for the latest updates.