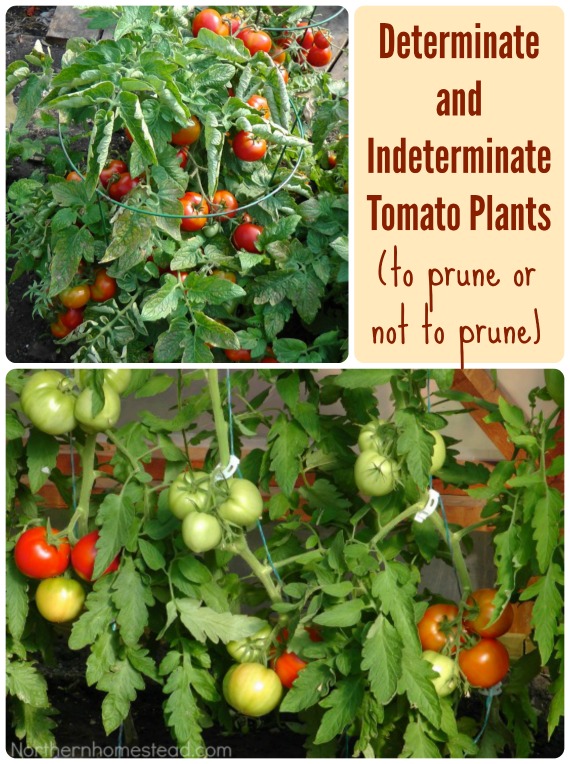 There are two main varieties of tomato plants: Determinate and Indeterminate. A seed package will tell you what you got. I don't know of a way to tell if a plant is determinate or indeterminate by just looking at a young plant, but later in the season you can see if it is a bush or a huge still growing plant.
Determinate tomato plants
Determinate plants are bush type plants. They only grow to a certain height, produce their fruits, and die off.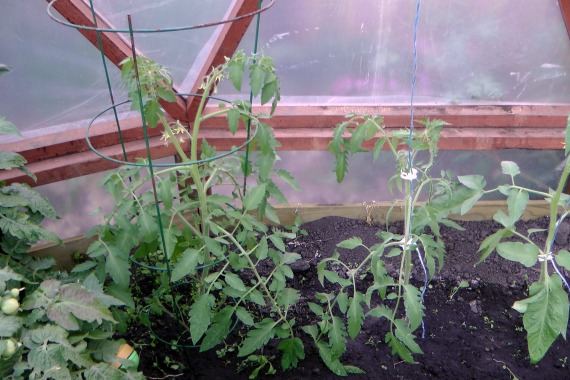 The picture above is showing a determinate plant that is higher at the beginning of the season than the indeterminate next to it. In a month the determinate will be about double in width and the indeterminate double in height.
Determinate plants need a cage to support them. They grow suckers just like all tomatoes, but do not need to be pruned. The reason is that the suckers will also not get bigger then the plant is, and actually give you another crop, so do not prune determinate plants.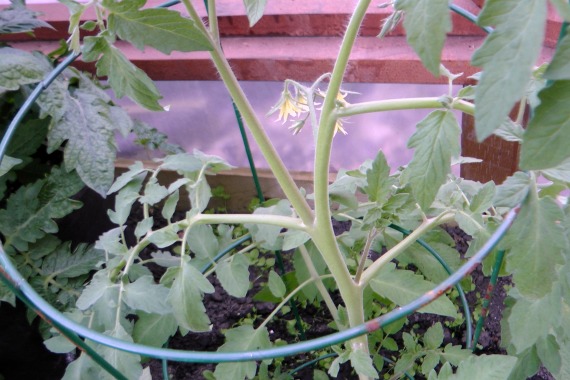 Determinate tomato plants look good and do well in a pot, especially the smaller varieties. Plus, determinate varieties are usually earlier than indeterminate. They are great for beginners and for short growing seasons.
Indeterminate tomato plants
Indeterminate plants grow all season long. If all the suckers are left on, it will eventually be a huge bush too, with the difference that the suckers grow endlessly. So if they are not pruned, they definitely will need a huge cage.
Some tomato growers like to cut indeterminate tomatoes back, so they stay small, and let the suckers grow to a limited height. That way it turns into a wide bush. If space is not an issue it is an interesting way to grow.
We prefer to prune indeterminate tomatoes to a single stem. That way we can grow more plants in a small space, vertically. For support we use Tomato Clips
with a string.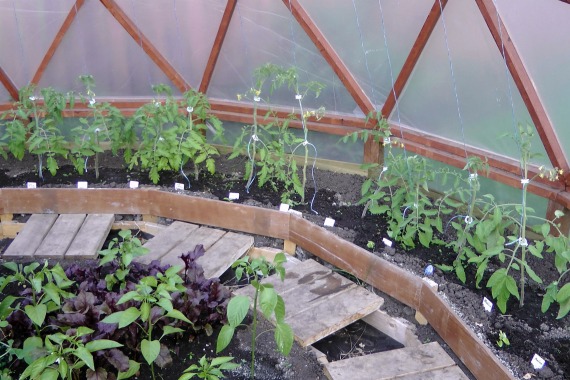 Indeterminate tomatoes can be grown in a pot too. They do good pruned to a single stem supported by a stick and leaning onto a south facing wall.
Dwarf tomato plants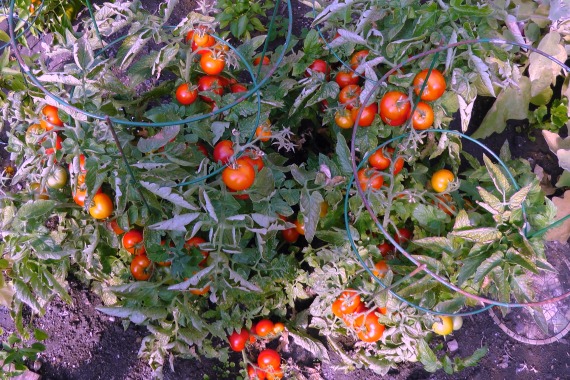 Dwarf tomato plants stay small even if they are indeterminate plants. We do not prune dwarf tomato plants. I like to start a few dwarf plants very early and plant them in a pot; we have our first ripe tomatoes a month or two before the rest come. They also do very good in the ground with a cage.
How to prune indeterminate tomato plants
Only indeterminate, not dwarf varieties need to be pruned. Pruning will give you earlier and better fruit. You have the choice pruning the plant to a single stem by removing the suckers, the little thing between a leaf and a stem that look like little plants.
You can snip the suckers off with your finger. If you decide to prune your plants to a single stem, it is best to do it every week, otherwise the little suckers will grow to a branch. By the way, you can grow a new plants from this suckers.
Or you can prune the plant to a desired height and let it become a bush. Great for outside gardening where space is not an issue.
Happy tomato growing!
If you like this post don't forget to subscribe to NorthernHomestead and follow us on Facebook or Pinterest for the latest updates.