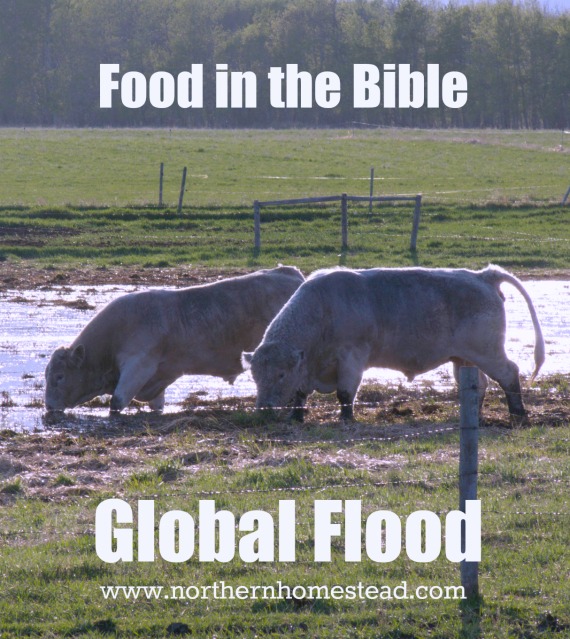 God created our world and He made it very good. The food that God created was perfectly fitting for the human race. But life on earth changed and also did the diet. We raid:
And the Lord saw that the evil of man was great in the earth, and every imagination of his heart was only evil all the time. And the Lord regretted that He had made man upon the earth, and He became grieved in His heart. Genesis 6: 5-6
If you ever thought God would not care how we live and what happens on earth, that is not true. It really does grieve him. If you do not know the story of the global flood, I would encourage you to read it starting in Genesis 6:9.
We can only imagine how much life on this planet Earth had changed after the waters of the flood dried out. One would assume that the diet would have to change, too. And sure enough, God once again takes the time to explain to the human race what we should eat. This is the 3rd time in the first 9 chapters of Scriptures that God speaks about food. He says:
Every moving thing that lives shall be yours to eat; like the green vegetation, I have given you everything. But, flesh with its soul, its blood, you shall not eat. Genesis 9: 3-4
There you go, Noah was enjoying bacon for his first breakfast back on dry land. Well, I do not think so! And here is why not. Genesis just tells us what happened. We do not know how much Noah knew about sacrifice, animals, and even consumption of meat. We do know though that he knew more than what we read in Genesis.
And the Lord said to Noah, "Come into the ark, you and all your household, for it is you that I have seen as a righteous man before Me in this generation. Of all the clean animals you shall take for yourself seven pairs, a male and its mate, and of the animals that are not clean, two, a male and its mate. Also, of the fowl of the heavens, seven pairs, male and female, to keep seed alive on the face of the earth. For in another seven days, I will make it rain upon the earth for forty days and forty nights, and I will blot out all beings that I have made, off the face of the earth." And Noah did, according to all that the Lord had commanded him. Genesis 7:1-5
Nowhere in Genesis do we read about what animals are clean and which ones are not. That list is in Leviticus 11 and Deuteronomy 14. But Noah already knew about the clean and unclean animals. In fact, we read that he did just as God had told him to and took only two, male and female, pigs with him (pigs are not clean animals). If Noah did have bacon for his first breakfast, we would not know what bacon is, at least not the pork bacon. "I give you everything" was probably meant everything available to you. Remember, Noah had seven pairs of each clean animals and birds. To make a meal from those would not affect the population of that animal kind.
What is so important about clean meat? First of all, it is important to God, and that should be reason enough to take a closer look for us too. After all, he knows best. But there is scientific support for God's wisdom (as if He would need that). It was confirmed by a 1953 study in which Dr. David Macht of Johns Hopkins University reported the toxic effect of animal flesh on a controlled growth culture. You can read more about this study here: Clean vs. Unclean Animals. There is no doubt that clean animals are just not the same as unclean. It is not just a symbolic, religious ritual for the people of Israel. God created those animals differently and He knows which ones are safe to eat.
Also, not all parts of an animal are safe for us. In each case, the blood of all the animals Dr. Macht tested showed up more toxic than the flesh.
But, flesh with its soul, its blood, you shall not eat. Genesis 9:4
Blood is not the only thing God wants us to not eat. We do not know how much of this he told Noah, but He also makes a distinction on fat.
[This is] an eternal statute for all your generations, in all your dwelling places: You shall not eat any fat or any blood. Leviticus 3:17
Well, that puts beckon into a whole new light, doesn't it? It also explains why doctors like Dr. Joel Fuhrman would never recommend bacon for breakfast. It is just so harmful for our health, and it is against Gods law to eat it. Secular health foodies often recommend to go vegetarian. We do not have to be vegetarian, but stick to God's rules of healthy eating. These rules however start in Genesis 1, with feeding an animal.
"And to all the beasts of the earth and to all the fowl of the heavens, and to everything that moves upon the earth, in which there is a living spirit, every green herb to eat," and it was so. Genesis 1:30.
Animals are created to eat grass. This is especially important if we are eating their meat. "Grassfed products are rich in all the fats now proven to be health-enhancing, but low in the fats that have been linked with disease. … When we switch from grainfed to grassfed meat, then, we are simply returning to the diet of our long-ago ancestors, the diet that is most in harmony with our physiology. Every cell and every system of our bodies will function better when we eat products from animals raised on grass.". (Dr Mercola)
Admittedly the eating meat subject is a difficult one, in the Bible as well as in modern medicine. I do not think that God created animals to be eaten in the first place. So why not just go vegetarian? There is one more thing in this Genesis 9 passage, God says:
Every moving thing that lives shall be yours to eat; like the green vegetation, I have given you everything. Genesis 9: 3
Do you remember why God gave us the green plants? Because those greens are healthy! In order to stay healthy in this world where the ground was cursed we need green plants. Is meat healthy too? Meat contains protein, iron, zinc, vitamins B6 and B12, 3-omega fatty acids and more. In fact, vegetarians have to supplement some of this in order to stay healthy. It looks like meat is essential for our health. God does not make mistakes.
Lesson learned: Eat meat, but do it thoughtfully
A thoughtless approach to meat consumption is not Biblical. God gave us meat of clean animals without blood nor fat just as He has given us the green plants. Meat from animals raised and fed as they were intended, with grass underneath and the sun overhead. Thankfully also, God did not take away the yummy and comforting foods given to men in the garden of Eden. God gives us these foods so we can be as healthy and effective as possible, so we can use the energy to glorify the holly name of God.
You may also like:
Food in the Bible – Introduction
Food in the Bible 1. – Garden Eden
Food in the Bible 2. – Cursed Ground
Don't forget to subscribe to Northern Homestead and follow us on Facebook or Pinterest for the latest updates.