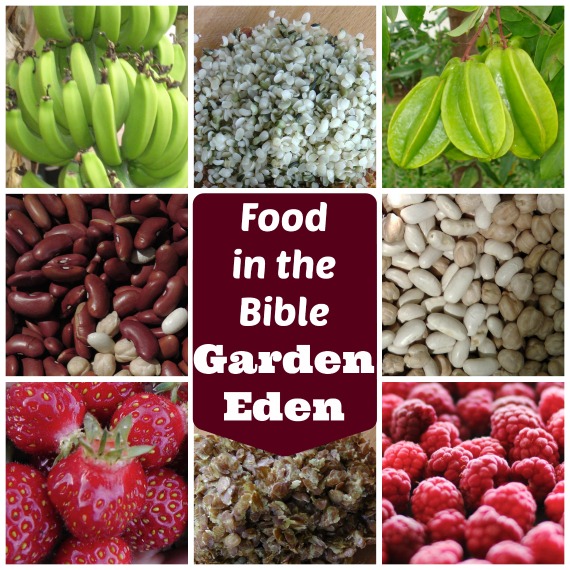 As we saw in Food in the Bible – Introduction, God created our world and he made it very good. He also created the food we should eat. Food is important for God. Lets see what Scriptures says about the food humans and animals should eat in the Garden Eden.
Garden Eden food for humans
And God said, "Behold, I have given you every seed bearing herb, which is upon the surface of the entire earth, and every tree that has seed bearing fruit; it will be yours for food. (Genesis 1:29)
What is this 'seed bearing herb, … tree that has seed bearing fruit'? Some think it is simply all plant based foods. I actually do not think so. The emphasis here is SEED. There are lots of seed bearing plants that are great for food:
All the actual seeds, like hemp seeds, sesame seeds, flax seeds, sunflower seeds, chia seeds and more. These foods are considered health foods, because they are so packed full with nutrient.
Nuts are seeds too. Nuts and seeds are a great source of healthy fats such as Omega-3 oils that are essential for our health.
All legumes are seeds. Legumes (beans and lentils) are packed with nutrient, including protein, calcium, vitamins, and minerals.
All grains are seeds. Because of the modified grains we have today, grains are in a very bad repute. But ancient grains are not bad, just what people did with them is bad. Besides, we mostly eat refined grains with refined sugar which makes it even worse. But the whole kernel of grain that God created is packed full of nutrient. Grains have an amazing storage life. In the pyramids of Egypt, kernels of wheat found buried with the pharaohs can still sprout 4,000 years later!
All these seed-bearing plants seem to be enough to let a person survive. The story of Ezekiel proves it. God told him:
And you, take yourself wheat and barley, and beans and lentils, and millet and spelt. You shall place them in one vessel, and prepare them for yourself for food; the number of days that you lie on your side, three hundred and ninety days you shall eat it. (Ezekiel 4:9)
But God did not give people only plants yielding seeds – he also created 'trees with seed in its fruit. 'An apple a day keeps the doctor away', is an old saying. Fruits are delicious and are also very healthy. And then just think of all the berries. Berries are fruits with seeds in them. They also make a great combination with all the plants yielding seeds we listed above.
Adam and Eve could have had Pomegranate Muesli for breakfast, Bean Enchiladas for lunch with some Very Berry Smoothy as dessert, a Vegetarian Pizza for dinner and a Black Cherry Sorbet to end the day with.
All in all the Garden Eden foods were delicious, comforting, and naturally sweet. Children usually love these kinds of foods. It seems natural to them, and I think it is: those are the foods we were created to eat.
As we will see in Food in the Bible 2 – Cursed Ground, things changed on our planet Earth, but I am so thankful that God did not take the Garden Eden foods from us. We can and should still enjoy them. Just do not try to "improve" (change, refine, add sugars …) what God created as 'Very Good'. We also should not forget that these foods were given to healthy people in a healthy, perfect environment. As things on earth changed, God changed our diet too.
Tree of Life and the tree of Knowledge of Good and Evil
And the Lord God caused to sprout from the ground every tree pleasant to see and good to eat, and the Tree of Life in the midst of the garden, and the Tree of Knowledge of good and evil. (Genesis 2:9).
In the middle of the garden were two special trees.
And the Lord God commanded man, saying, "Of every tree of the garden you may freely eat. But of the Tree of Knowledge of good and evil you shall not eat of it, for on the day that you eat thereof, you shall surely die." (Genesis 2:16.17).
The tree of the knowledge of good and evil was the only tree God did not allow humans to eat from. We often think about the Bible and God in such high spiritual terms that we overlook the simplicity of it. It is all about food here. Eat this and eat that but do not eat of the tree of knowledge of good and evil.
The tree of life was one of the trees that God planted in the garden of Eden. Adam and Eve could not stay in the garden Eden after they eat from the tree of knowledge of good and evil.
Now the Lord God said, "Behold man has become like one of us, having the ability of knowing good and evil, and now, lest he stretch forth his hand and take also from the Tree of Life and eat and live forever." And the Lord God sent him out of the Garden of Eden, to till the soil, whence he had been taken. (Genesis 3:22-23)
God gave us lots and lots of good foods to eat, why do we want something he did not give us as food? It seems not much has changed since Adam and Eve even though we have the ability of knowing good and evil. Is there a consequence if we eat something God did not give us as food even today? Yes, there surely is, we see all the addiction, obesity, and diseases! Too often we think 'this is just food, food is not as important', forgetting that it was just food in the garden Eden too. Food matters! God wanted people to trust and obey Him and eat or not eat what He says they should eat and what animals should eat. Do we trust and obey Him?
Garden Eden animal food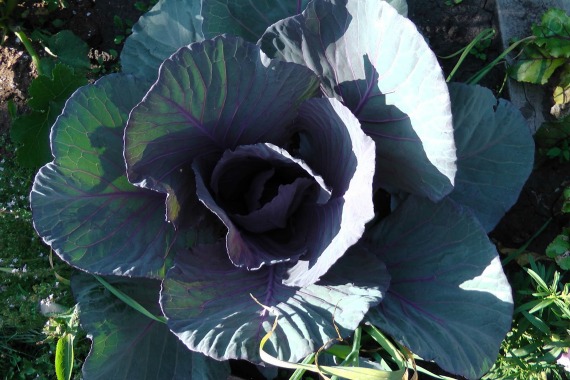 And to all the beasts of the earth and to all the fowl of the heavens, and to everything that moves upon the earth, in which there is a living spirit, every green herb to eat," and it was so. (Genesis 1:30).
'Every green plant' are all plants on earth that are leafy and green: grass, salad, the cabbage family, and others non seedy plants. God created them as food for animals. The saying: "I am not a bunny, why should I eat vegetables?" seems to have some truth to it. That would also explain the often natural disliking of vegetables. It is not just that humans often dislike green plants, we also have a hard time digesting them. Steaming and blending them helps. It is also important to notice that animals are not designed to eat grains.
Lesson learned: Trust and Obey
Trust God who created us, that He also created the best food for us. If we change, refine, sweeten, or modify what he created, we are changing the very good design God made. We are not trusting Him fully, we are saying we know better than Him. Since everything God created was very good, we can not add any good to it. Eat wholesome foods: seeds, nuts, legumes, grains, and lots of good fruits.
You may also like:
Food in the Bible – Introduction
Food in the Bible 2. – Cursed Ground
Food in the Bible 3. – Global Flood

Don't forget to subscribe to NorthernHomestead and follow us on Facebook or Pinterest for the latest updates.