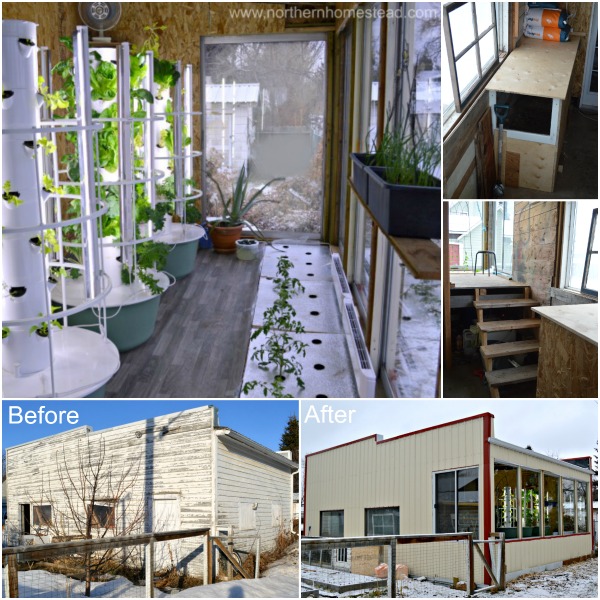 What does a greenhouse for winter growing in January look like if you live up north in Canada? About 3 years ago we started the adventure of Turning a Garage Into a Food Production Place. It is time for an update. See how this food production garage is a greenhouse for winter growing, well insulated, heated and planted for optimal yield in a very cold northern climate.
Structure
To be able to grow food in January in very cold climate you do need a special structure. A hoop house or a single layer plastic covered GeoDome would not do. There are many ideas on the internet, however, we notice that most of them would not work for us, and here is why:
The Garage/Greenhouse we have is technically not a greenhouse, since the roof is insulated. We find that for cold climate it works better. In the winter our sun is so low that it makes no difference if the roof lets the light pass through or not. But a glass roof with very low R-value would only cool the greenhouse. However, with a R20 insulated roof, there is a minimal heat loss.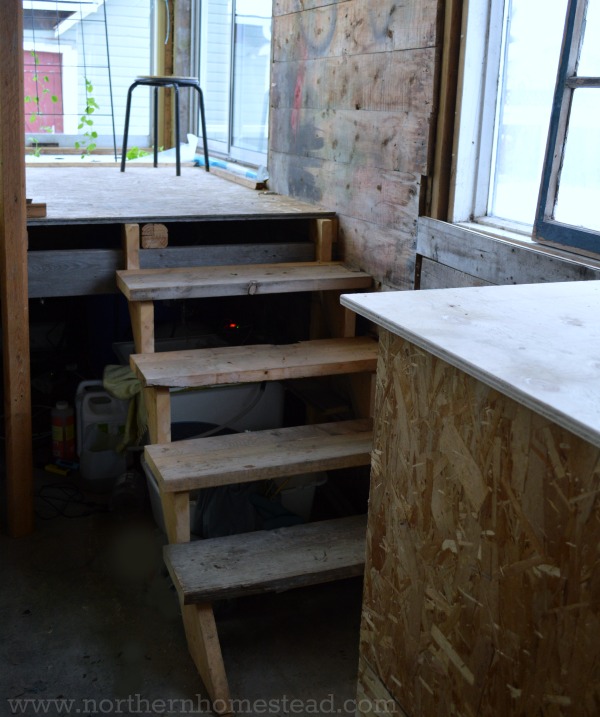 Since heat rises and with 12 feet to the ceiling, it made sense to us to raise the floor by roughly 1 meter(3.3 feet). It gives us much needed storage under the floor and keeps the growing area warmer then the rest of the building.
Insulation
We used double-pane windows and the walls and roof are R20 insulated. The northern wall is a partition wall to the garage. This way no cold air can come directly into the grow room.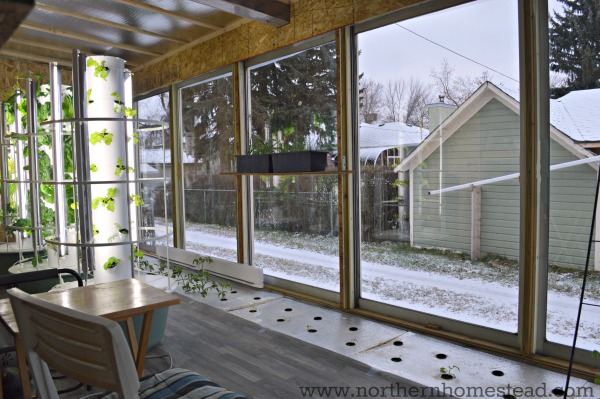 We find that good insulation is the most important factor to grow a garden in real cold winters.
Thermal mass
Even though not shown in the video, we keep in the grow room somewhere between 1000 and 2000 liter of water for the hydroponics use,  which also functions as a thermal mass. Read more about it in 2 Top Things to Keep a Greenhouse From Freezing.
Heating
In our well insulated garage grow room with lots of windows on a sunny day the day temperature can be -24C (11F) outdoors, and in the greenhouse +29C (84F) in the sunshine. Yes, that is how much the windows help to warm up the room without any additional heat. Practically additional heat is only needed at night and on very cold stormy days.
All of the heating elements we use in the greenhouse right now are temporally. We are still on the look out for the perfect heating solution. We first started with a rocket stove, but after a few very cold nights we knew that a traditional rocket stove is not a good way to heat a greenhouse. Who wants to go out during a snowstorm or at night and heat the stove? A greenhouse heating needs to be automated so that it heats the room whenever needed on its own.
The Electric Baseboard Heater works very well. However, it would need a lot of energy to heat up the whole room.
The Mr. Heater Propane Heater is a great back up emergency heater. Propane heaters indoors without proper ventilation can be an carbon monoxide hazard so we have to make sure no one is in the greenhouse to be effected by it. Plants don't mind, they actually need CO2 to grow.
The Oil Fired Heater is a real power machine in blizzard situations. This is the heater that we plan to keep and to improve for better usage for what we need. We will keep you posted.
Here is a reality video of our food production garage/greenhouse in -30C (-22F). If growing year round in a cold climate is what you want to do, this might be of some help for you.
Plants to grow
We grow mostly winter greens and lettuce in the greenhouse. All of those plants do not mind if temperature at night goes down to 7C (44F). Not so much the few tomato plants we have, they are summer crops and would love it way warmer. For successful winter growing in a cold climate stick to winter crops.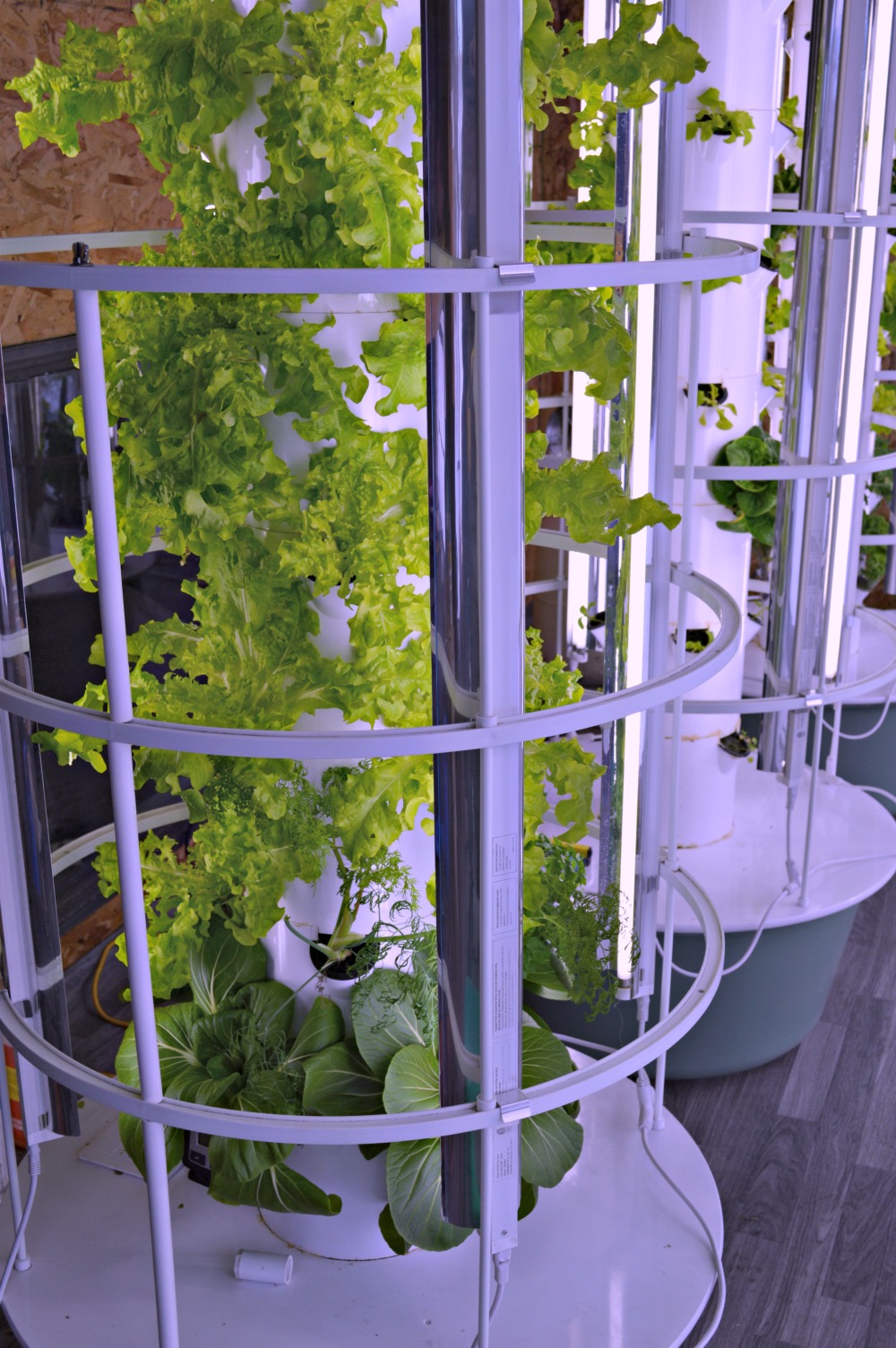 You might also want to read Winter Growing Conditions in a Greenhouse.
We invite you to subscribe to Northern Homestead and follow us on Facebook or Pinterest for the latest updates.
More posts you might enjoy