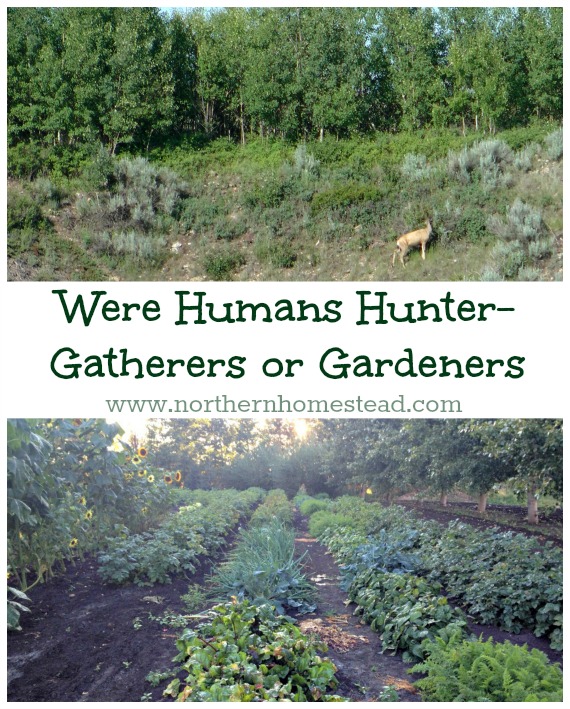 Evolution has taught us that our ancestors, way back in time, were hunter-gatherer. People lived from what they could hunt – meat and fish and from what they could gather – mainly wild herbs. Grains and legumes were not known to the human race. This is a very established fact even within people who do believe in creation. But is it true? Were humans hunter-gatherers or gardeners?
Since none of us were there at the beginning, we have to trust those who claim to know to tell us. On one side there are the researchers and scientists who are researching the matter based on the evolution theory. On the other side there is a book that claims to come from the creator himself – the Bible. Since the Bible has proven itself to be true in hundreds of prophetic scriptures, I choose to stick to the Bible.
The Bible says that:
And the Lord God planted a garden in Eden from the east, and He placed there the man whom He had formed. And the Lord God caused to sprout from the ground every tree pleasant to see and good to eat, and the Tree of Life in the midst of the garden, and the Tree of Knowledge of good and evil. (Genesis 2: 8-9)

And God said, "Behold, I have given you every seed bearing herb, which is upon the surface of the entire earth, and every tree that has seed bearing fruit; it will be yours for food. (Genesis 1:29)
The first place humans ever lived was a planted garden. No one less than God himself had planted it. And the plants He planted were not just wild herbs, but seed bearing plants. It seems that Garden Eden foods were delicious, comforting, and naturally sweet. A diet completely opposite to the one of a hunter-gatherer.
When Adam and Eve had to leave the garden God had planted for them , were they hunter-gatherers for a while?
We read:
And the Lord God sent him out of the Garden of Eden, to till the soil, whence he had been taken.(Genesis 3:23)
Cain was a tiller of the soil. (Genesis 4:2)
The biblical record does not leave room for a hunting-gathering period. Humans were gardeners from the very beginning.
As the global flood came, life on earth changed, and our diet changed, too. Now surely people would have been hunter-gatherers, or? Let's see what the Bible says. Right after the flood, when everything was said and done we read:
And Noah began to be a master of the soil, and he planted a vineyard. (Genesis 9:20)
Noah had been busy for many years building the ark, it seems like he could not wait to go back to the land, to be a man of the soil, to be a gardener. No record of hunter-gatherers here either.
God himself, who planted the first garden, seems to be interested in us being gardeners. After the global flood He gives an amazing promise:
So long as the earth exists, seedtime and harvest, cold and heat, summer and winter, and day and night shall not cease." (Genesis 8:22)
Just as sure as there is day and night, there will be seedtime and harvest, there will be gardening. Even in hard times God encourages His people to plant a garden.
Plant gardens and eat their produce. (Jeremiah 29:5)
Gardening has been a huge part of life all throughout the centuries. Only in the last 50 years have families stopped planting a garden. But we do see a huge come back. Gardens and community gardens pop up everywhere. There is a longing and gratification in gardening. Why is this? I think it's because we were created to be gardeners, stewards of the earth and animals.
With very few exceptions, humanity does not strive to live a wild hunter-gatherer life. Quite the opposite moves us. We seek security, purpose, and food stability. There is nothing more natural for humans than gardening!
The Bible is very clear about humans being in a garden and being gardeners from the very beginning and all throughout history.
So what about the Paleo Diet, you might say. A diet that is build on the hunter-gatherer theory and is gaining more and more popularity because of all the great results. Stay tuned, we will look into it another time.
The real truth about the Paleo Diet.
We invite you to subscribe to Northern Homestead and follow us on Facebook or Pinterest for the latest updates.