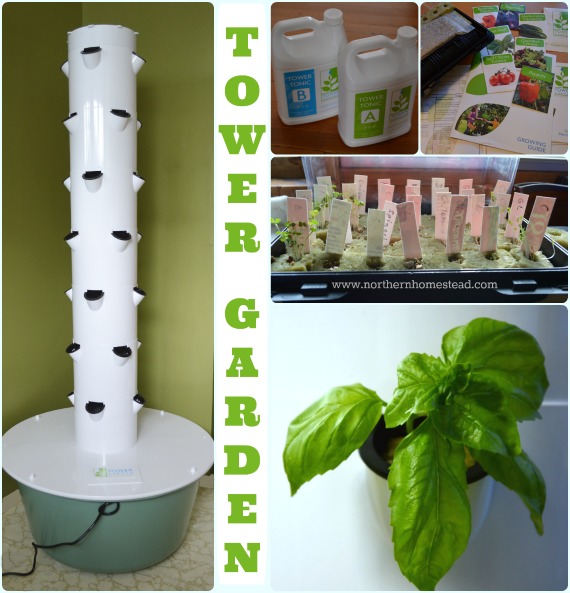 If you've been following our blog you will know that we are on a mission to grow more of our own food. Not many of us have lots of land to grow food on. We have very little space, 1/8 of an acre with a house and garage on it too. Plus summer here only lasts for a few short weeks, otherwise it's winter. We need an alternative method not just to grow more in less space, but also to grow year-round indoors. We found what we were looking for – introducing the Tower Garden®, the aeroponic vertical gardening system!
If you have always wanted to grow your own fruits, herbs, vegetables and flowers, but haven't, things are looking up.
What is a Tower Garden?
The Tower Garden is a vertical aeroponics growing system, designed for home and commercial growers. Using aeroponics and the specially formulated plant food, you can grow up to 30% more produce compared to traditional soil gardening during the same time period. Growing vertically, the Tower Garden allows you to grow up to 28 pots with one or more plants per pot, depending on the size of the plant. That's container gardening plus, 28 containers in less than six square feet of land!
Unlike hydroponics, aeroponics uses no growing medium. Water and nutrients are continuously cycling through the Tower, showering the plant's roots. Here is a little video to show you how it works:
What can you grow in a Tower Garden?
In the Tower Garden you can grow almost anything that grows above ground, including fruits and vegetables like tomatoes and lettuce, herbs, and flowers. See a list for what you can grow here.

Where can you grow a Tower Garden?
The aeroponic vertical gardening system allows you to grow anywhere where there is growing temperature and sufficient light for container gardening, making indoor growing during the long northern winters, or very hot southern summers, possible.
Indoors
Outdoors
Sun room
Greenhouse
Deck
Patio
Rooftop
Garden
Who can grow a Tower Garden?
The Tower Garden vertical aeroponics growing system is a healthier, easier, smarter way to grow your own fresh and nutritious fruits, vegetables, and herbs.
Since there is no soil involved, no weeding and no digging, the garden is suited for anyone. If you have no soil, grow a Tower Garden. If you can't bend over, grow a Tower Garden. And even if you have no green thumb, you can still grow a Tower Garden – it is that easy. Container gardening it it's best.
Why grow a Tower Garden?
We do have a choice, we can grow our own food or buy food from other growers. These other growers may or may not have our standards. They may or may not be local to us. More often than not the food that we buy is grown in a way we would never approve of, sprayed with fungicides, pesticides, and herbicides, and delivered from many miles away.
Tower Garden gives you more control over your family's health by making it easy to grow fresh, nutritious produce.

Our experience
We share our experience growing the Tower Garden in cold climate, which enables us to grow more food in our short summers as well as throughout our long, cold winter. Read more: Growing the Tower Garden in Cold Climate
Buy a Tower Garden
The Tower Garden for home use is sold through a virtual franchise. You can order the Tower Garden today through our Tower Garden website. We want to embrace, share, and inspire people to grow more food, to grow healthy. And you can be a part of it, ask us how.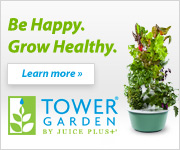 Do not forget to subscribe to Northern Homestead and follow us on Facebook or Pinterest for many growing tips and the latest updates.
More posts you might enjoy