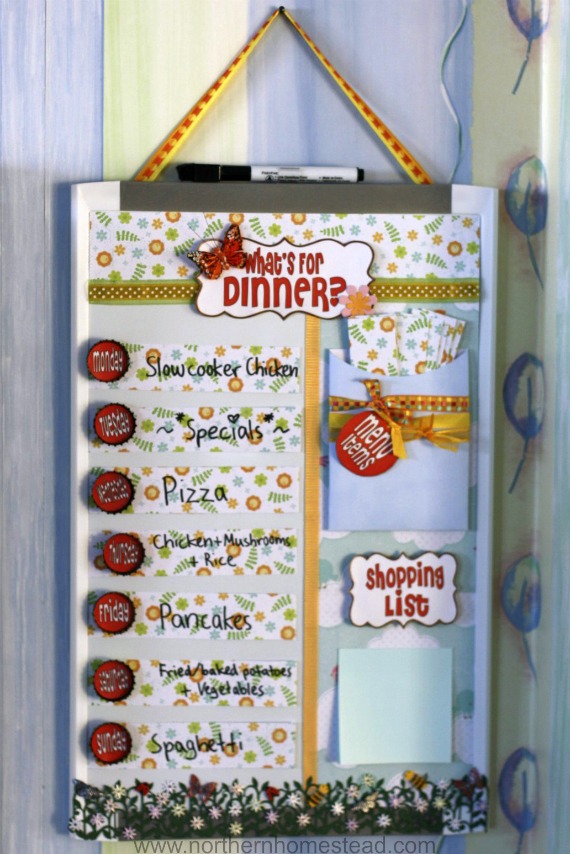 One of my very special gifts is the handmade Menu Planner from my daughter Melanie. Isn't it gorgeous? Thank you, Melanie!
Planning what's for dinner is much harder than actually making the meal. I've wanted to do menu planning for a long time. Like most families we have some favourite meals, mostly simple family recipes. With a history of picky eaters, most of our recipes aren't online – so trying an online service like Plan to eat had no lasting success. Stephanie Langfords E-Book Plan It, Don't Panic: A Complete Meal Planning Resource was very helpful, but with just some scribbles on a piece of paper I did not stick to it. My fault, I know.
Then I saw this wonderful Menu Planner. Thank you heartlandpaper for the great idea and the free 'days of week' template. We went shopping with the instruction and my creative daughter put it all together for me as a present.
Now to the actual planning 
First I wrote down a list of all our favourite recipes (I also plan to print it so I can make shopping lists more easily). Then Melanie wrote all the names (well, some recipes do not have real names) on the paper slips, including ones such as Dine Out, Wild Card, Try Something New, Leftovers, and Specials. Then we planned our first week – half of the week, to be specific since it is already Thursday. I also like Heartlandpapers advice to sit down with the family once a week to plan the meals. I'm curious to see how it will work in everyday life. Maybe it is the real solution to our menu planning.
We invite you to subscribe to NorthernHomestead and follow us on Facebook or Pinterest for the latest update.