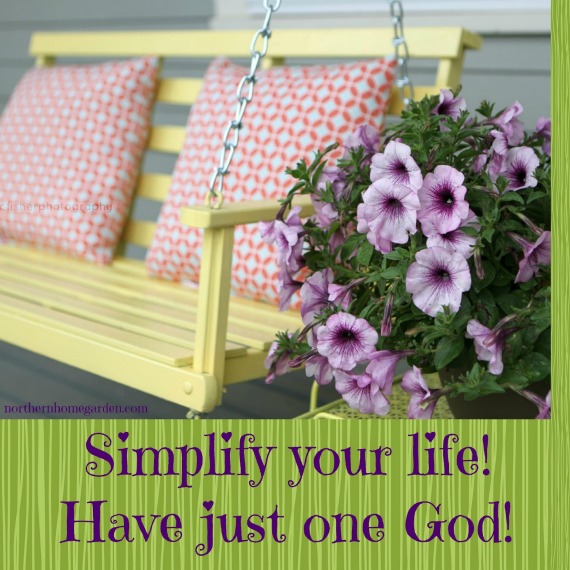 "Simplify your life! Have just one God!" – is a journey we are on. When we first posted this blog post back in 2012 we honestly had no idea where it would lead us, and there is still lots of growing needed in our personal understanding of these rather huge words. I really long for the first part – 'simplify your life', but I'm learning that it all has to do with the second part – 'have just one God'. Here are some thoughts.
Simplify your life
Simplifying is about doing things simple and living a simple life. I really like things simple, but what exactly is simple? 'Simplifying our life' – seems to be a hot topic. There is a range of ways to simplify our life. Some buy land and go off-grid, others build a tiny house and declutter their stuff. The idea of having less bills to pay, less stuff to care for, along with becoming more self-reliable is inspirational.
The suggestions do not stop at practical ways though, simplifying relationships and spirituality is popular too. Some ideas seem good and right, some sound downright selfish. Yes, people are busy with simplifying their lives these days. This business is what strikes me.
Does being busy with simplifying really simplify your life?
We realize that a simple, fulfilled life comes from within. If there is clutter within us there will be clutter around us no matter how much we own. If there is fear and anxiety within us, going off-grid and living self-sufficient can become a angst-burdened lifestyle. Simplify your life from inside out.
Have just one God
'Have just one God' is a very biblical concept not so popular either in our world nor in world religions. However, the God of the Hebrew Bible is very clear that there is no other God.
You have been shown, in order to know that the Lord He is God; there is none else besides Him.
And you shall know this day and consider it in your heart, that the Lord He is God in heaven above, and upon the earth below; there is none else. (Deuteronomy 4: 35+39)
The basic foundation and the first principle of faith is to know that there is a Primary Being who brought all existence into being.
The Scripture starts with God, without introducing or explaining Him. He is just there, active and mighty; He creates, He commands, and He demands.
God starts His 10 commandments with:
"I am the Lord, your God, Who took you out of the land of Egypt, out of the house of bondage. You shall not have the gods of others in My presence. (Exodus 20:2-3)
If you want to simplify your life, then having just one God is the first and most important step. All other commandments line up on this one. Having just one God is not having the gods of others, rather worshiping only the one true God.
For whom do I have in heaven,
and I desired no one with You on earth.
My flesh and my heart yearn;
God is the rock of my heart and my portion forever.
(Psalm 73: 25-26)
Having just one God is also acknowledging that there is no one beside him, no mighty one, no other savior, no other supernatural judge that we should fear or honor.
Hear, O Israel: The Lord is our God; the Lord is one. (Deuteronomy 6:4)


See now that it is I! I am the One, and there is no god like Me! I cause death and grant life. I strike, but I heal, and no one can rescue from My Hand! (Deuteronomy 32:39)

Therefore You are great, O' Lord God: for there is none like You, neither is there any God beside You, according to all that we have heard with our ears. (2 Samuel 7:22)

So that all the peoples of the earth may know that the Lord is God: there is none else. (1 Kings 8:60)

"O Lord God of Israel, Who dwells between the cherubim, You alone are the God of all the kingdoms of the earth. You made the heavens and the earth. (2 Kings 19:15)

"You are My witnesses," says the Lord, "and My servant whom I chose," in order that you know and believe Me, and understand that I am He; before Me no god was formed and after Me none shall be. I, I am the Lord, and besides Me there is no Savior. (Isaiah 43:10-11)

So said the Lord, the King of Israel and his Redeemer the Lord of Hosts, "I am first and I am last, and besides Me there is no God.  … is there a God besides Me? And there is no rock I did not know. (Isaiah 44:6.8)

I am the Lord, and there is no other; besides Me there is no God: I will strengthen you although you have not known Me. For so said the Lord, the Creator of heaven, Who is God, Who formed the earth and made it, He established it; He did not create it for a waste, He formed it to be inhabited, "I am the Lord and there is no other.
Turn to Me and be saved, all the ends of the earth, for I am God, and there is no other. (Isaiah 45:5.18.22)

Remember the first things of old, that I am God and there is no other; I am God and there is none like Me. (Isaiah 46:9)

And I am the Lord your God from the land of Egypt, and gods besides Me you should not know, and there is no savior but Me. (Hosea 13:4)

You alone are the Lord; You made the heavens, the heavens of the heavens and all their host, the earth and all that is upon it, the seas and all that is in them, and You give life to them all, and the heavenly host bow down before You. (Nehemiah 9:6)
Be free from idols
After we get the spiritual 'One God' straight, God encourages us to be practical, too.
You shall not make for yourself a graven image or any likeness which is in the heavens above, which is on the earth below, or which is in the water beneath the earth. You shall neither prostrate yourself before them nor worship them, for I, the Lord, your God … (Exodus 20: 4-5)
What are idols? An idol can be an image or representation of a god used as an object of worship. But it also can be a person or thing that is greatly admired, loved, or revered. A life free of idols is a truly simple life without running after images and things, riches or prestige.
Be content with what you have
All of Gods commandments are the most wise instructions on earth. He gave them to His people to show the world what God is like. There is no better way to live life than to follow Gods commandments.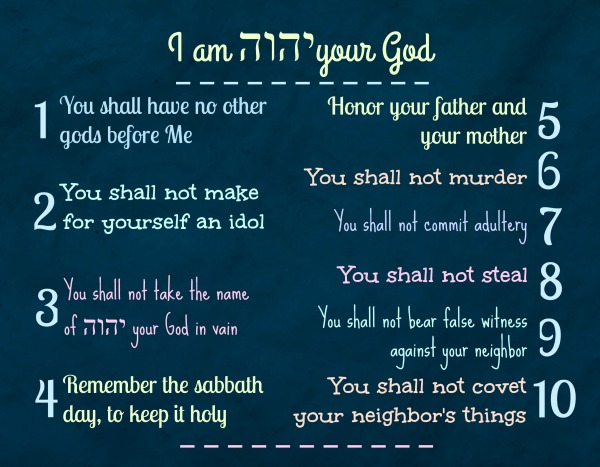 Let's take a closer look at one more, in order to really simplify our life.
You shall not covet your neighbor's house. You shall not covet your neighbor's wife, his manservant, his maidservant, his ox, his donkey, or whatever belongs to your neighbor." (Exodus 20: 14)

Covet is a verb, that means yearn to possess or have (something). Synonyms are: desire, yearn for, crave, have one's heart set on, want, wish for, long for, hanker after/for, hunger after/for, thirst for
"even with all they have, they covet the wealth of others".
"The Ten Commandments – more accurately translated as the Ten Utterances – begin with "I am Hashem Your God," and concludes, "Do not covet." These two directives are linked. … The connection between the first and the last of the utterances is obvious: Where consciousness of Hashem, which is wholeness, is lacking, there will be a void and a craving to fill this void. One will then seek false satisfaction in coveted objects or experiences, On the other hand, when we make Hashem present in our lives, the resulting satisfaction and wholeness will outshine any covetous feeling." Quote from Reclaiming the Self: On the Pathway of Teshuvah, Chapter 3.
Simplifying your life is a journey, that is rooted in total trust in the Creator God alone and grows to a character free from the love of stuff, depending fully and deeply on the one God, who meets all our needs.

This kind of simple life shows itself in perfect satisfaction, liberated to love God and people. I really want to simplify my life, do you?
We invite you to subscribe to Northern Homestead and follow us on Facebook or Pinterest for the latest updates.