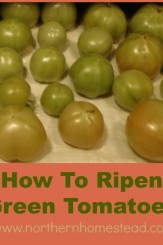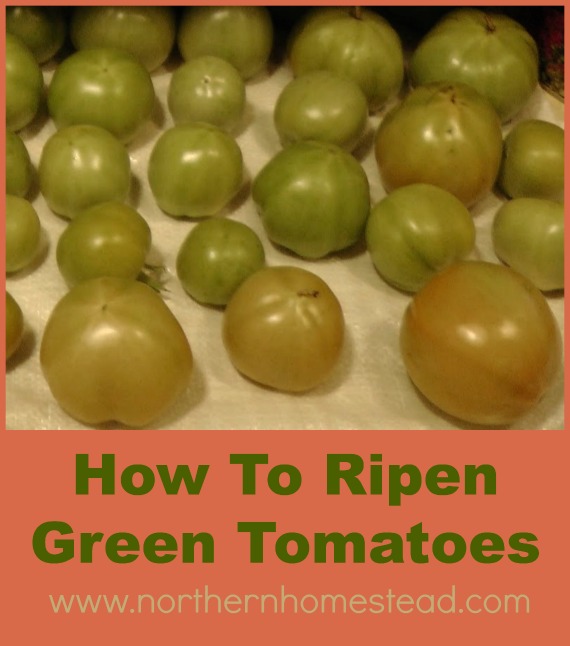 Our growing season is very short. It might just be 100 days, plus our summers tend to be on the cooler side -not enough for tomatoes to ripen on the vine. Not wanting to give the snow and frost the chance to kill them, we often have to do a quick harvest. Thankfully tomatoes ripen nicely after already being harvested. They also do still taste better then the store bought ones :).
This year, however, we did not have to harvest green tomatoes just yet, even though we did have snow and frost. Our greenhouse, that still is under construction, has kept the place frost free so far. The coldest it got in there, on a very cold night, was 5C = 41F. Very exciting! We are still working on some more insulation and a rocket stove to keep the place warm. In fact, we actually planted some more tomatoes at the end of summer to try to grow them in the winter. It is the Oregon Spring tomato – we are taking advantage of their ability to grow fruit in cool weather. We will keep you posted on the tomatoes and the greenhouse.
And now, how to ripen green tomatoes:
The tomato needs to be a good size and look shiny. Small, very green tomatoes will not ripen. Only mature green tomatoes ripen after.
Tomatoes do not need direct sun light to ripen. I just store them in the basement. If you do not have a darker space, cover them with newspapers.
Room temperature: a bit on a cooler side is best. Warm temperature will speed up the ripening process, cooler will slow it down and lead to having tomatoes for up to 3 months.
Tomatoes should ideally be well-spaced, one by one, not touching each other. So if one gets bad, it does not infect others.
A stem can be left to help ripen the tomatoes, personally I have not found it necessary.
Generally speaking, to ripen green tomatoes is very easy and they are forgiving. Here are 5 different ways to ripen green tomatoes from fellow homesteaders. If you end up with green tomatoes, for whatever reason, do not worry, they will ripen nicely afterwards .
You want to learn more about gardening? Enroll in the Growing Heirloom Tomatoes Class. Grow the tastiest heirloom tomatoes in your neighbourhood! From planting seeds to saving seeds, learn successful techniques for growing healthy heirloom tomatoes from heirloom expert Marie Iannotti.
We invite you to subscribe to NorthernHomestead and follow us on Facebook or Pinterest for the latest updates.