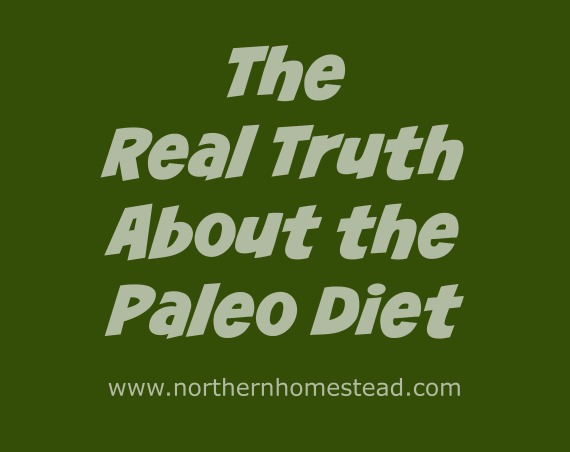 There is hardly anyone today who has not heard about the Paleo Diet. It is everywhere. Depending on who you ask, the list of what to eat and what not to eat may differ. But in a nutshell the Paleo diet is based on the theory that humans in the Paleolithic period were hunters and gatherers and that our digestive system works best if we eat a hunter (meat and fish) and gatherer (non-starchy vegetables) diet.  As we have seen in Were Humans Hunter-Gatherers or Gardeners the hunter – gatherer theory has no support in the biblical record and there wasn't a Paleolithic period in human history.
Well, that puts the Paleo Diet on slippery ground. We could easily just shake it off and move on – if there were not so many participants who claim to have amazing positive results. Restored health, sleep, and mental clarity are reported. Even though there is very little long term research, and some doctors are warning for long term damage, at least the short term results are obvious, which explains the sudden popularity.
The question remains: how can something that is Biblically wrong have such great results? Does the Biblical record miss something? Or is it proof that the Bible is just an old book with irrelevant stories. To know the answer we have to look into that old book and see what the Bible actually says.
The Bible speaks surprisingly much about food. From the very beginning of humanity and all throughout the big changing events, God gives very specific instructions on what people should eat.
God's first instruction is to Adam and Eve in the garden of Eden. Here are perfect people living in a perfect environment receiving their first diet plan. We read:
And God said, "Behold, I have given you every seed bearing herb, which is upon the surface of the entire earth, and every tree that has seed bearing fruit; it will be yours for food.. (Genesis 1:29)
What is this 'seed bearing herb … tree that has seed bearing fruit' or 'seed-bearing plant … tree that has fruit with seed in it'? Some think it is simply all plant based foods. I actually do not think so. The emphasis here is seed. I think those are seeds, nuts, legumes, and grains, as well as fruit with seeds in it. We looked into it more in Food in the Bible – Garden Eden. If you haven't yet, I would encourage you to read it. Well, most of these God-given foods are not on the Paleo Diet list. Legumes and grains are the foods the Paleo Diet says to avoid. But there is more about food in the Bible. Let's read on.
After Adam and Eva eat the fruit of knowledge of good and evil, life on earth changed. Because the ground was cursed now, there are plants (thorns and thistles) that were not there before. One more thing changed – the diet!
… you shall eat the herbs of the field. (Genesis 3:18)
Some translations say green plants or herbs of the field. This sounds very much like vegetables, herbs, and greens, doesn't it? Green plants were originally given to the animals as food (Genesis 1:30), now they are on our plate. As we have seen in Food in the Bible – Cursed Ground it all has to do with health and healing. Plants of the field are extremely healthy.
Life on Earth changed once again when God got so sad about all the evil on Earth Genesis 6: 5-6. Read more about it in Food in the Bible – Global Flood. Again God speaks about food; we read:
Every moving thing that lives shall be yours to eat; like the green vegetation, I have given you everything. But, flesh with its soul, its blood, you shall not eat. Genesis 9: 3-4
Animal protein becomes part of the human diet. We finally have the hunting permission. Note that God wants us to be thoughtful about it, remembering that those are living beings, to honour them and not eat flesh with its soul/life. A thoughtless, cruel animal consumption is not in God's plan.
Now we are getting closer to the Paleo Diet, no? What does the text say?
Every moving thing that lives shall be yours to eat. Genesis 9: 3
Does that sound like meat and fish?
… like the green vegetation, … Genesis 9: 3
Are these the non-starchy vegetables?
That sound like a quote out of a Paleo Diet book, doesn't it? Except remember, the Bible is a very old book, much older than the 1970s when the Paleo idea started. Are you getting goosebumps yet?
Wait, there is more! God says:
… like the green vegetation, I have given you everything. Genesis 9: 3
Remember how God added the green plants to the hymen diet after the cursed ground. God knew we would need them for our health and healing. After the flood animal protein, with healing bone broth, is added. It is all about health and healing here, don't you think?
The real truth about the Paleo diet is found in the old book, the Bible. If the Paleo Diet comes directly from the Bible then it desperately needs a new name, don't you think? What about Sick World Diet?
Now, since this diet is Biblical, should we all be on the Paleo Diet all the time? I do not think so. God did not take away the Garden Eden foods from us. But for healing purposes to eat only foods given to a sick world does make sense. Not in a Paleo evolutionary way of life, but in seeking God's directions and eating the foods that He has added for our health and well being.
And one more thought
Did you notice that most of the GMO crops are Garden Eden Foods? Corn, soy beans, sugar beets (replacing or imitating sweet fruit), and also grains have been modified and, if not, grown organically sprayed with Round-Up just before harvesting. All of this is very health damaging. After destroying the God-given Garden Eden foods people came up with a great alternative, the Paleo diet, taken from the Bible but twisted so it would prove the Evolution theory. What a lie!
What we can do
1. We should avoid GMO and Round-Up sprayed foods, not the garden Eden foods. Grow organic, buy organic, and thank God for the comforting foods He created.
2. For health purposes we can and should use the Sick World Diet (or whatever you want to call it). By the way, the Keto diet that is also used to help with illnesses is very similar to Paleo, too. But please know, it is God who gave this food to a sick world.
3. Know the truth and make it known. If you like the Paleo diet, or are even sure it has helped you, please tell the whole truth. It is not Evolution that has helped us to know what is best for humans to eat, it is God who gave specific instructions for our diet. To God be all the glory!
We invite you to subscribe to Northern Homestead and follow us on Facebook or Pinterest for the latest updates.