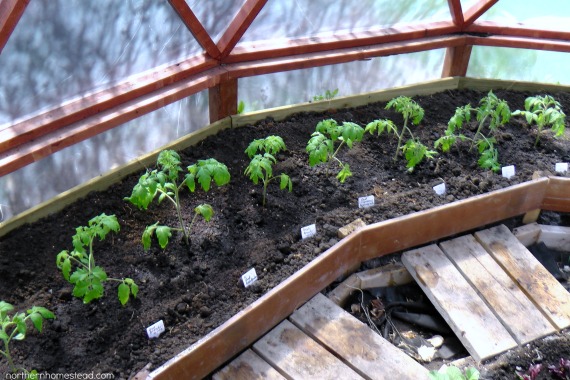 It is always a very exciting day when my tomato plants can finally go into the ground! I start all the seeds indoors. We grow mainly heirloom tomato varieties.
When to plant tomatoes out
Tomatoes are a warm weather crop; they do not tolerate frost and do not like cold, wet weather either. When tomatoes are planted into the garden it is best to wait till the last frost day or, even better, a week longer. Or, if you really want to be early, give them some frost protection.
The best place to grow tomatoes in a northern garden is a greenhouse. Here they can be planted a bit earlier but still might need frost protection.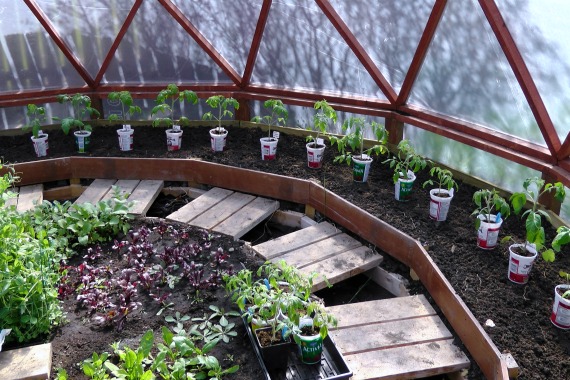 Preparing the soil
Tomatoes can be grown in the same spot year after year, but they do need nutrients. Compost, fully composted manure, and Epson salt are good for feeding tomatoes. Compost is rich in nutrients and beneficial micro-organisms and also improves soil texture. Epson salt adds minerals.
The soil has to be nice and soft and, of course, warm. Clear plastic can help with this.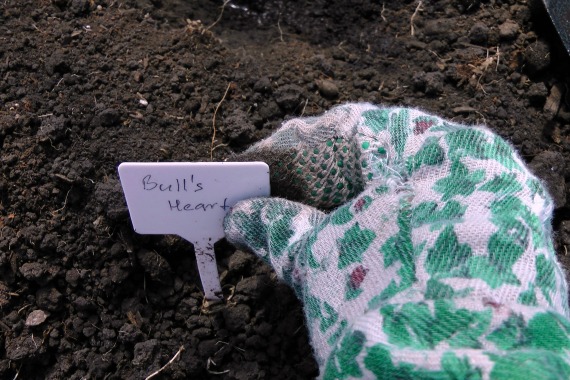 Harden the plants
Plants can't go from indoors right into the ground; it will put way too much stress on them. First get them used to the outdoor or greenhouse environment while still in the pot. Starting with a few hours in the shade and then leaving them for longer and they will get used to their new location. Now they can be transplanted without being killed in the process.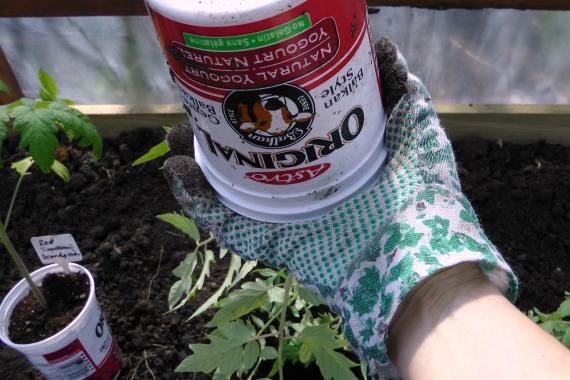 Spacing tomato plants
Indeterminate varieties can be grown vertically and need about a foot to a foot and a half space if pruned to a single stem. Determinate varieties will grow to a bush and usually need about three feet in diameter. Tomatoes like airflow, so do not plant too closely together. See also Determinate or indeterminate tomato plants.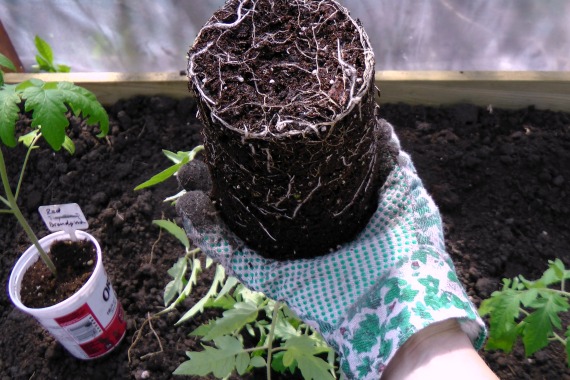 Transplanting tomato plants
Be sure not to water the plant to much before transplanting so it holds better together. Dig a bigger hole than the plant is – it helps to loosen the soil all around the plant and encourages root growth. Add 1-2 cups manure to the hole before planting (I use sheep manure). The manure will give the plants a boost. The opinions about using manure in the garden are divided. Some claim that manure only makes the plant greener. Water the hole generous. You want the plant to rich down for moisture and nutrients. This way you will not have to water as much, or not at all. If the plant is a bit leggy it can be buried deeper just like by transplanting the seedlings.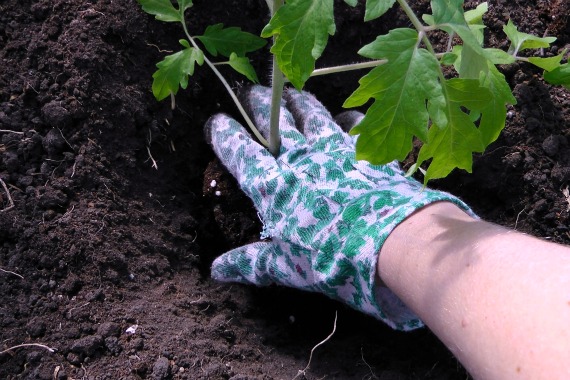 By turning the pot upside down and tapping on the pot, the plant will come right out. Now place it gently into the hole and fill the hole with loose soil. Do not press it down too hard but water the plant right away; the water will push the soil down as much as needed. It is good to make a mold around the plant for watering, so that the water can go directly to the plant and not flow away to lower ground.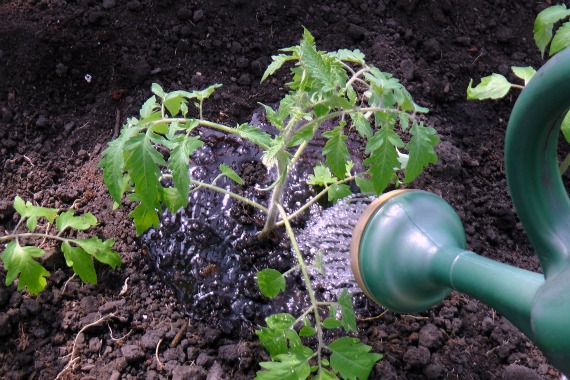 Mulching tomato plants
Cover the soil around the plant. It can be mulch (straw, wood chips, grass clipping), or simple a newspaper. You will need less watering and the tomatoes will be tastier.
Protecting tomato plants
Give the plants some protection from the sun during the first days, a Frost Blankets works very well. It also gives some protection from wind and cold during the night. I leave the blanket on for at least three days.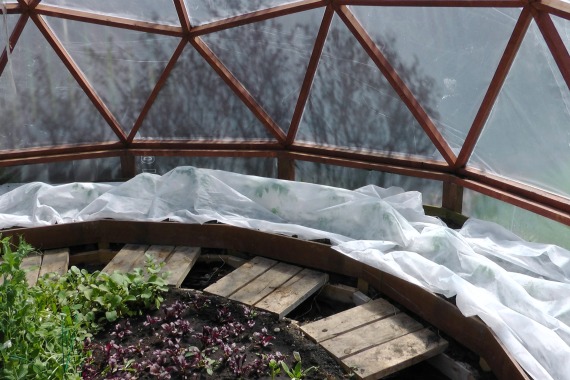 Now, I like to say a prayer for my plants. I am very aware that I can do only as much as I can. God is the one who gives growth and provides fruit, why not ask him?! Then sit back and watch the plants grow and produce lots of fruits!
We invite you to subscribe to Northern Homestead and follow us on Facebook or Pinterest for the latest updates.