Spaghetti Bolognese Sauce From Scratch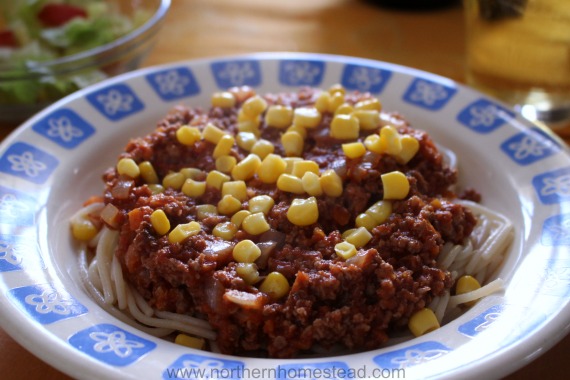 Author:
Anna @ Northern Homestead
1 good sized onion (chopped)
1-2 garlic cloves
1 cup ground carrot (or finely grated)
1.5 cup chopped mushrooms
1.5 cup precooked lentils (Or 1lb ground beef)
700 ml - About 3 cups - crushed tomatoes
fresh or dried basil
salt and pepper/paprika to taste
Saute on medium-high heat the chopped onions, add a tablespoon of olive oil or a few tablespoons of water.
When the onions are glassy add pressed garlic, carrots, and mushrooms.
Saute a bit, being careful not to burn it, and then add the tomatoes and pre-cooked or canned lentils or beans.
Add the herbs, and seasonings you like, cover the pan with a lid and let simmer on low heat for 10-15 minutes.
During that time cook your favorite spaghetti pasta.
Recipe by
Northern Homestead
at https://northernhomestead.com/spaghetti-bolognese-sauce-scratch/