Noodle Pilaf or Casserole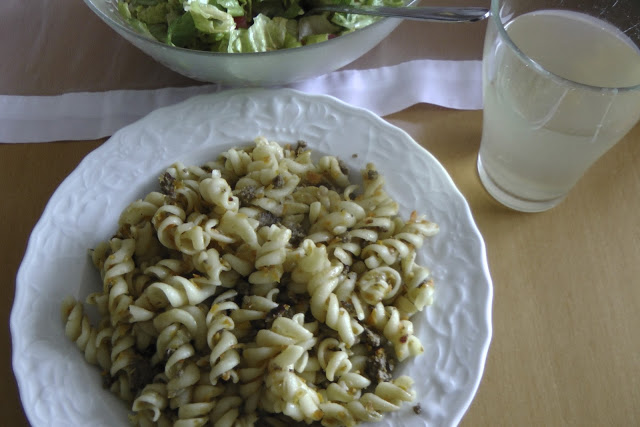 Author:
Anna @ Northern Homestead
1 pound ground meat or vegan meat substitute
1 - 2 chopped onions
0,5 – 1 pound chopped carrots
Garlic (optional)
1 pound pasta, we prefer rotini noodles, any would work – plain, whole grain, gluten free …
1-3 tablespoons olive oil
Salt and paprika to taste
Prepare the meat, onions, and carrots in a frying pan, adding them one after another so everything is nicely browned. Season with salt (about 1 teaspoon) and paprika.
Cook pasta as directed on package and drain (do not overcook).
Combine the pasta and the fried meat / vegetables in a big pot or dish, add olive oil, and mix well. Oil is a natural taste intenser. Serve.
For the Instant Pot version: Start according to the recipe instruction just instead of using a frying pan, use the Instant Pot on Saute, Fry everything till it is half done, than add the dry noodles and mix well. Now add 3-4 cups of boiling water. The water should just cover the ingredients. Cover the pot and hit the manual button and set for 4 minutes. Allow the pot to come to pressure, when the timer is off do a quick release. (If you like pasta well done, wait another minute or two before releasing the pressure).
For the casserole version: (great for making ahead of time): put pilaf into a baking dish and sprinkle it with your favorite cheese. Refrigerate up to 24 hours or freeze. Preheat your oven to 375ºF. Bake casserole, covered, for 30 min. or until heated through, uncovering after 15 min. and let the cheese brown if so desired.
For vegetable lovers: Green beans go very well with this recipe. You can even replace half of the noodles with green beans, or add green beans to the pilaf. Also a good way to extend the leftover pilaf to a new dish.
Recipe by
Northern Homestead
at https://northernhomestead.com/noodle-pilaf-or-casserole/