Syrniki Recipe (Cottage Cheese Pancakes)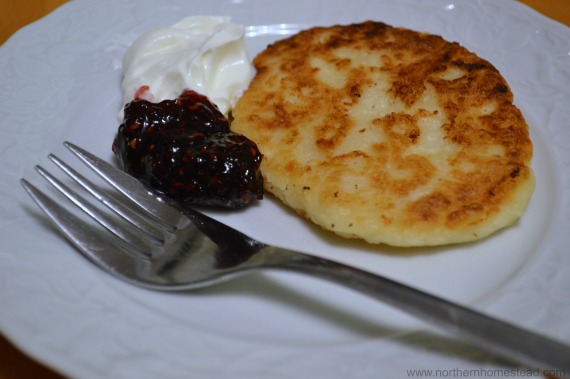 Author:
Anna @ Northern Homestead
500 g (18 oz) Dry Cottage Cheese + a tablespoon of sour cream to get the perfect texture
1 egg
2 -3 tablespoons sugar (or honey / maple syrup)
pinch of salt
1 cup all purpose flour not used at once, see description! (unbleached, preferably organic)
oil to fry, I use coconut oil
In a food processor or blender combine the dry cottage cheese, sour cream and the egg, and process till all smooth.
Add sweetener and salt
Add about half a cup flour to a clean work space. You need just as much flour to be able to work the dough, not more. Add the cottage cheese mixture ant work the dough till you can shape a roll.
Cut the roll into pieces and form about egg sized balls
Roll them in flour and form the pancakes
Heat the pan on medium high with a table spoon of oil.
Fry the syrniki on one side till golden brown
Turn over and cover the pan with a lid. Turn the heat down to medium low and let fry for 3 minutes.
Serve immediately with sour cream and/or fruit jam.
Recipe by
Northern Homestead
at https://northernhomestead.com/syrniki-recipe/