Carrot Pepper Salsa Recipe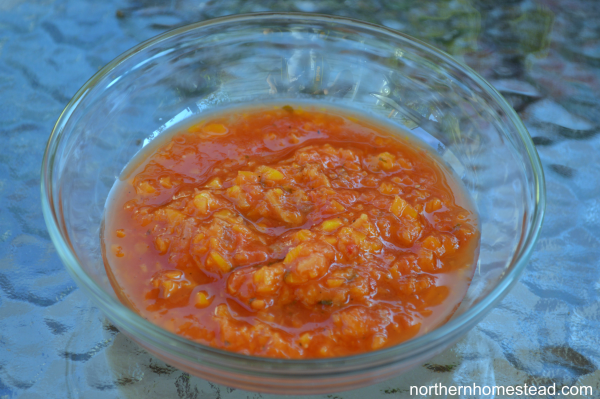 Author:
Anna @ Northern Homestead
1200 gram (6 Cups) tomatoes
360 gram (3 Cups) carrots
1½ cups cider vinegar (I substituted half with white vinegar)
1¼ cups lightly packed brown sugar (I substituted with ½ cup honey)
½ cup onion
½ cup jalapeno pepper
1½ teaspoon salt (I used ½ teaspoon)
½ teaspoon black pepper
¼ cup cilantro
Coarsely chop-cored and peeled tomatoes.
Coarsely grate peeled carrots.
Finely chop onions and jalapeño peppers. Leave seeds in if you want more heat.
Combine all the vegetables in a large saucepan.
Add salt, sugar if used, and vinegar.
Cook until it thickens, about 1 hour.
Add honey if used, freshly ground black pepper, and chopped cilantro.
Cook for another 5 minutes.
Fill jars, wipe rims, apply lids, and screw on bands.
Process in water canner for 15 minutes (Adjust to your altitude).
Recipe by
Northern Homestead
at https://northernhomestead.com/carrot-pepper-salsa-recipe/