Potato salad with sour cream and broth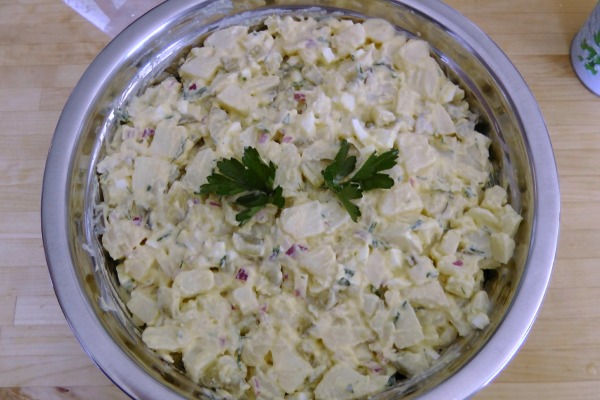 Author:
Anna @ Northern Homestead
14 potatoes (medium size)
7 pickles
7 hard boiled eggs
⅕ - 1 onion (I prefer red)
Fresh herbs
Half to whole cup vegetable broth
1 cup sour cream (crème fraîche)
Half cup juice from pickled cucumbers
Salt and pepper to taste
Wash the potatoes, cook, peel, and chop.
Pour hot broth over the potatoes and stir well. The broth makes the salad juicy and it is not so sticky.
Finely chop the cucumbers, onions, and herbs and add to the salad.
Peel the eggs and divide in half. Separate the egg yolk and the egg white.
Cut the egg white into small pieces and add to the salad.
Mix the egg yolks and the juice from the pickled cucumbers in a food processor, you can do it with a fork too, it has to become a creamy mass.
Mix the sour cream with the egg yolk mass creating a sauce, add spices.
Pour the sauce over the salad, mix everything together.
Recipe by
Northern Homestead
at https://northernhomestead.com/potato-salad/