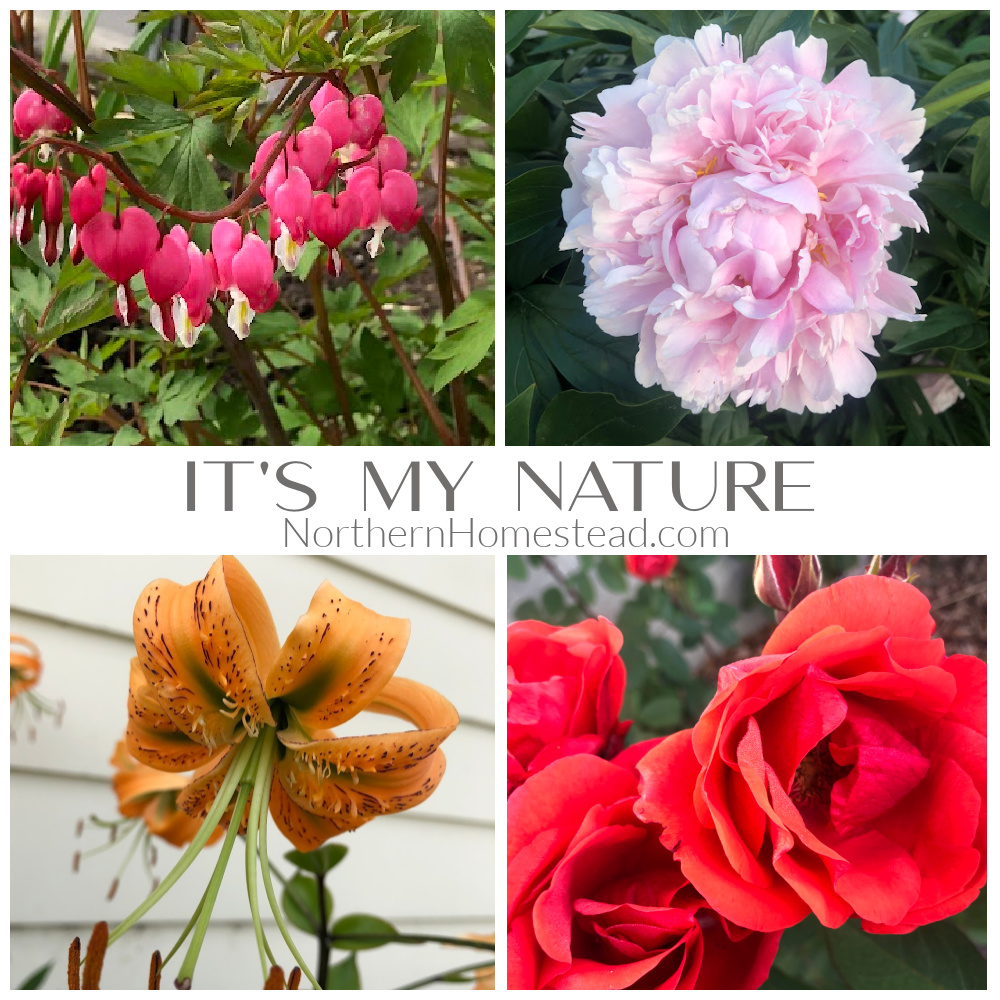 True to my nature I love reading self-realization and development books. Out of all that I have read, one stands out and was really life-changing. I was not looking for another "personality type" book since the majority of them are entertaining, but not really helpful. You know, when you have to take a test and you get assigned to some rainbow colors according to your dominant behavior. The colors change, as your behavior does.
The book "It's just my nature" by Carol Tuttle looks at patterns and movement, not behavior. I came across it while looking for a personal and simplified dressing style, which the author is known for.
She discovered that we all in our physical expression have one dominant movement, that correlates with the 4 core elements, that we refer to as air, water, fire, and earth.
This article is not a book review, but an introduction to the 4 Types and the benefits that we see in knowing them as it relates to homesteading.
The 4 Types
When first reading about the 4 energy Types you might be very skeptical that the movement and patterns are so consistent in nature as well as in human beings. That was actually what fascinated me the most. My nature is carved into my facial features and is shown in my natural movement. Let's take a closer look at them.
Type 1 Air. It is an upward, light, random movement. In nature, a bubbling brook, aspen trees with circular leaves that are brilliant bright gold in autumn, bunnies, hummingbirds, butterflies, and colorful flowers remind us of that movement.
You might be already thinking of someone who walks with a bounce, and talks with hands. If you would look at them carefully you would see round or heart-shaped faces, apple cheeks, button nose, and sparkling eyes. When they smile, the entire face smiles.
These people have a natural gift of ideas, they are fun-loving and optimistic.
Type 2 Water. It's a flowing, relaxed, subtle movement. In nature, a flowing river, weeping willow trees, doves, elephants, and pastel flowers remind us of that movement.
Type 2 people have a smooth graceful walk, a softened voice, and they are easygoing. They have blended and softened features, an oval face, blended cheeks, almond eyes.
These people have a natural gift for details, they are gentle, tender, and sensitive.
Type 3 Fire. It is an active, reactive push-forward swift movement. In nature waterfall, maple trees with their angeled leaves, peacocks, and tigers will remind us of that movement.
These people often walk with a heavy foot and have a more boisterous voice. They have an angular face shape, eyes set on a V, chiseled, textured features.
These people have a natural gift of action, being determined, going for results. They are persistent, passionate, and driven.
Type 4 Earth. It's a constant, reflecting, straightforward movement. In nature, a mirroring mountain lake, fir trees, swans, black panters, red roses, white orchids reflect that movement.
Type 4 people walk with poise and upright posture, speak with exact pronunciation. They are the ones that see spelling mistakes right away. That exactness is also expressed in their refined and sculpted facial features. Oval or rectangular face shape, and eyes set on a straight line.
These people have a natural gift of reflecting with efficient, analytical thoughts.
We all express all 4 types to some degree, but we will lead with one as our primary energy.
What energy type are you?
Did you immediately see yourself or a loved one in the descriptions? It took us a bit longer to figure out what type we were.
Looking into the description my husband knew right away that I was a Type 2. However, I always denied it and tried to be something else. My love for a gentle, tender, and sensitive nature made me critical of myself. I longed to be just that but judged it as being not good enough. I would often push myself way too hard, and then be exhausted and unhappy. What a relief, when I finely accepted that I made a pretty bad waterfall, but flowing like a river, I can get tons done.
Jakob is a Type 3 and loves busying himself with projects around the homestead. Being a 3 and 2 couple we have very little fun-lowing Type 1 and perfecting Type 4 in our relationship. Before we would blame ourselves for being so not social, and never doing anything perfectly. But really, have you ever seen a waterfall falling into a perfectly calm lake?
Finding out what energy type we are, we can see our natural strengths and talents and use them instead of concentrating on what we might not be as good at.
If we caught your interest, take some time to find out what type you might be.
Homesteading according to my nature
After seeing the benefits of knowing our energy type in our personal life and relationship we now see how it affects basically everything we do.
Type 3's are the ones that make the classic homesteaders. With lots of energy to get things done and move things forward. As a Type 3 man, my husband loves building things.
Does that mean that if you are not a Type 3, you can't have a homestead, or feel overwhelmed at all times? No. But it does mean that if you are aware of your energy type, you can adjust your homestead accordingly.
A Type 1 might want to make homesteading more fun, with many flowers and random small gardens. Community gardens are awesome for a Type 1. Community events for canning, juicing, bread making is also great. If there isn't a group in your area, consider creating one. All your Type 1 friends will be in.
Type 2 look for comfort in whatever they do. That does not mean that nothing gets done, but if they allow themselves to do things in a comfortable flowing way, they can move a lot. Working smarter, not harder is very typical. Constantly looking for ways to simplify, being willing to question traditional hard-working methods. Sharing them with others is also a very Type 2 thing to do.
Type 3 are the ones that enjoy a big single-row garden. Getting it all planted, weeded, harvested is pure satisfaction for them. Preserving is often done in one go and shown off to celebrate the accomplishment. They are the ones that can grow and produce way more than they will ever need. Consider supporting elderly and needy families in your area.
Type 4 will bring to perfection the procedure. Go ahead and build those garden beds, in perfect symmetry and beauty. Don't hesitate to share your exemplary planting schedule, we all will benefit from it. I love following Type 4 vloggers. They make informative videos, that really stand out through their communication skills and analytical way of thinking.
There is so much variety, comfort, accomplishment, and perfection if we allow ourselves to be who we are and to use our natural gifts. There is no need to be someone you are not. Be who you are, that's the best you can be anyways.
We invite you to subscribe to Northern Homestead and follow us on Instagram, Facebook, or Pinterest for the latest update.
More posts you might enjoy