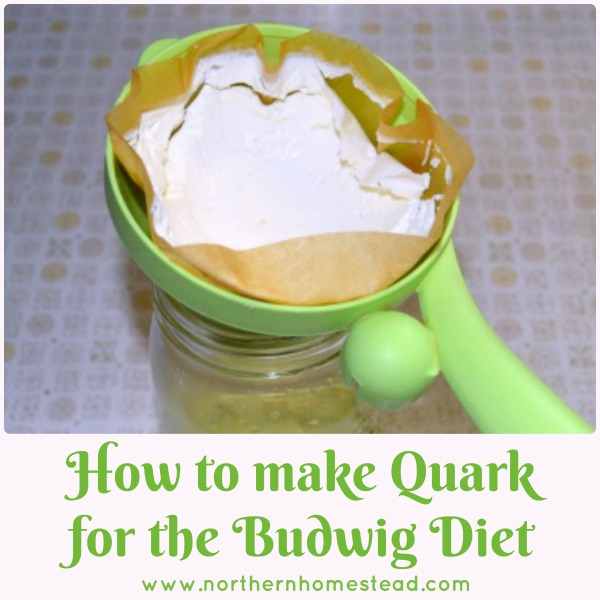 Quark is a soft cottage cheese made out of cultured milk. I shared how to make quark cheese before, but I got a lot of questions about making it specifically for the Budwig diet. When Dr. Budwig developed the diet, she used quark. Dr Budwig was German and quark is widely available in Germany, but not so much in America. The good news is that it is easy to make quark at home. To make the portion needed for the Budwig meal is especially simple, since one portion only needs 100 – 125 g quark.
In this video I explain step by step how to make quark for the Budwig diet. I tried to be very clear, so I do speak a bit funny slow, but that's on purpose so all the questions can be answered. If you do everything I do in the video, you will have great quark every day. If you can't see the video below, go here.
This is a great way to make the daily portion of quark for the Budwig quark oil diet. You will need about two cups of kefir for one portion. I use a coffee filter and a small strainer.
You want to use real kefir grains. The Kefir Lady offers live kefir grains, also Cultures for Health.
For bigger portions and more options see this post: How to make quark cheese.
For the Budwig recipe go here: The Flax Oil Quark Cheese Breakfast From Dr. Budwig.
The book for the diet: Flax Oil As a True Aid Against Arthritis Heart Infarction Cancer and Other Diseases
.
Hope this was helpful. Have a happy and healthy day!
We invite you to subscribe to Northern Homestead and follow us on Facebook or Pinterest for the latest updates.
More Recipes You Might Enjoy: