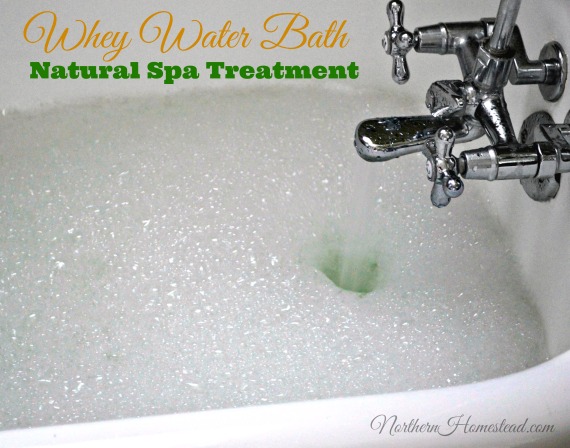 Do you enjoy a real spa treatment? I sure do. Preferably at home. In my own bath tub. On a cold day in the winter or after a day of work in the garden, there is nothing I would enjoy more. My favorite natural remedy for it is Whey Water.
What is whey water
Whey water is a by-product in cheese making, the lime-color liquid that is left behind by separating curds from fermented milk (kefir, yogurt, or other cultured dairy product). It is, if you will, a waste product. And some people treat it as waste, unknowingly. However real, cultured, and not heated whey is packed full of good bacteria and natural vitamins. Good for your health, and your skin.
Whey water bubble bath
Generally speaking, whey water is way too precious to use it for baths, but in our house we have so much of it from the quark cheese making process, that to have a regular whey water bath is totally appropriate. A relaxing bath that is good for skin, and soul. Use a quarter to a gallon of whey water per bath tub of nice hot water. Pour the whey in while filling the tub, it will start bubbling just like a commercial bubble bath but without the chemical additives. A real natural treat!
And while enjoying the bath, here is a great read: The Whey Prescription: The Healing Miracle in Milk.
Don't forget to subscribe to Northern Homestead and follow us on Facebook or Pinterest for the latest updates.