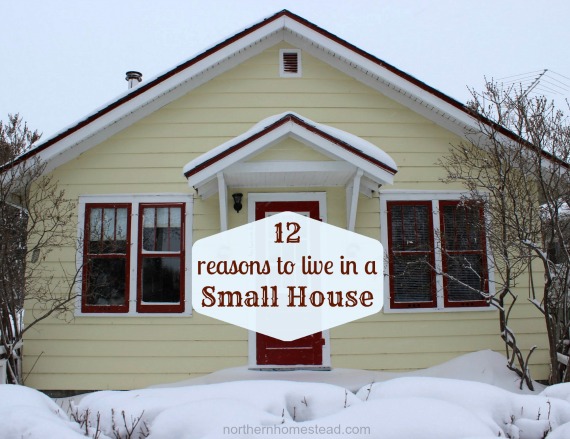 We all know those great financial reasons to live in a small house: less mortgage, less maintenance costs, less heating cost, and so on. It is simple, if you can't afford big then go small. But what if you WANT to live small? Does that make any sense? I think it does. Here are 12 reasons to live in a small house – other than money.
1. A small house is cozy
I love cozy rooms. There is just something about them, isn't it? Just try to make a 1000 square foot living room cozy. Hmm, sure there are ways, but it wont be the same as a small place next to a wood burning fireplace.
2. A small house is warmer in the winter
We are in Alberta and yep, it is cold here. To heat up a small house to a warm temperature is not hard. In fact, that is the main reason why people in the past had small houses with low roofs and tiny windows. Thankfully today we have better solutions for heating, but still, small is warmer, and I like it warm.
3. A small house looks good without decoration
Deco items are dust collectors and so many of them are questionable (Still just deco or an idol???). The bigger the house, the more you decorate, and the more dust it collects. On the other hand just some green plants and /or flowers in a small room make it look decorated.
4. A small house is faster to clean
Truth is that a person makes just as much mess in a small house as they would in a big one. So if there are more people in a small house, cleaning needs to be done more often. But it takes less time. Plus, there is no empty space to be cleaned.
5. A small house builds relationships
Small houses do not have places to escape each other, everyone is everywhere all the time. Music and conversations are shared. We are more aware of each other and spend more time together.
6. A small house inspires ideas and creativity
If you are looking for some really unique storage solutions, look for small places, they have them. IKEA is a great example with those tiny apartment showcases. Small spaces are inspiring.
7. A small house prevents clutter
Sure there are people who clutter even their sleeping place, but generally speaking the more space you have, the more things you gather. Small spaces help to stay on top of things and not gather unwanted stuff.
8. A small house feels securer
There are no dark and empty spaces, no unattended doors and windows. A small house gives you the feeling of being in control of every corner, to feel secure.
9. A small house helps to live simple
Less clutter – less cleaning – less shopping; it all helps to live simpler, in the moment, with time left for more important things.
10. A small house is freeing
The more we own, the more it owns us. To have less things to care for frees you emotionally, too.
11. A small house encourages more time outdoors
People in a western world generally spend too much time indoors. A smaller space forces you to get out and enjoy the great outdoors.
12. A small house takes up less space
And last but not least, a small house simply takes up less space on any given lot. That means a lot to a gardener like me. More garden space is always welcome (nah, I am not for a small garden! ;))
Bigger is not always better! You might be happier in a smaller house, I sure am. Any "The Smaller, The Better" reasons I missed?
We invite you to subscribe to NorthernHomestead and follow us on Facebook or Pinterest for more great tips.