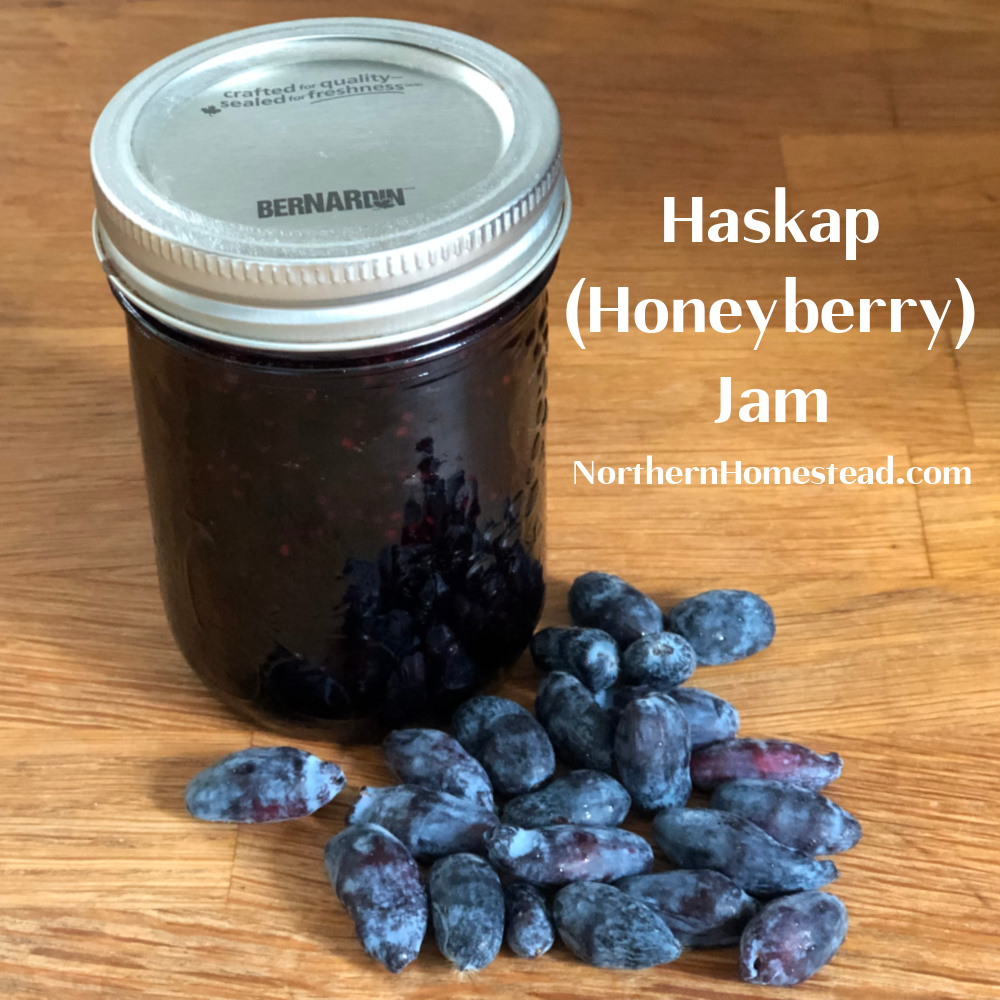 The Haskap (Honeyberry) jam opened up this year's canning season. Its tart, sweet, rich taste is very delicious. It is also simple to make since no pectin is needed. The berries are rich in natural pectin. 
This year for the first time we had enough berries to make jam. Usually, we enjoy the early fruit fresh from the bush. 
What is Haskap aka Honeyberries?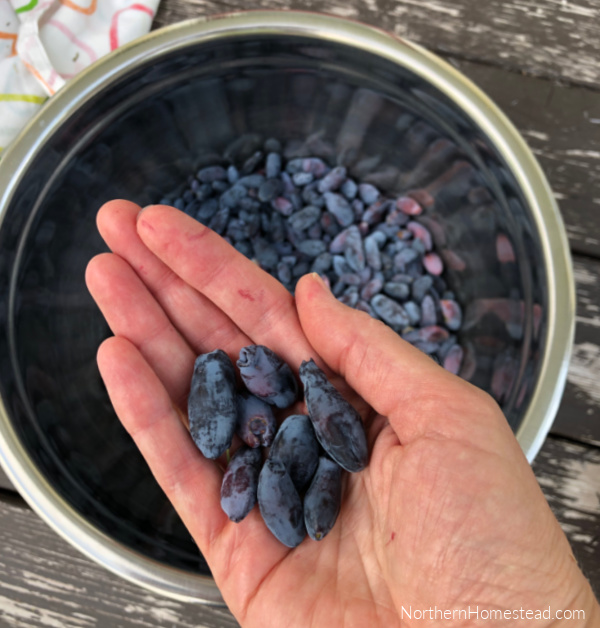 You are not alone if you have never heard of Haskap aka Honeyberries. Being very fragile berries, they are usually not found in stores or marketplaces. If you don't grow your own, look for U-pick. That's where we got to know them first. 
The Honeyberries are great berries in a cold climate. They are hardy and can bloom while it is still cold outside, giving early nectar to the bees and other insects.
The fruit is also the first to ripen in our fruit forest. If nothing else, that is enough reason to grow them.  
Haskap seems to be their Japanese name, around here they are more known as Honeyberry. 
How to harvest Honeyberries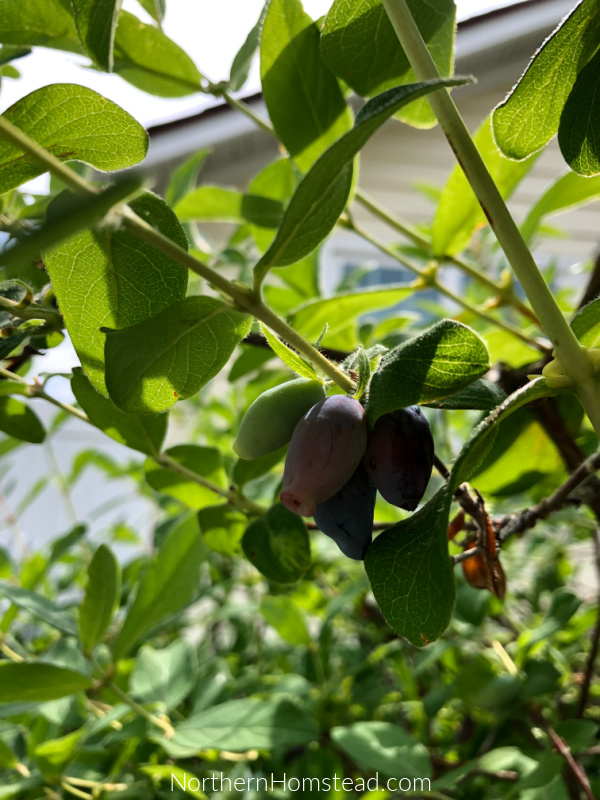 Different varieties have slightly different ripening times. The Tundra ripens a bit earlier than Aurora, these are the two varieties we grow. Aurora on the other hand has a longer harvesting window, they do not all ripen at the same time. 
The berries get bigger with maturity and turn a dark blue-purple color. Once fully ripe, they drop.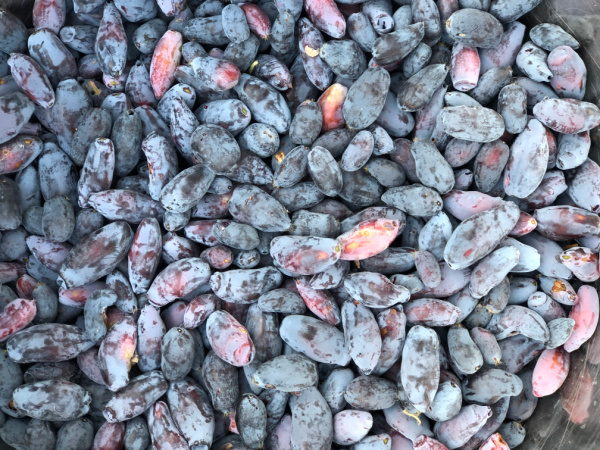 At the U-pick, we were given big round sheets that we placed under the bush and shook the bush for any berries that would fall off. We were advised not to pick. 
Having something under the bush to catch the fallen berries is a great idea. At home though, we prefer to pick the berries. 
Look for berries that are easy to come off the plant, if the fruit is still holding on, it is not ripe yet. 
Let's talk sugar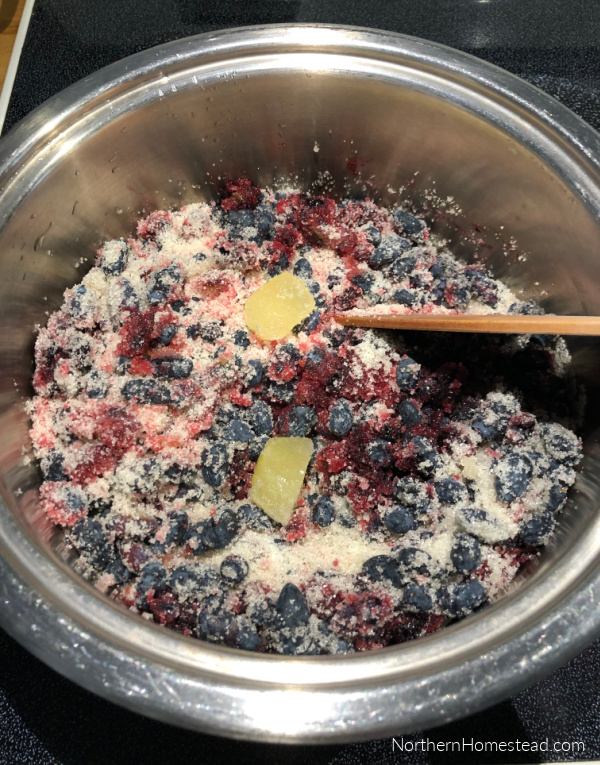 I like to say that you need honey to enjoy these berries, hence the name Honeyberry ;). They taste a bit like blueberries, but more tart I find. 
However, even though a Honeyberry jam needs a sweetener, we do not want it to be overly sweet. The reason is not that we avoid sugar altogether, we do not, but we do try to keep things in a range of natural tastes.
Sugar is not a natural product, it is highly processed. Like all processed food it can become addicting. And that is what we want to avoid. If we train our taste buds to like the over sweetness, we can not enjoy the natural flavor any longer. I want to enjoy the berries right on the bush as well as in a yummy jam. 
Replacing sugar with honey is an option. We just use sugar, preferably organic though, and not more than a 1 to 1 ratio in weight, not volume. 
The jam turns out sweet. I could reduce the sugar even more. Add sugar to your liking, but if you tend to use a one-to-one ratio by volume, as most recipes are, I would encourage you to try a less sweet version, maybe you too will like it more. 
The cooking time
The more sugar you use, the quicker the jam will get to the gel stage. Less sugar, longer cooking time. 
I let the jam boil for 15 minutes, and if I wanted it to be jelly, I could add another 5 minutes. We like jam a bit more runny, I find it tastes more fruity this way.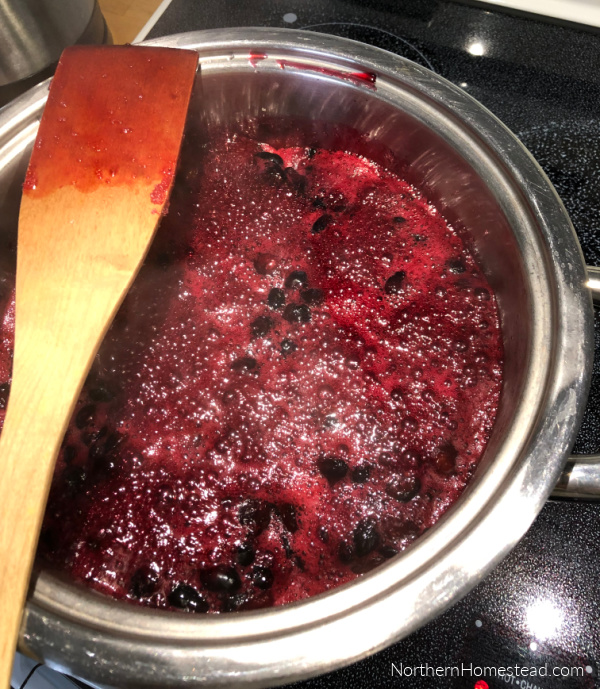 The jam will foam a lot, so choose a big saucepan to avoid overboiling.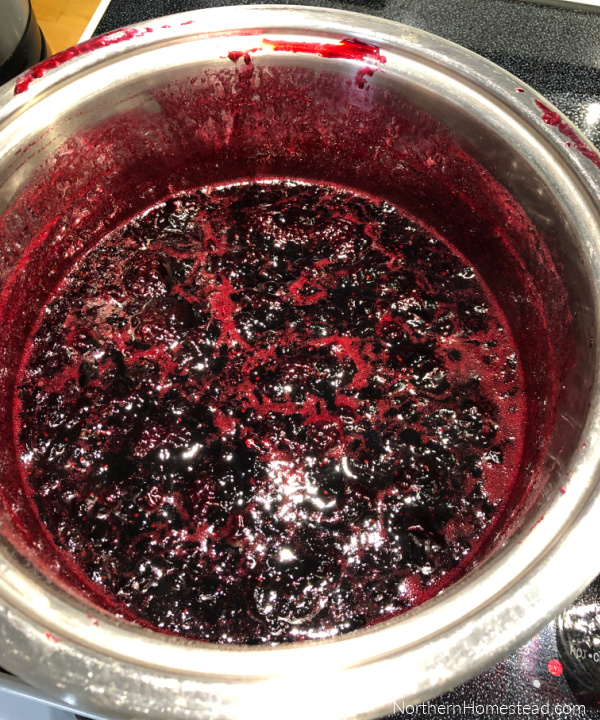 Once the jelly stage is closed the jam will boil down and look more glossy. Test the gel if you have to. 
The jam can be canned or frozen. I prefer canning. Like all jams, I process the jars for 20 minutes. That has to do with the latitude and also with the fact that jars and lids are automatically sterilized at that time. So I do not have to do that beforehand and save myself some work. Read more about preparing canning jars here. 
Haskap Honeyberry Jam Recipe
Haskap (Honeyberry) Jam
Author:
Anna @ Northern Homestead
Ingredients
1 kg (2.2 pounds) Haskap berries
1 kg (2.2 pounds) of sugar
2 tablespoons lemon juice (optional)
Instructions
Combine all ingredients in a large saucepan
Cook for 15-20 minutes on medium-high heat stirring occasionally
Test the gel stage if you like
Ladle into clean jars
Cover with lids and screw on bands finger tight
Process in a water bath or steam canner for 20 minutes
Note: You can process this jam for 10 minutes (adjusting to your altitude), but in that case, you have to sterilize jars and lids beforehand. I just process it for 20 minutes, to save myself the extra work.
We invite you to subscribe to
Northern Homestead
and follow us on
Instagram
, 
Facebook,
or
Pinterest
for more great recipes.
More food-preserving recipes you might enjoy: