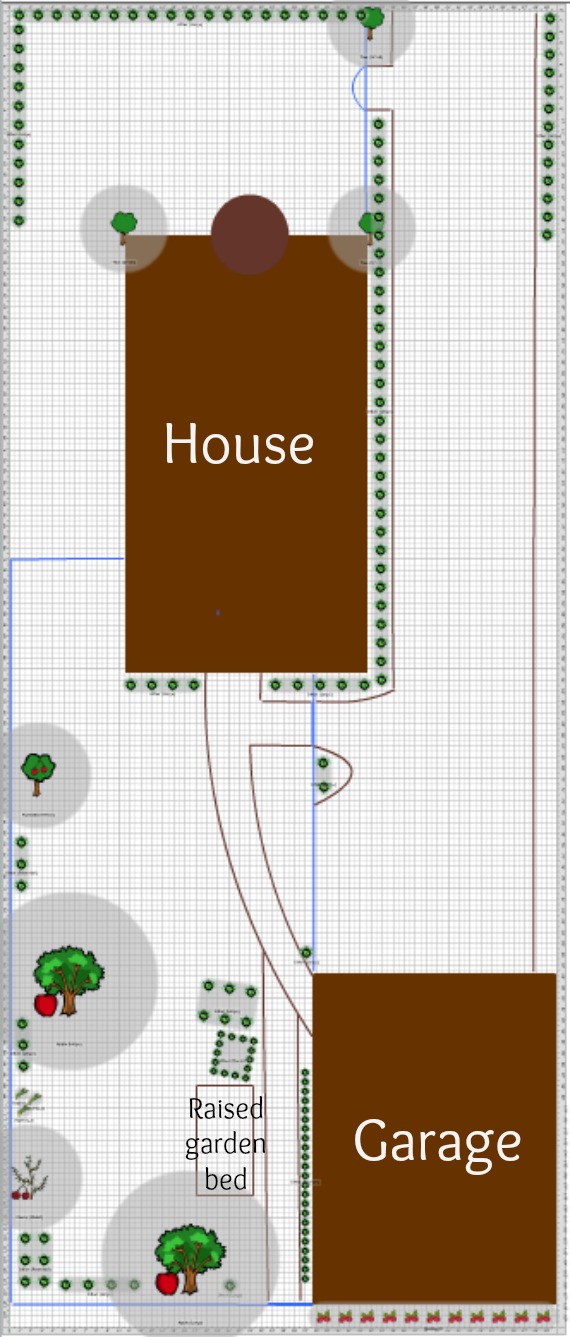 This is my very first post about our new to us 1/8 acre homestead. Hope many will follow. May I just stop here for a moment and Thank You for having interest in our Northern Homestead, we appreciate you so, so much! With Northern Homestead we hope to be an inspiration, if we can homestead here, it is doable anywhere! As you know, we are in Alberta, Canada at the foothills of the Rocky Mountains – plant hardiness zone 3A, elevation 1,037 m (3,402 ft). It is cold here, but I like the fundamental principal of Permaculture: "The problem is the solution." Let's do a site survey to see what is there on our 1/8 acre urban lot, so we can make the best out of it.
There is a 50 x 120 feet lot (facing north), with a 22 x 42 feet house (a small house) and a 22 x 30 feet garage (a big garage). Also both neighboring houses basically line up with the property line (making more shade). Honestly, this is not the best situation for a homestead, but we are looking for solutions, not problems.
The garden, driveway, and front yard already has lots of trees, shrubs, and perennials growing. The previous owner left us a whole file of information on what is growing. Neighbors have already assured us that it is beautiful! Looking through the file we can only imagine the beauty that is here. I feel a bit like we are entering holy ground. Perennials everywhere. So exiting! If only the snow would melt a bit faster.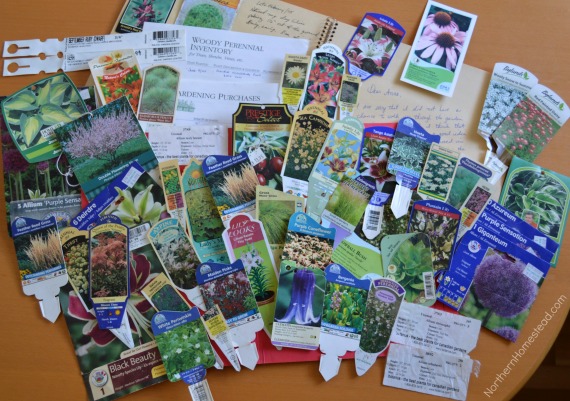 The front yard, facing north, is not big, but cute with the white fence and arch. There are two lilac trees on each corner of the house and a few other shrubs and perennials growing in the front yard, otherwise it is grass. There is a lot of shade.
The driveway is narrow with lots of perennials on the east side of the house. I can only imagine the colours and beauty of them. There are about 5 hours of sunshine in the morning right now. It will be more in the summer. The west side of the drive way seems to be empty.
The west side of the house is very narrow, with only about 2 hours of sunshine. Not much growing there.
The garage takes a good portion of the back yard. It is an over sized garage, very much to my husbands liking. But we are both sure that it can do more then just being a garage. We have big plans for this huge old building.
The back yard and garden are south facing and have lots of sunshine. The layout is beautiful and still has room for more garden space. The fruit trees and berry shrubs look promising. There is a garden box that was used more as a play/sand box. An outdoor wood stove seems to be great for some outdoor meals and gatherings on cool nights. There is no deck, just grass.
Since our back yard is still covered in snow, we have not yet seen what is actually growing here. So the planning has to wait, but what we can and should do is a shade survey. Now is a good time to do so. More about it next time.
I made the plan picture using the Grow Veg garden planner.
Don't forget to subscribe to NorthernHomestead and follow us on Facebook or Pinterest for the latest updates.