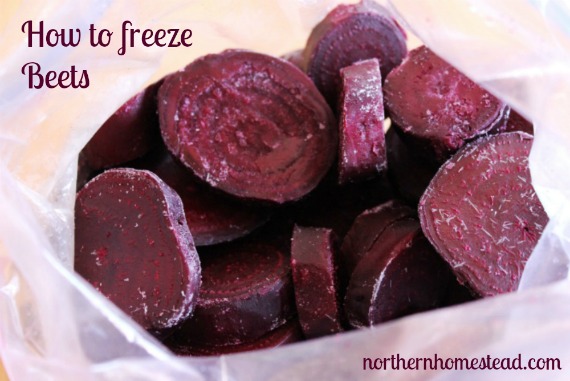 We love beets, they are healthy and just so delicious. There are many ways to preserve beets, here we share how to freeze beets in 3 different ways.
We like to grow Cylindra, a very sweet Heirloom beet that grows in a long cylindrical shape. Very nice for slicing. Sometimes they get really big, too.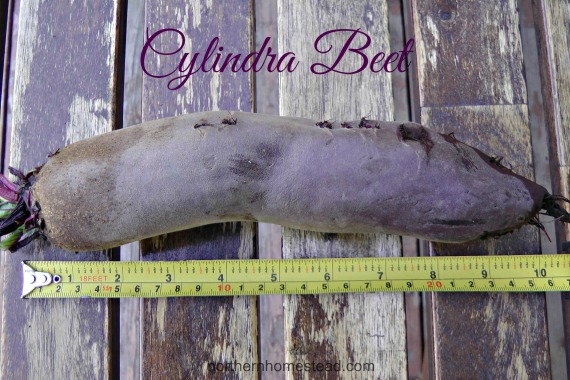 We also love the Beet Chioggia, an Italian beet variety that is red and white. This variety does not bleed and is a bit sweeter, I also find that this variety is a bit easier on digestion.
1. How to freeze cooked beets
Beets are best to be cooked whole with the skin on. Just cut up the leaves, leaving about an inch. That prevents them from bleeding out. As soon as you can put a fork in, they are done. It will take 30-50 minutes, depending on the size.
It works very well with cooking up a lot of beets whenever we want them for supper and freezing the rest.  I like to cook beets in a pot with about an inch of water at the bottom, so that the beets are steamed, not boiled in water. It preserves the taste better. Read more in How to steam vegetables without a steamer. But beets can also be cooked in water, as you would cook potatoes.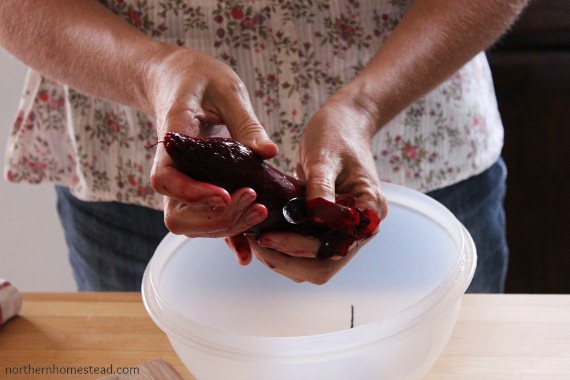 After they are cooked, peel the hot beets under running water, the skin will come right off. Or let the beets cool off and then peel them, again, the skin will simply come off.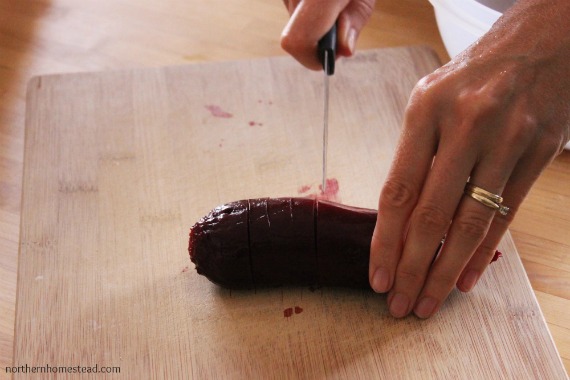 To freeze slice the beets and spread them on a baking sheet in a single layer. When frozen, transfer them into a freezer bag. That way you can easily take portions out as needed.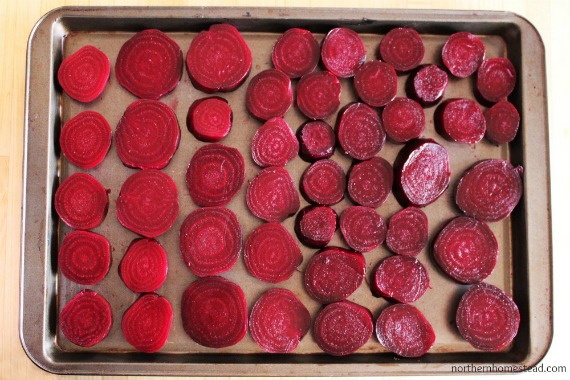 In the winter we just reheat them and we have delicious beets, just like fresh. This is great in beet salads, or roast them in the oven.
How to Freeze roasted beets
This idea to freeze roasted beets comes from a reader, we tried it and like it. We used the Beet Chioggia, our favorite beat for roasting.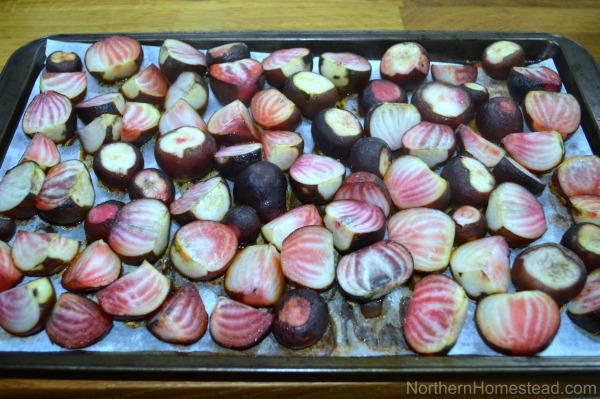 Cut the beets into bite-size peases, you can peel them or roast with skin on and slip the skin off after roasting if desired.
Drizzle with some olive oil or balsamic vinegar and roast for 15-30 minutes at 350F, so that they are barely done, you can just pierce them with a fork.
Let cool and transfer the baking sheet into a freezer. When frozen, transfer the roasted beets into a freezer bag. That way you can easily take portions out as needed. Reheat in the oven, sprinkled with some seasoning for about 20 minutes or in a covered dish in the microwave for 5-10 minutes.
How to Freeze chopped beets
Beets can also be frozen raw when chopped into small peases. This is a great way to freeze beets for soups and borscht. Chopped vegetables do not have to be blanched to freeze. Just like carrots, they keep well raw.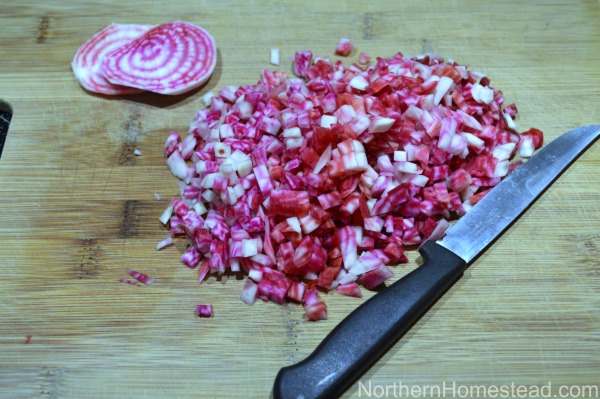 Cut the raw peeled beets into small peases, transfer into a freezer bag, label and freeze.
You prefer canning? Here is our favorite Pickled beet recipe, and here a how-to for pressure canning beets.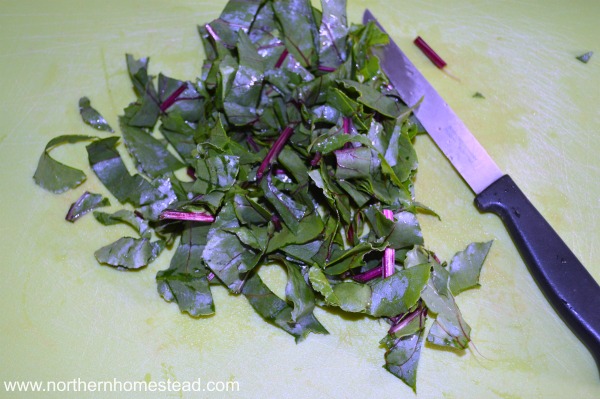 What about the beet greens, can they be frozen too? They sure can! See how to freeze greens here.
We invite you to subscribe to Northern Homestead and follow us on Facebook or Pinterest for more great recipes.
More food preserving post you might enjoy