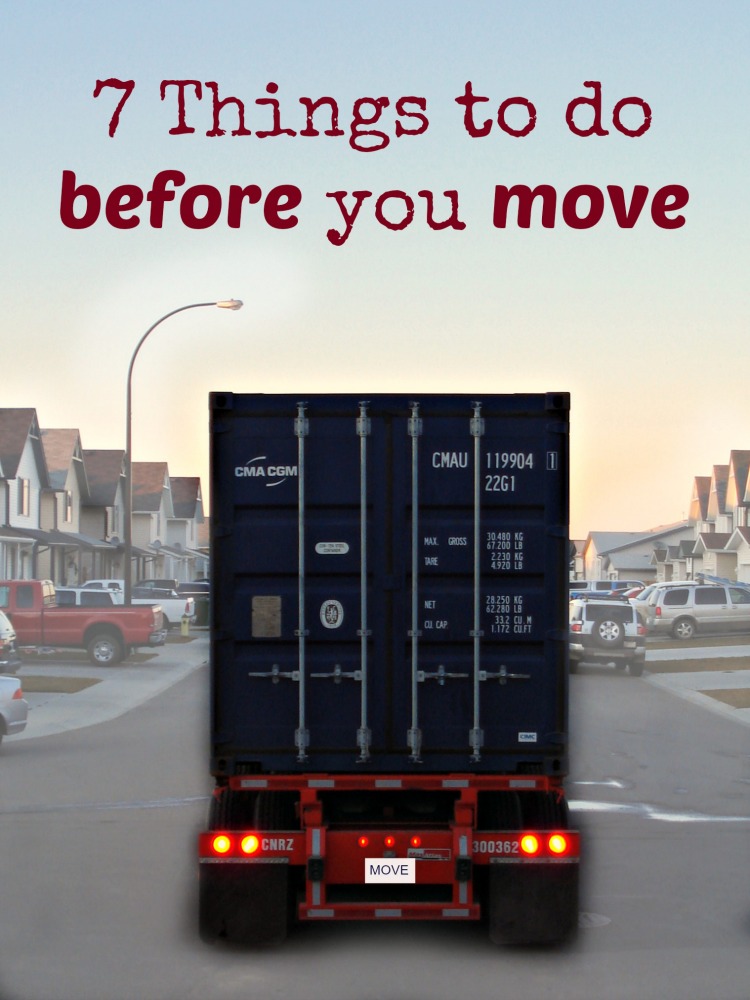 Moving is stressful, there is no question about it. We have done it so many times now – in town, from town to town, country to country, and overseas. Our first moves were rather chaotic, but then I learned how to make it more bearable. Now another move is right before us so it's time to get started.
1. Organize your belongings
Even if you are not planning a move in the near future, this is always an important step. And I am not talking about having everything organized, I am talking about having your belongings organized. Do not own things you do not like, use, or find important to keep. If you have too much stuff at any given time, get rid of it, otherwise moving can be a disaster. If you are planning to move sometime soon, this would be the first step. Sell, give away, and throw away what you do not need.
2. Make a plan for your new home
This goes along with the first step and is especially important if you are downsizing. There is no need to move everything you own if it does not fit into the new place, or a new garage, or a new basement. The plan does not have to be fancy, just a good idea of what space is available and what fits in there. I normally make a simple drawing on a graphing paper. This way I know where we can put what and what fits and what does not.
3. Start packing early and set small goals
Packing up the whole house can be overwhelming. By starting early and setting small goals it is not so difficult. If you pack just three boxes a day, in 10 days you have packed 30 boxes, in 20 days 60, and in 30 days 90 boxes! Sure, you can't pack everything away a month before the big move, but there is always something that can go into a box long before the move. Here are some things that you can start with: books, garden stuff, special dishes, guest room bedding, etc.
4. Label boxes
Depending on how long before I pack the box and how long till I know I will be able to unpack, I label more or less. But one important label always has to be on the box: what room it belongs in. Unpacking is so much easier if you have every box and furniture already in the right room you want it to be in. Especially if there are many helpers on a moving day, things can be very rushed. To have a plan (see point 2), and labels can help enormously for a smooth move and quick settling in.
A reader shared with us: One of my favorite things is colored duct tape. Each room gets a different color. When you arrive, put a piece of tape on the floor in front of the door to the appropriate room. Movers- family-friends-whatever- now know what room each box goes into. What a great idea!
5. Assign tasks
If you move as a family, let the move be a family affair. Our kids had to pack their own rooms starting at a very young age. Sure, at first we helped them, but they also learned to have responsibility and how to pack and move a room. Since I am at home way more than my husband is I do most of the packing, but still, the garage and his tools are his responsibility. If you know of someone who could help you with the task, ask for help. No one has to do the whole move alone, or at least should not.
6. Move fragile stuff separately
There are seldom times where everything has to be moved in one go. If it's possible, have the fragile things out of the way before the big move. If you have access to the new place a few days earlier for cleaning, take your glass table, picture frames, and house plants with you and they will not be in the way on a moving day.
7. Complete paperwork ahead of time
Post redirection takes time anyway, so why not do it early. As soon as you know your new address, make all the address changes you know you will need to make. After the move, you will be tired and still busy settling in so it is nice not to be worrying about paperwork.
I hope these 7 simple steps are helpful to make the moving experience as pleasant as possible. It still will be a lot of work, but not as overwhelming anymore. Is there anything you would add to the list?