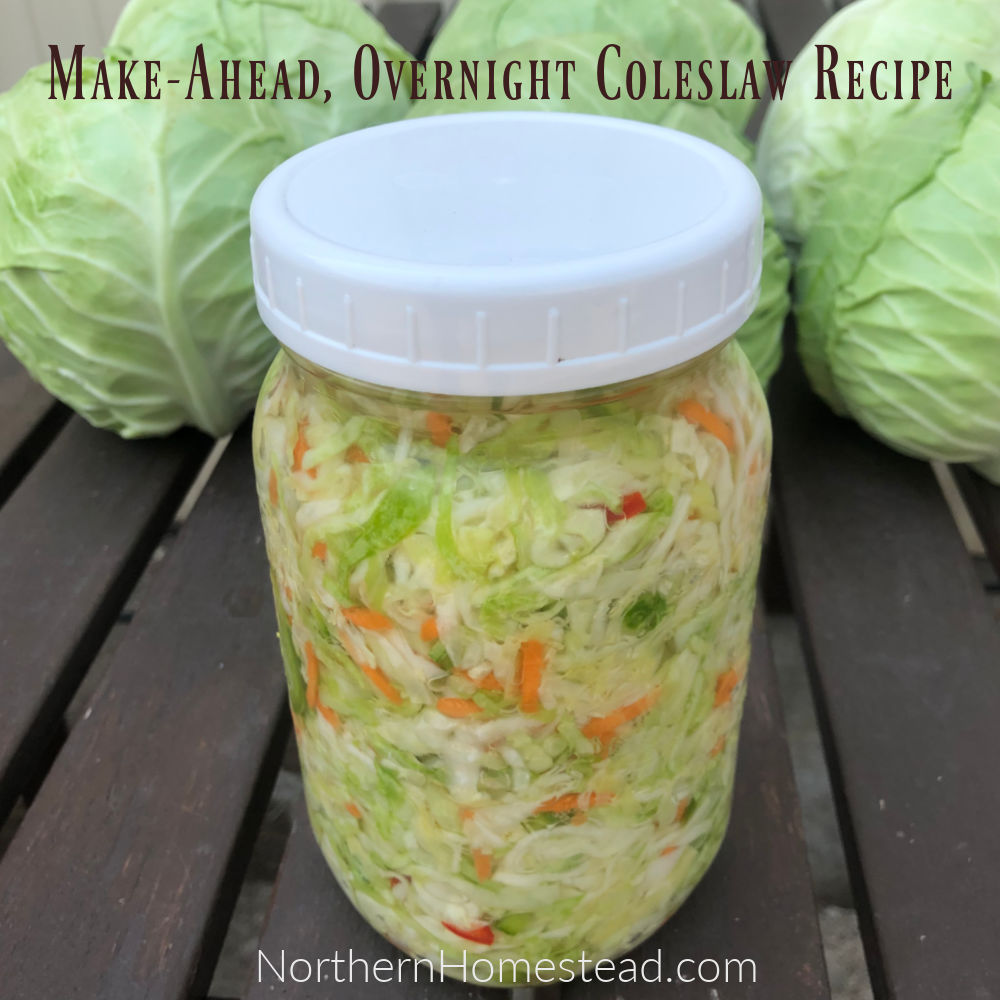 Coleslaw aka coleslaw has become a favorite North American side dish. The name originated from the Dutch settlements. In truth, it's just a cabbage salad that is made and loved around the world.
This make-ahead overnight coleslaw recipe comes from Russia. The Russians love cabbage in all forms and tastes, and if a Russian food lover says this recipe is a favorite, then it must be good, and it is!
This coleslaw keeps for about a week in the fridge. It tastes best after 24 hours but can be enjoyed after 12. Make a batch on the weekend and have a fresh salad every day of the week.
The coleslaw also freezes well, see instructions below. 
The texture is crispy and stays crispy. It's very delicious.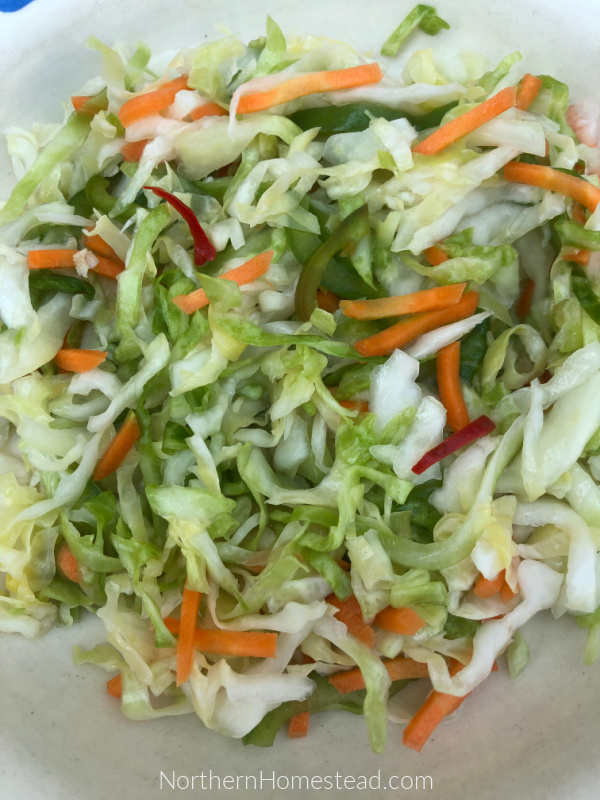 It can be enjoyed as is or serve as a base for other salads or dishes.
The ingredients are very simple because remember it is made to keep. I share the recipe as is.
However, if you plan to eat it soon for a party or gathering, by all means, add onions or herbs of your liking right away. 
You might be accustomed to mustard and celery seed taste in a coleslaw, add a teaspoon of each to your liking. 
Before use add some green onions, or garlic, and shallots. Fresh dill goes very well with this coleslaw, too.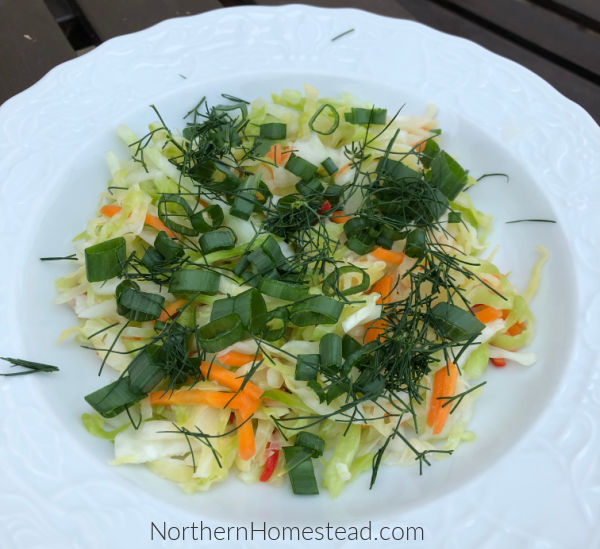 Try adding some leftover boiled potatoes, and thinly sliced onions and you have a lunch. Another simple Russian dish. It's so easy, and at the same time surprisingly delicious. Don't forget to try it!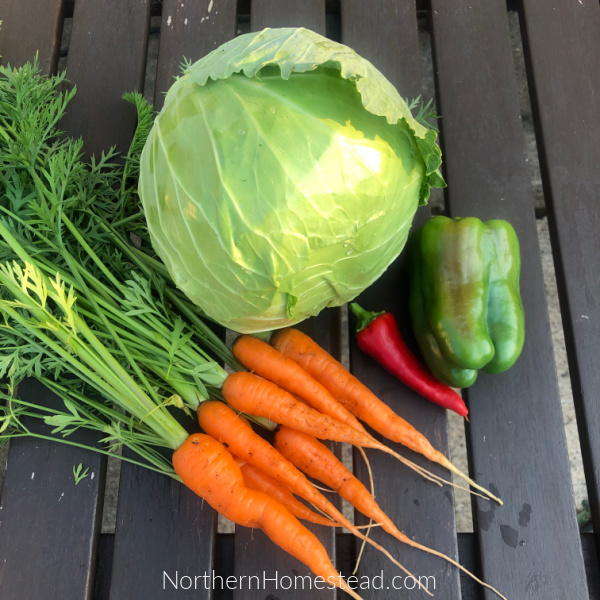 Any kind of cabbage can be used for this recipe. Colorful peppers make it more pretty. Use yellow and red for example. I usually use whatever becomes available in the garden.
You want to thinly slice the cabbage and other vegetables. It is easy to slice all of it by hand, as I show in this sauerkraut recipe, or use a mandolin slicer. With a mandolin slicer, the process is quicker and more homogeneous. We use the Starfrit mandolin, it works well for us. I recommend wearing protective gloves when using a mandolin slicer.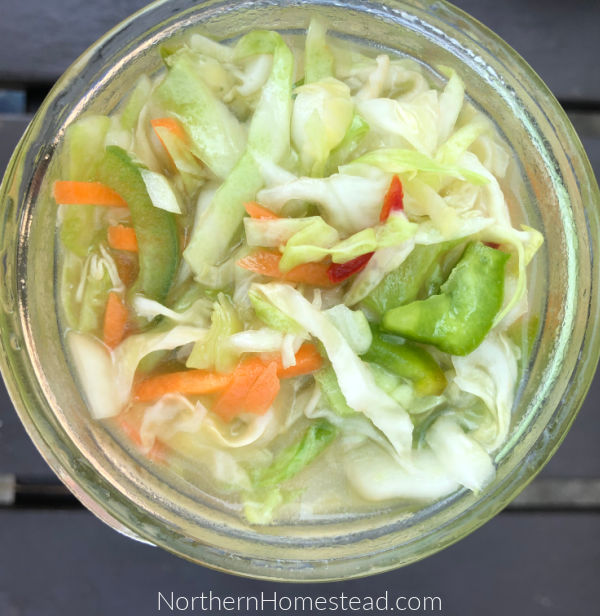 If the cabbage is very fresh and juicy, you might want to reduce the amount of water. You only need enough liquid to cover the veggies without pressing them down too much. 
Olive oil is my favorite to use. I reduce it to 2 tablespoons and find it is enough. However, as I said before, I share the recipe as is and you can adjust it to your liking. 
To keep in the fridge I use a glass jar, it's just so convenient. But any airtight container would work. 
Make ahead, overnight coleslaw recipe
Make ahead, overnight coleslaw recipe
Author:
Anna @ Northern Homestead
Ingredients
1 kg of sliced cabbage (2 pounds)
100 gr sliced carrot (2 cups)
100 gr sliced pepper (one large)
1 tbsp salt
2 tbsp sugar
4 tbsp white vinegar
4 tbsp vegetable oil
200-250 ml. hot water (as needed)
Instructions
Thinly chop or slice the cabbage, carrots, and pepper.
Add salt and sugar and mix well.
Combine hot water, oil, and vinegar and pour over the vegetables.
Mix together and let sit for a bit at room temperature.
Fill the coleslaw into jars or airtight containers
Refrigerate overnight. Taste best after 24 hours.
Freezing the overnight coleslaw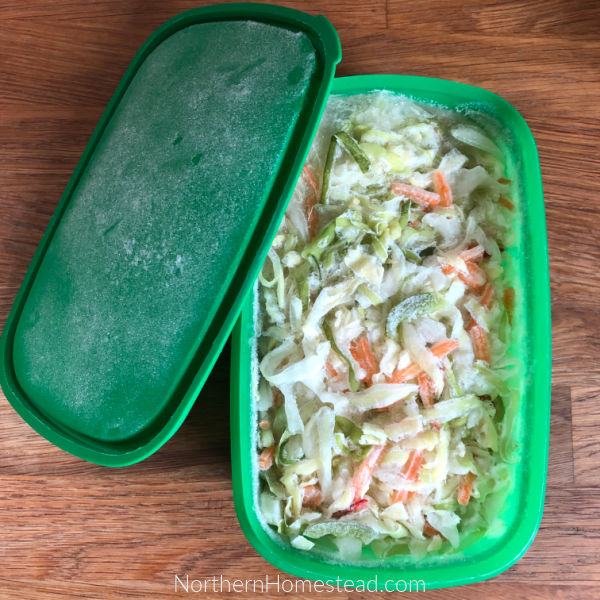 Did you know that coleslaw can be frozen? I did not till a reader mentioned it. I did some more reading on it and tried it myself. And sure enough, it freezes very well. 
Put the ready-made coleslaw in portions as much as you want to use at once into a freezer bag or container and freeze. My trial was after it was in the fridge overnight. However, freezing right away would probably work even better. 
To use take out of the freezer and let thaw slowly in the fridge. It tastes fresh, maybe a bit softer in texture. 
If you have a tip you want to share, we would love to hear from you in the comment below. 
We invite you to subscribe to Northern Homestead and follow us on Instagram, Facebook, or Pinterest for more yummy recipes.
More Recipes You Might Enjoy: