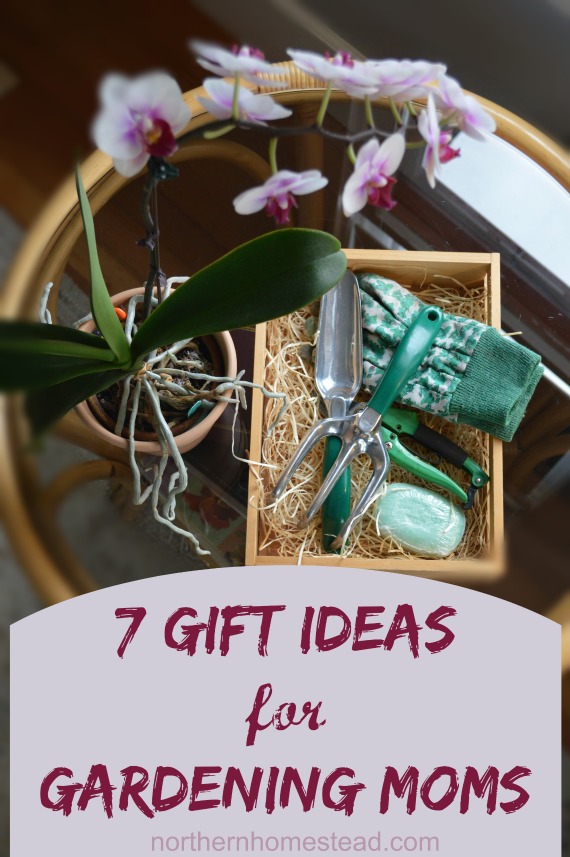 If your mom is a gardener, you are lucky! Not just because she is an awesome person, that is what gardeners are ;), but also it is very easy to find her a meaningful mothers day gift. A gardening gift. The nice thing about gifts for a gardener is that they come for all budgets. If a child only has a dollar, there are nice gardening things for a dollar. If a child wants to get all fancy, go ahead, the ideas are endless. So let's get started with 7 Gift Ideas for Gardening Moms. The pictures are all Amazon affiliate links.
Garden Gloves
This is a classic. A gardener can never have too many gloves. I prefer the fabric gloves, they are just easier on the skin, but they rip fast. So I constantly need new ones. There are very pretty gloves, so get creative and your mom will love them.
Garden Tool Set
Again, something a gardener uses all the time. After a season they are usually all worn out. And even if they aren't, it is convenient to have more than one set ;).
Pruning Shears
They come in different styles and shapes. Some do a better job with hard things like pruning brunches, some are better for pruning herbs. So any gardener needs more than one. And if you know that your mom already has two, go for a Hedge Shear.
Bucket Caddy
Is your gardening mom organized, or does she need to get more organized? She would love to have one of these super handy bucket caddies. But do not give her a bucket, unless you fill it with flowers – I think that would just melt her heart!
Garden Kneeler and Seat with Bonus Tool Pouch
If your mom is not as young anymore, but still gardens, she would love some help with a work seat, to kneel or to sit on. They are a big help when spending hours in the garden. Besides, she just might take some more time to rest, while still in the garden, and thank God for you and your thoughtful gift!
Garden Shoes
Does your mom like gardening but just loves shoes? (women tend to do that) Get her some shoes, gardening shoes, how fun!
Gardening Book
A book is a great gardening gift that can be enjoyed beyond the gardening season. When snow covers her garden, your mom will just love a good gardening read.
Well, there are many more ideas what gardening moms would enjoy. But if you just keep it simple with some beautiful flowers, she will be thankful too. After all, she IS a gardening mom.
Enjoyed this post? Don't forget to subscribe to NorthernHomestead and follow us on Facebook or Pinterest for the latest updates.