Ornamental strawberries are blooming. These are outside.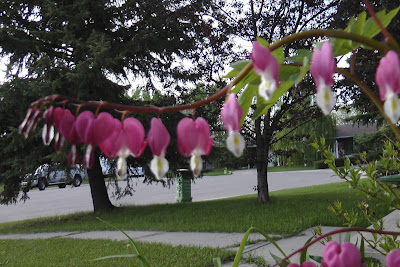 Beautiful old-fashioned bleeding-heart (Lamprocapnos spectabilis).
Iris, I love this color, and it is the first one that is blooming.
Petunia is very much getting ready to bloom.
Zucchini happily growing in a jar.
The Square foot garden with sunflowers in the back that are covered during cold nights, peas and some cabbage family plants that did not mind to get a little frost.
~*~*~*~*~*~*~*~*~*~*~*~*~*~*~*~*~*~
The GeoDome Greenhouse
Ground cherries, peppers, and eggplant are growing in the middle part. The peas that I started in early March are still there, along with the beets in between the peppers.
Pepper plants are wanting to bloom.
We already eat the peas.
Tomato plants that I started in March are having lots of tomatoes.
Cucumbers are just popping out of the ground.
Oregano that overwintered is looking really good. I also have a plant outside that also overwintered and looks good, too. So it does not have to be in the greenhouse.
Strawberries in the greenhouse just need some color.
Tomatoes that I transplanted into the ground about two weeks ago are blooming.
~*~*~*~*~*~*~*~*~*~*~*~*~*~*~*~*~*~
Appletree
~*~*~*~*~*~*~*~*~*~*~*~*~*~*~*~*~*~