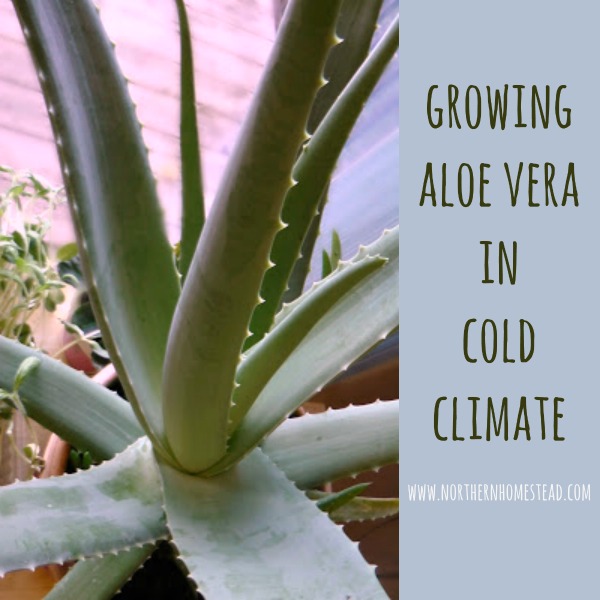 Aloe Vera is one of the most well-known and used medicinal plant. The benefits of Aloe Vera are almost endless, a real must have plant in your garden. But the plant is only hardy to zones 8–11 and loves well drained soil. Not a good fit for a cold climate, to say the least. Still, we too can grow Aloe Vera indoors and in a greenhouse. For best results as a medicinal plant you want a mature, 3+ years old plant, so give it the care it will need to be happy for many years to come.
Location
Aloe Vera grows well in a very warm, partially shady location. It can be easily grown in pots with good drainage. Indoors a location at a sunny window is great, you will not need additional grow lights. In the summer the plant can be outdoors, just make sure the temperature stays above 50°F and also the pot is not in brutal sunshine all day. In our climate we grow Aloe in the Greenhouse during the summer and in our laundry room at a south facing window during the winter. A mature plant can get to 3 feet in diameter and also 3 feet high when flowering.
Care and use
Just like in its natural environment, Aloe Vera does not like it wet. Water it well (soaking) about once a month, more in the summer or if the location is very warm. Let the soil dry out between witherings.
We use Aloe Vera for all kinds of skin and health problems, or just as a refreshing Aloe Vera – Orange drink. For use always cut the lowest leaf. It is okay to cut as much as you need at the time, till the whole leaf is used up. If the lowest leaf is not big and healthy, remove it, and start using the next lowest healthy leaf. After a while, when the stem gets so long that the plant starts to fall over, it needs a transplant.
Planting and transplanting Aloe Vera
If you got your Aloe Vera plant in a small plastic container, make sure to transplant it soon to give the plant more room to grow and better drainage. We like to use a Terra Cotta
growing pot, it seems to be a great option for this long living plant that loves to have dry feet. Make sure to plant Aloe Vera into a very light soil, you can even add some sand.
We do not grow Aloe Vera for the look, we grow it for use. If Aloe Vera leaves are regularly used, the plant gets tall and leggy after a while. All those used off leaves leave an ugly stem. Now it is time to transplant the Aloe Vera plant.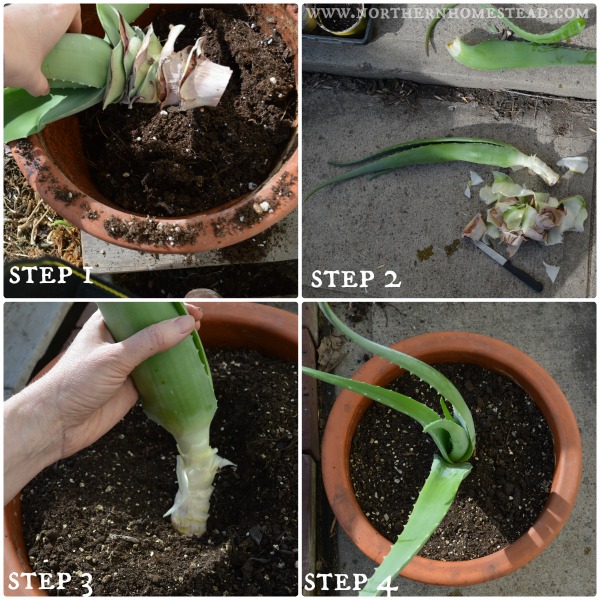 Step 1
Cut of the stem leaving about 4-6 inches for new root growth. Throw away the old root stem.
Step 2
Clean all the old leaves from the stem. It will feel a bit like butchering the plant, but that is OK. Still, work as gently as you can.
Step 3
Fill the pot with new, loose soil, make a hole, and plant the aloe into the pot.
Step 4
Keep the plant in a sheltered location and well watered till new roots grow. You will have a "new" plant to use in about 6 months.
Propagation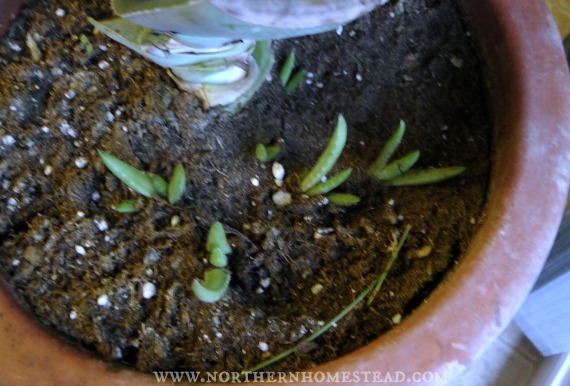 The easiest way to propagate Aloe Vera is through so called "pups" or "plantlets" that a mother plant will produce. The optimal size to transplant them is when they are about 3 inch tall.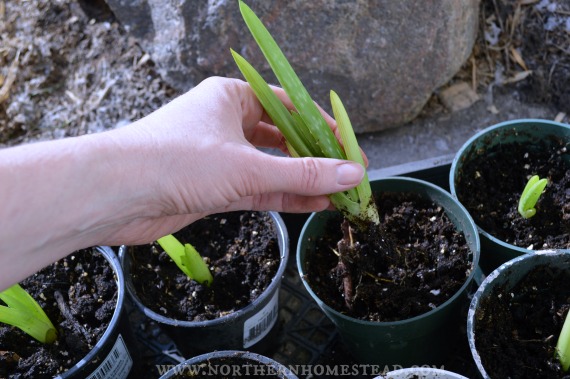 Gently separate them from the mother plant and plant them into a new pot. Keep moist till new roots grow. A mother plant can have as many as 16 babies. Bless your community with them ;).
Read more
Here are 10 Awesome Uses For Aloe Vera from Herbal Academy
My friend Cris from the Joybilee Farm has written great info: How to Grow and Use Aloe Vera.
And for book lovers: Aloe Vera and Aloe Arborescens: How to grow, care for and use your medicinal plants for better health! (Organic Gardening Book 4)
We hope this has encouraged you to get, grow, and use an Aloe Vera plant even in a cold climate. It is so worth it. Try the Aloe Vera – Orange drink and you will want to grow it even more!
We invite you to subscribe to Northern Homestead and follow us on Facebook or Pinterest for more great tips.