The canning season is a busy time of the year. Preparing and storing canning jars so that they are ready to be refilled helps a lot. Yes, it eliminates a few steps of work during the cunning season. This can be done all throughout the winter as jars get emptied out, or beforehand in spring.
Just giving the jars a quick rinse and pile them up somewhere out of sight is an option. But, after doing it for several years, we came to the conclusion that it doesn't work well.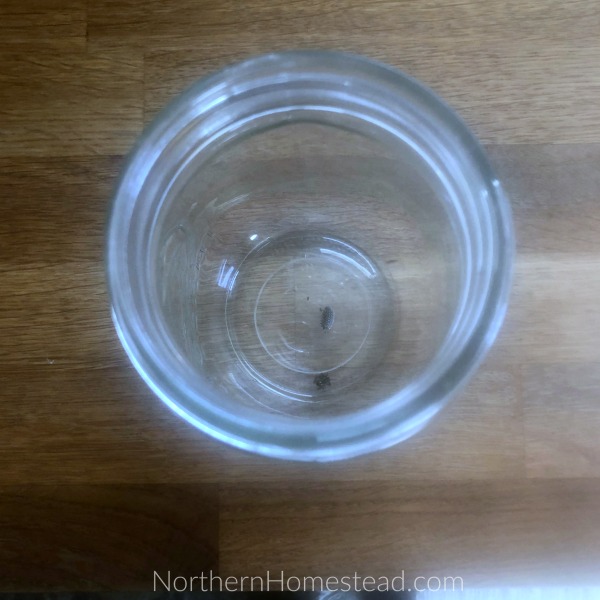 You know how it goes, dust and even bugs get into the jars making it a not so appealing thing, yuck. There must be a better way… and there is.
Cleaning jars
After enjoying the home-canned goodies the jars need to be washed and stored away for next year use. We clean our jars in the dishwasher. Dishwashers usually do a good job to clean a jar ready for canning. After that, we let the jar dry.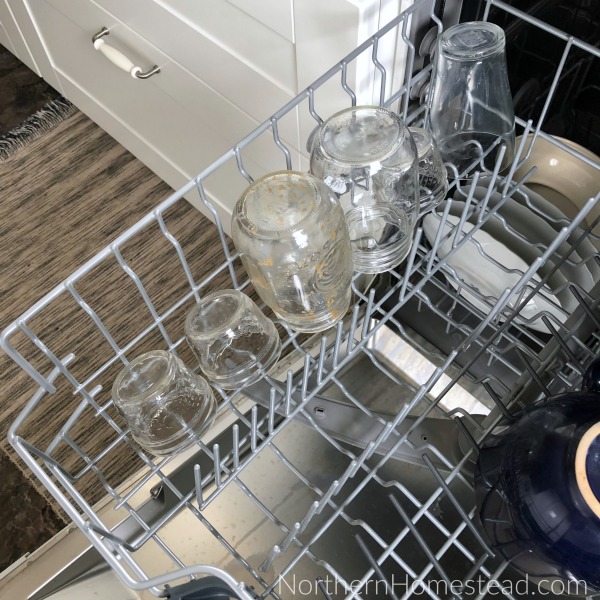 Do just need to be sterilized?
In the past sterilizing jars was a very important step. Cleanliness is still important today, but sterilization might not be needed.
Jars for water bath canning, that are processed for 10 minutes or more, and also for high-pressure canning do not need to be sterilized. All our recipes ask for at least 10 minutes of processing time. During that time the jars and the food in it are sterilized. All it needs is that the jars are clean and dry.
Jars that have been cleaned after use and stored with new/clean lids and rims are ready to be filled again.
Storing jars
We can a lot of food, resulting in a lot of empty jars. First, they go into a kitchen cabinet shelf. This helps us not to deal with a single jar at the time.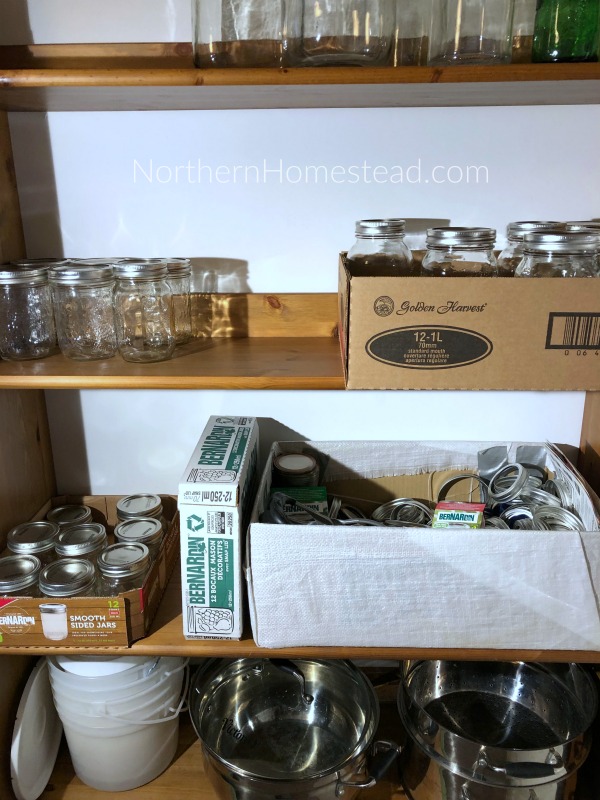 After the shelf is filled we bring them to the basement. Then I give them a new lid and re-used rim and sort them by size in original boxes. Yes, I do have a dedicated space for that. If you don't have a room, this can also be done right away in the kitchen. After all, when you are dealing with a lot of jars it is convenient to have room for this step of work.
Note, lids are often sold out at the end of the canning season. Plan ahead and get lids in early spring enough to get you through the year. We usually get the lids at Dollarrama, $2 a dozen. Since you buy them ahead of the time anyway, look for special sales.
Saving the original boxes is great for storing jars. However, if the jars came without boxes, you can find a cardboard box that is about the same size and store them in there. Or if you want to go fancy,  you can use specially designed jar boxes.
Finally, we store our jars in the cold room next to the filled canned jars.
Advantage of preparing and storing canning jars beforehand
As you can easily see there is a huge advantage of preparing and storing canning jars beforehand.
We have no piles of dirty, dusty, and even filled with bugs jars during the year.
Every jar is already clean and dry at the canning season.
Every jar has already a clean lid and rim, no need for a last-minute purchase.
We hope this helps you to be better prepared for the canning season. Maybe you even have time to try one or two of our favorite canning recipes.
We invite you to subscribe to Northern Homestead and follow us on Instagram, Facebook, or Pinterest for more great tips.
More food preserving post you might enjoy: