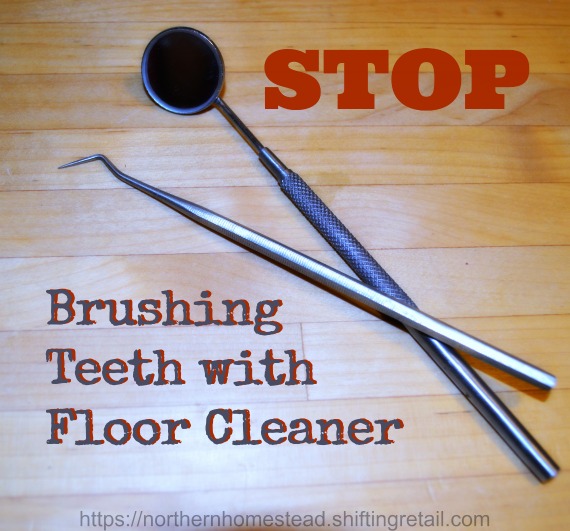 When I first heard about floor cleaner being in my toothpaste I was shocked. Not sure if I was seeking the information, or just came across it – it is too long ago. But one thing I was sure of: I did not want it in there.
Sodium laureth sulfate (SLES), or Sodium lauryl sulfate (SLS) play similar roles in home cleaners and cosmetics. They are used as common cleansing agents because of low cost and excellent foaming.
Sodium laureth sulfate and Sodium lauryl sulfate can be found in dish soap and toilet-bowl cleaners, bubble bath and laundry detergent, toothpaste and floor cleaner. Don't you think there is something wrong? I do.
What is wrong with SLES and SLS
"If I were to tell you that your personal care products could be putting you at risk for hair and skin damage, immunological problems, damage to your eyes, and possibly even cancer, would you pay a little more attention to their ingredients?" Dr. Mercola
According to the Environmental Working Group's Skin Deep: Cosmetic Safety Reviews,6 research studies on SLS have shown links to:
Irritation of the skin and eyes
Organ toxicity
Developmental/reproductive toxicity
Neurotoxicity, endocrine disruption, ecotoxicology, and biochemical or cellular changes
Possible mutations and cancer
Safe alternative
Toothpaste can safely be made at home. Tessa from homesteadlady says: "My favorite is Redmond Salt
with a bit of water – simple and effective. I listened to a holistic dentist and he loved salt pastes for killing germs and cleaning. I alternate the salt one with a baking soda based one – just some soda, water, and Essential Oils".
If you are like me, who prefers a real toothpaste, thankfully there are safe alternatives, too. One that has worked for us and we have been using for many years is the Toothpaste from MODERE.
The company claims that they avoid controversial ingredients in all their products:
When formulating our products, we refuse to include more than 3,000 controversial ingredients, including the following:

Sodium lauryl sulfate (SLS)
A common cleansing agent used because of its low cost and excellent foaming. Often used for chemical skin-irritation testing.

Ethoxylates/PEG
Common chemicals used in consumer products to make creams, lotions, or foaming agents like shampoos.

Diethanolamine or Triethanolamine (DEA or TEA)
Additives in cleaning products to boost their foaming ability.

Phthalates
A common fragrance additive.

Formaldehyde
A chemical byproduct of some preservatives used in consumer products.

Sodium fluoride
Used as a remineralizing agent in toothpastes.

Talc
Used as a drying powder and flow enhancer in skin products.

Hydroquinone
A skin whitener used in skin-care products. It use is now being questioned globally due to irritation potential.
I am all for safe products, especially if they work even better than the conventional ones. The toothpaste has a great fresh taste and does a good job cleaning our teeth.
I am sharing this with you because maybe you too want to convert your bathroom to safer products and stop brushing your teeth with floor cleanser. You can order Toothpaste from MODERE here.
Don't forget to subscribe to Northern Homestead and follow us on Facebook or Pinterest for the latest updates.