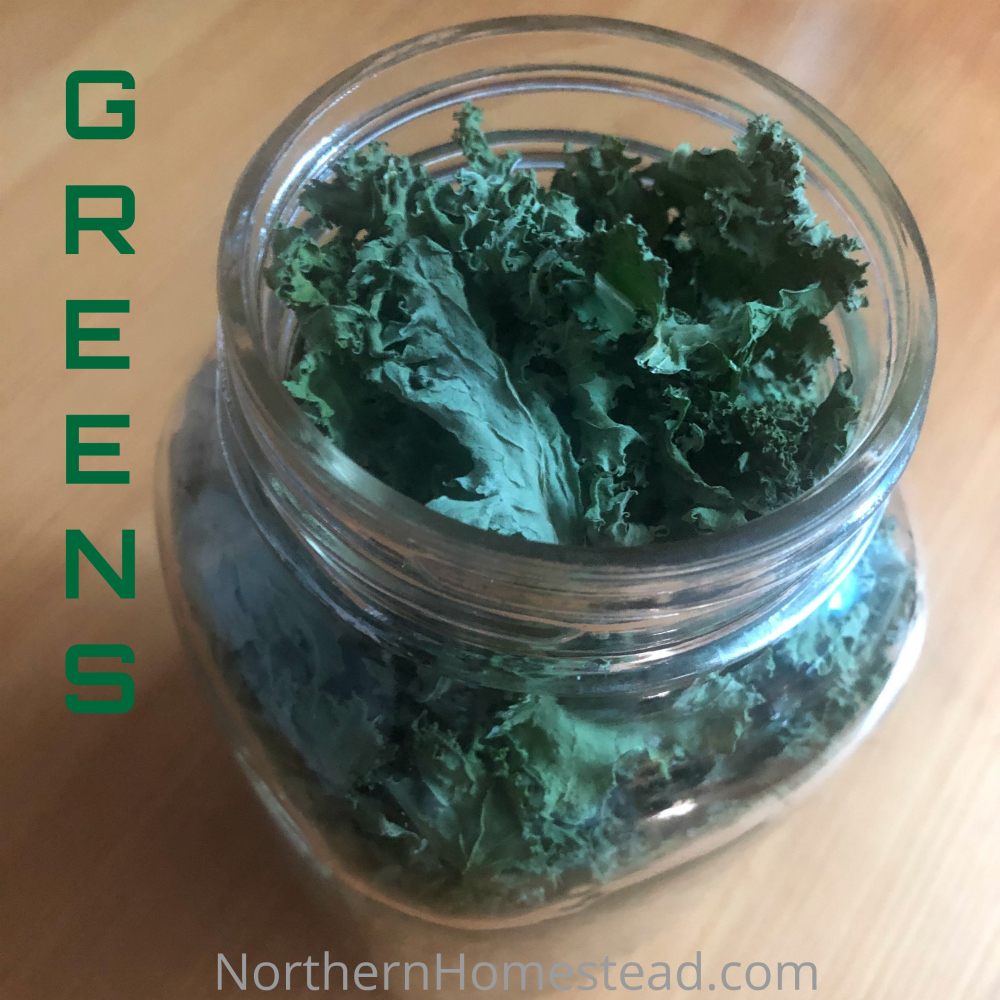 Growing your greens is great, eating them is better. Seriously, to grow greens is very simple, as of right now, in mid-August, our whole garden is green. Most of the greens growing are edible, including some common weeds. Do we eat them all?
No.
With the abundance also comes pickiness. We have our favorite greens like spinach, kale, arugula, lettuce, sorrel, swiss chard, and beet leaves. Sometimes we grow more than we can handle these favorites. Those are the times that we like to preserve them for use at a later time.
We already covered how to freeze greens in two ways. Today's post is about dehydrating greens.
Why dehydrate greens
Dehydrating greens is probably the simplest method to preserve greens. Still, we only do it when there are enough greens of one variety to fill the dehydrator. Most greens we freeze bag by bag at the time as they grow.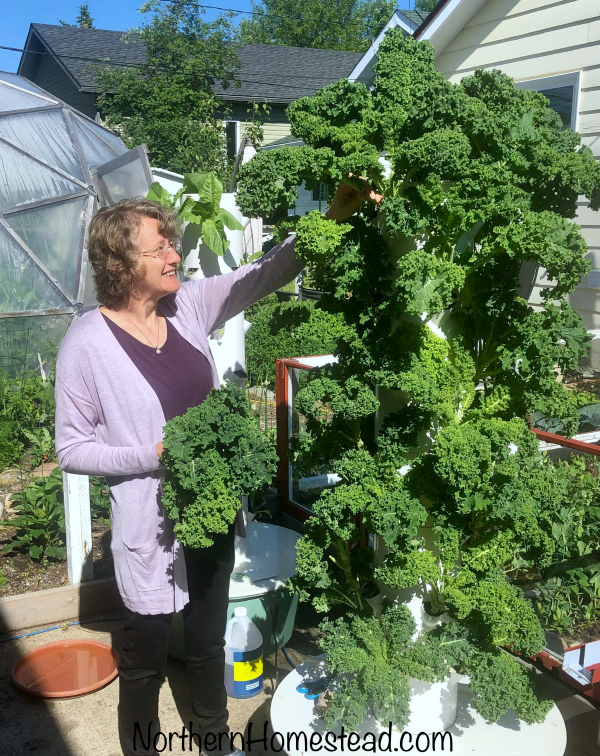 In early summer we like to grow a whole Tower Garden with kale. Kale grows so well here. When there is too much kale to handle, dehydrating it is a great way.
Not just kale can be dehydrated, other greens can be preserved so too. You can also mix and match as long as the leaves have about the same thickness and would dry at the same time.
Dehydrate greens is an easy way to store up enough greens for the long winter to use in green smoothies, soups, and other dishes.
One day I shared my Tower Garden picture with kale on social media, and someone shared it with the headline: Kale! This is like $100 in kale over at FreshCo. $200 at Metro.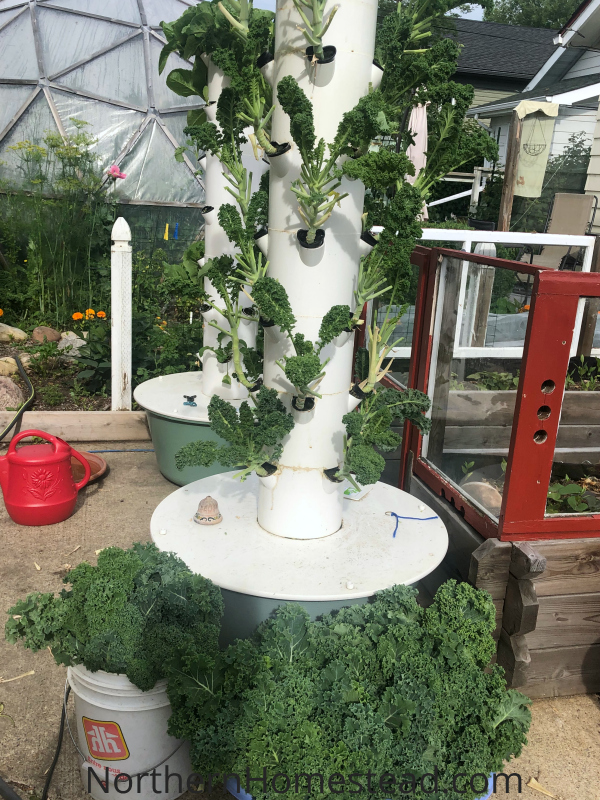 Now I do not know what kale costs at those places, no need for me to find out. We grow our own and preserve for the winter. But I am sure dehydrating your greens saves a lot of money.
How to dehydrate greens
Dehydrating greens is simple. Wash the leaves thoroughly and drain as much as possible. A salad spinner is a great tool for that.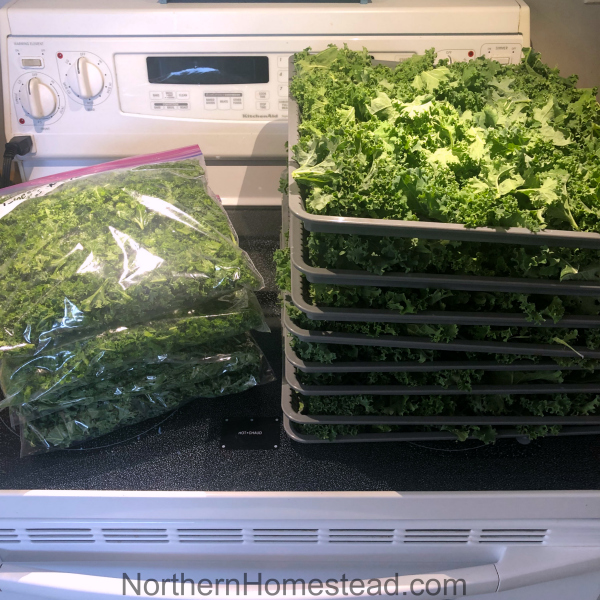 When dehydrating kale, take out the stem and rip the leaves into smaller pieces. Whenever the rib is thicker than the leave, take it out. Baby kale or spinach leaves can be left whole.
Now spread the leaves evenly on a dryer sheet. As you see in the picture we made a quite thick layer since we had so much to process. With curly kale, this worked fine, since there was still air in between the leaves.
Set your time and temperature according to your dryer. We use Cabela's 10-Tray Deluxe Dehydrator.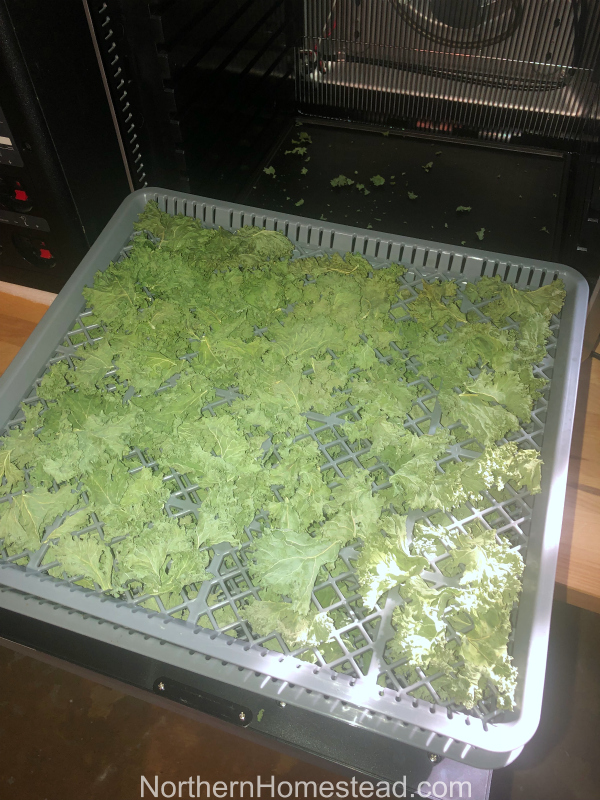 Storing dehydrated greens
We store dehydrated greens, herbs as well, in tight glass jars. One jar can hold a lot of dry greens.
Dry greens can also be made into green powder by blending them a few minutes in a blender. You can even make capsules out of homegrown dehydrated greens to take with you on road trips.
Personally we just store them in jars.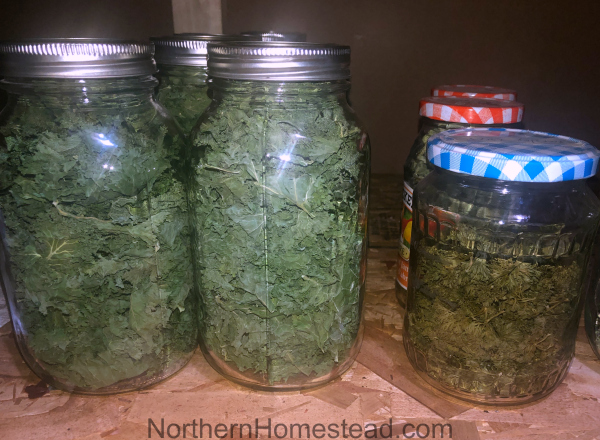 Using dehydrated greens
Just like frozen greens, dehydrated greens can be used in smoothies and soups. Or crush some in your hand and sprinkle on dishes. Looks pretty and adds nutrition.
Or crush some in a blender, not to powder, just to flocks. I do this with dry herbs, it is very convenient to use.
Even if you or someone in your family is not a fan of greens, this way they can have lots without even noticing.
We would love to hear your ideas on where to use dehydrated greens.
We invite you to subscribe to Northern Homestead and follow us on Instagram, Facebook or Pinterest for more great recipes.
More food preserving post you might enjoy