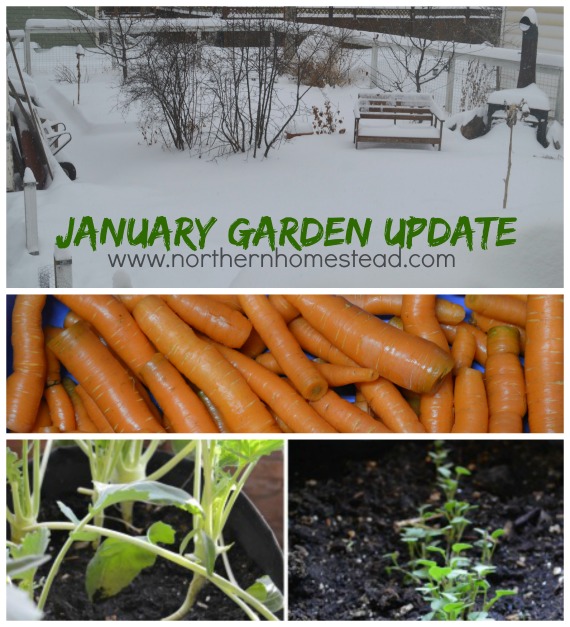 This is a first in so many ways! Of course, it is the first garden update in 2015, and also it is our first garden update in January, ever! A winter growing experiment in Zone 3, the first harvest for us in the middle of the winter, and the beginning of a new growing adventure with hydroponics.
This winter has been really good, lots of sunny and nice days. In fact, it is unusually warm at the moment, and we do enjoy the break from winter. The coldest temperature we had this winter, as far as we remember, was – 34ºC (-29.2ºF). No, it is not -40. So our experiment to harvest in the winter is not totally true to Zone 3. But still, impressive.
Winter Carrots
After the fall harvest, we left some carrots in the ground and covered them with straw. The plan was to harvest them sometime in the winter. We were very curious to see how much frost the carrots would handle.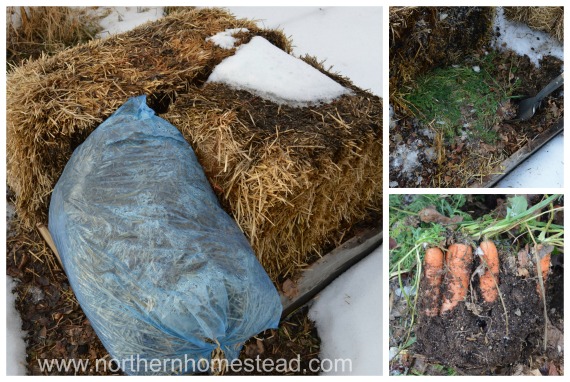 We left some carrots in the raised beds covered with straw squares. We thought this would be well protected. But it was not. This place is open in the garden, so the snow was not deep here and melted as soon as we had some warmer days. The melting and freezing again turned the straw to ice blocks. It was hard to get the straw squares off the ground. Still, some of the carrots were fine, some were frozen. Maybe we should have covered the straw with plastic to prevent it from getting wet and frozen.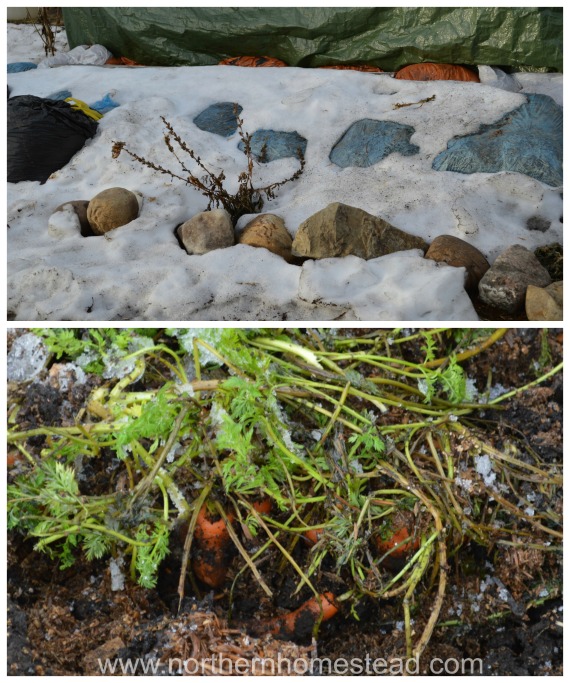 We had some more carrots that were covered with bags filled with straw. This area also had a lot more snow drifted on it. The snow helped to insulate. Here we got more good carrots, even though some got rotten – frozen tops. We think that the plastic right on top hindered them from breathing.
We did not harvest all of the carrots just yet. We are leaving them to see how much longer carrots can stay fresh in the ground.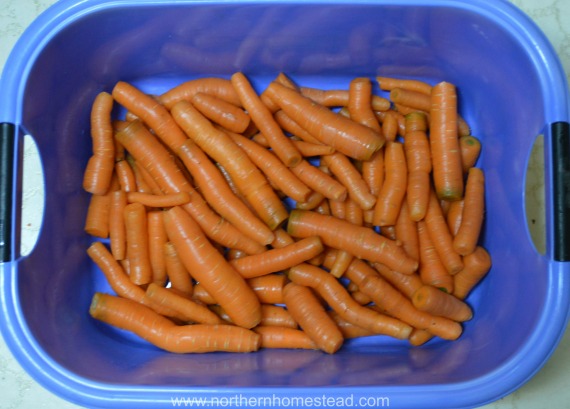 All in all, we got a nice harvest of crunchy and fresh winter carrots. The taste is a bit different from summer carrots – sweeter. But also different from the fall carrots we harvested in November – they almost taste a bit watery, still much better then any store bought carrots though.
If you have experienced harvesting winter carrots in extreme cold, please share –  we are all learning here together.
Kale
We also left some kale covered with two layers of Frost Blanket
s. We did not bother to build a hoop, so the snow just covered the plant and the blanket gave it even more protection. I harvested most of it in November but left just enough to see what will happen with the rest.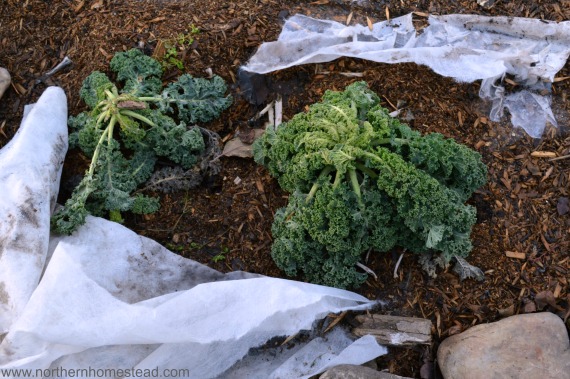 The covering was frozen to the ground, so we had to rip it to get to the kale. The kale looked green but was limp. No Kale in January in Zone 3 :(.
The Garage – Greenhouse
In the garage – greenhouse we still have plants "growing". As you know, this is our first year, so the experiment has been very interesting. We could really see the impact the "below 10 hour days" have. From October 28 till February 14 our daylight is less than 10 hours. We are still two weeks away from when our days will be 10 hours long. Calculate your garden's "below 10 hour days" days.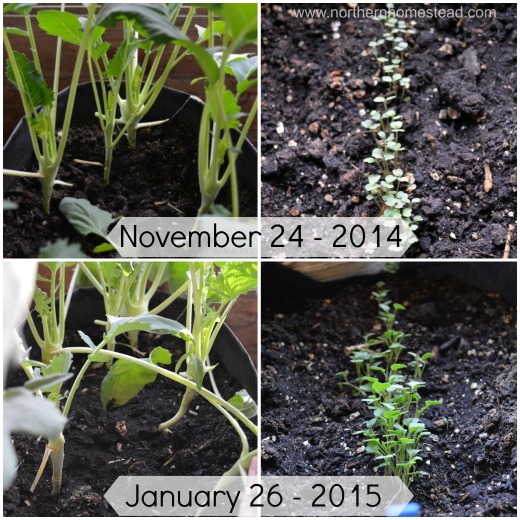 Here a picture comparison of some plants in the greenhouse. In two months there was no growth worth talking about. No, it was not too cold for these plants to grow, it was too dark! By dark I do not mean the lack of sunshine, we have lots of sunny days here, but just not enough sun hours to grow. The plants look healthy and as soon as the days will get longer, they will take off.
Knowing this, we have to plant earlier in the summer, so all the plants mature by the time our days are too short to grow. We could then harvest fresh produce all throughout the dark months. That is the way most winter gardening in warmer zones is done outside. And we could add lights, and GROW all through the winter since the coldest it got in the greenhouse was only  -5 °C (23°F). See how we kept the greenhouse from freezing.
We are starting a new adventure of growing all winter long hydroponically. We ordered the tower garden, an aeroponic vertical gardening system. Plants in aeroponic grow faster and with added lights can be grown anywhere and all throughout the long winter months. See this impressive 4-week time-lapse.
We will keep you posted on our garden and greenhouse growing. Thank you for your interest!
We invite you to subscribe to NorthernHomestead and follow us on Facebook or Pinterest for the latest updates.