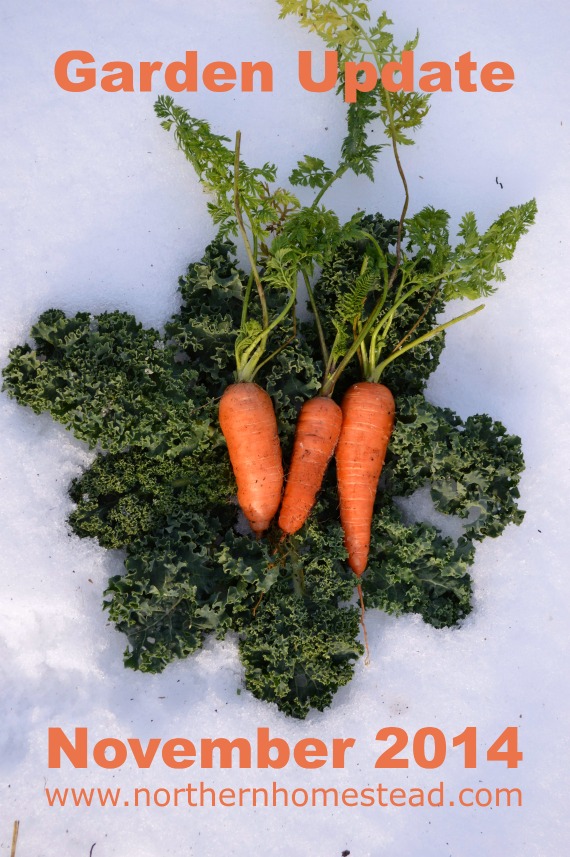 Here we go, a garden update in November up north in Canada where snow has taken over the landscape. Where days are short and temperatures are cold. We are still gardening!
November started with some bad weather forecast. So we prepared the garden for winter. We harvested what was left of yummy goodies but also left some harvest in the ground for a trial. We had spinach, arugula, bok choy, celery, carrots, kohlrabi, and lots of kale. Not bad for November!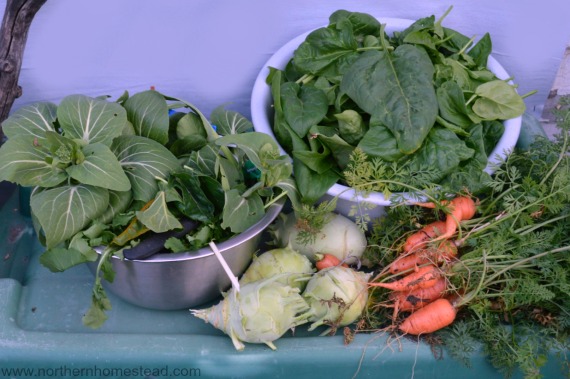 This strawberries were so eager to ripen too, but had to give up ;(.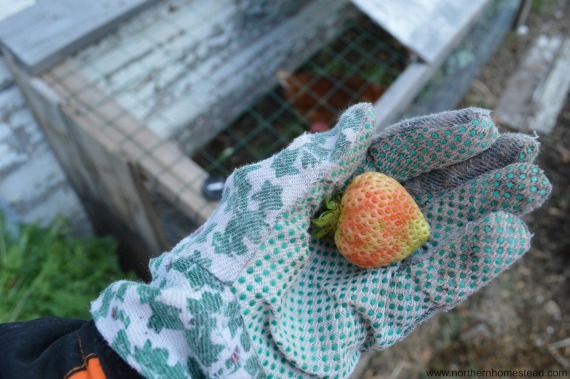 We replaced the hoops over the carrots with straw (See picture below).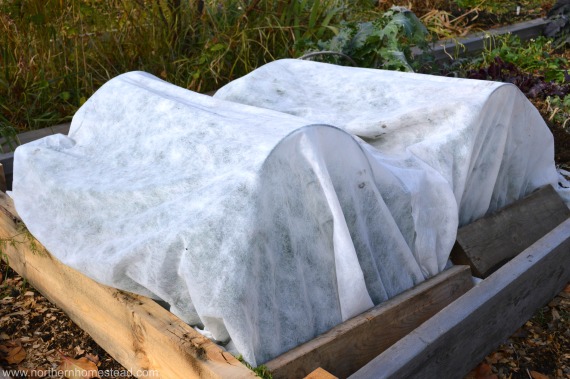 Then the temperature dropped way below 0 °F (−17.8 °C). Zero is the time where we would sure give up on the garden. But not this year. Amazing what survived about a week of real frost, it got as low as -14°F (-26 °C).
I have to admit, that this puts winter gardening and plants frost survival into a whole new perspective. Snow seems to be the most important factor in winter harvesting at temperatures that low. Where there is lots of snow, there is protection.

Kale
I left some kale covered with two layers of Frost Blanket
. We did not bother to build a hoop, so the snow just covered the plant and the blanket gave it even more protection. The kale survived.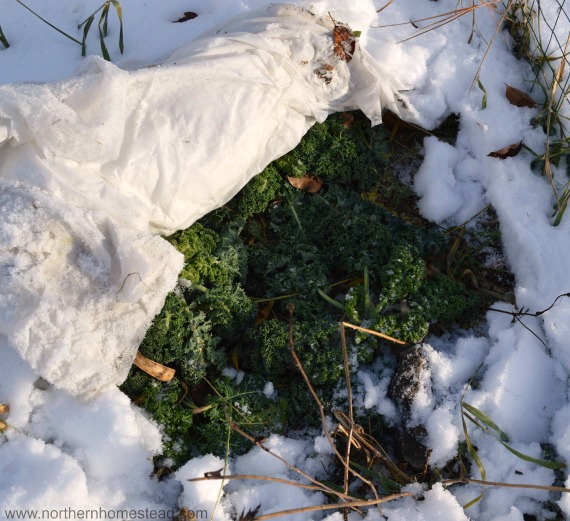 Carrots
We left some carrots in the ground and covered them with straw. The plan is to harvest them sometime in the winter. We are very curious to see how much frost the carrots will survive. But we did not have enough straw to cover all of the carrots, so we intentionally left some uncovered. Well, covered with leaves and snow. We will keep you posted on the ones under straw, but for now I harvested the uncovered carrots.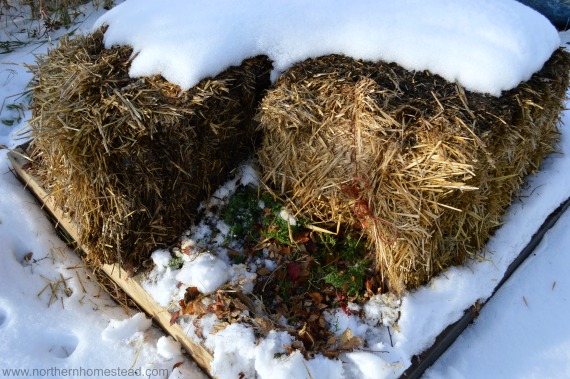 And they survived the cold! Just a few had frostbites at the top. Remember, we are talking about a temperature drop to -14°F (-26 °C)!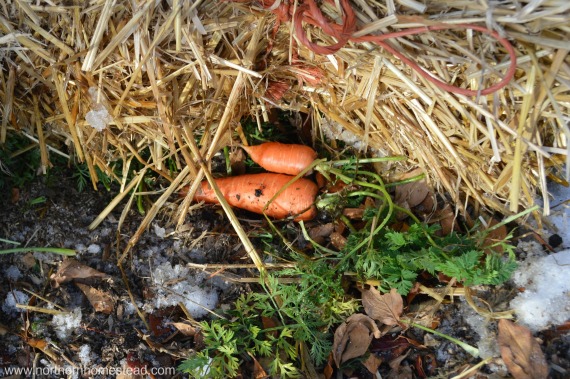 The carrots were super sweet, learn why some veggies are sweeter in winter. It is totally worth it to learn more about and do more winter gardening.
Chard
When harvesting greens in the fall I like just to cut the tops and leave the plant in the ground. Well, this little guy liked the warmer days we are having, it totally looks like new growth to me. Sure, it will get much colder here, and the chard will have to give up. But it still is amazing to see the miracle of life.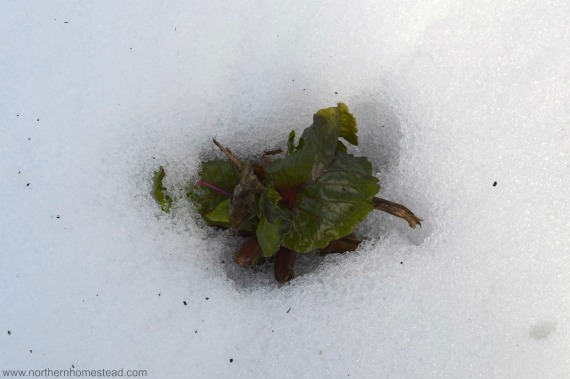 The Garage – Greenhouse
In the garage – greenhouse we are giving up on tomatoes. It's just too cold. You can tell, it is definitely is not tomato season.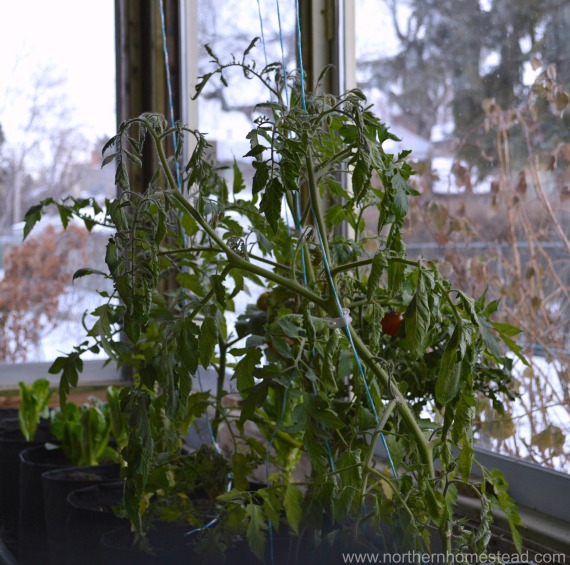 All greens are growing, and they are in season (well kind of, since our greenhouse is very well insulated and heated). Kohlrabi is starting to form a head.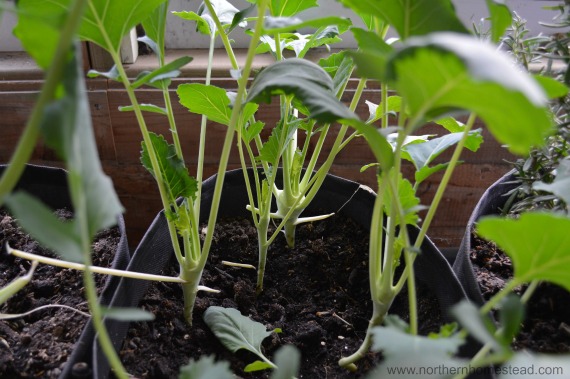 We have been eating from the greenhouse salad already and it is slowly (or maybe I am just impatient) growing more and more yummy leaves.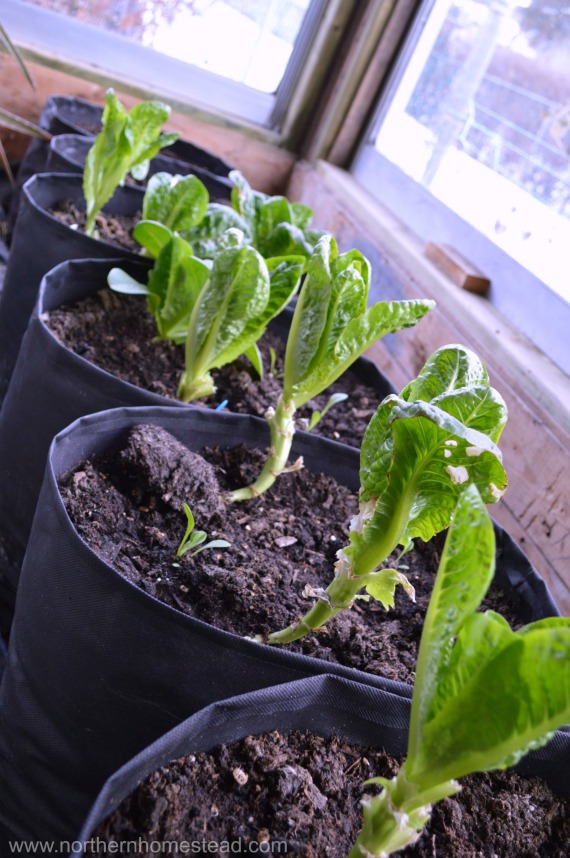 We also have some new growth! I continually plant new greens as space becomes available. It is so much fun!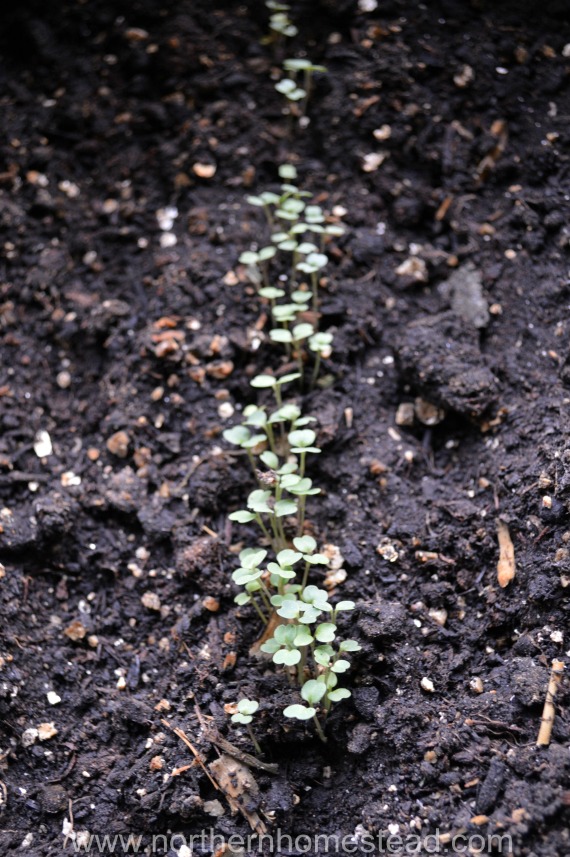 That's it for the 2014 garden updates – we will pick up again in the new year!
We invite you to subscribe to Northern Homestead and follow us on Facebook or Pinterest for the latest updates.