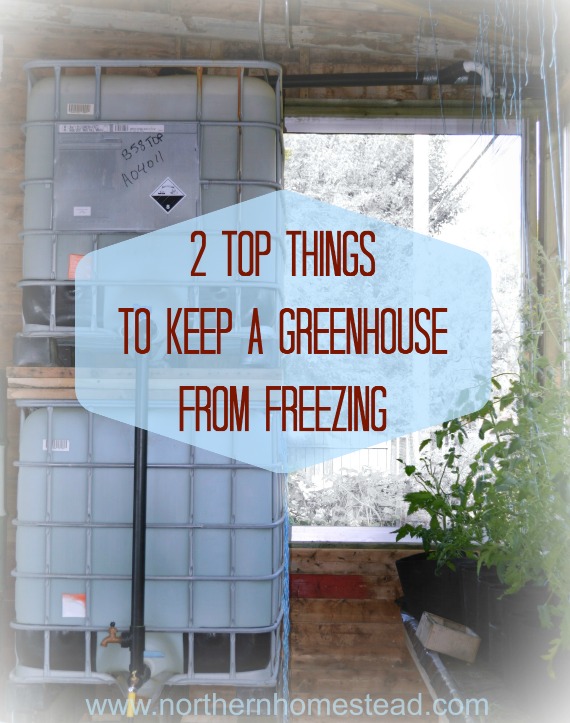 When we started our adventure to build (well, more like rebuild) a 4 season greenhouse, we were sure that heating would play the most important role in keeping the greenhouse from freezing in the winter.
Guess what, it is not!
Are you surprised? Well, we did not expect that either. But let's start at the beginning.
In our first winter, the old garage was a freezing cold place. I tried to do some work in there, but it was depressing – too cold. In fact, many days it was colder inside than it actually was outside in the sun.
In the summer we got busy turning that old garage into a food production place. You can read all about it here. Summer was too short to finish up the whole project, so winter caught me still working on the rocket stove heater. I was desperate to get it done, thinking that it was priority number one. While spending hours tinkering and trying to get the heater going it dawned on me that maybe I also should finish the insulation. We used R20 insulation and I was almost done anyways but completing it made a huge difference. Which brings me to the first conclusion:
First Thing to Keep a Greenhouse From Freezing in the Winter is Insulation
Most heat loss in a room happens by means of conduction through the windows and through the poorly insulated walls/ceiling. The same process that heats the inside of a frying pan when the flame is on the outside. All materials conduct heat (or cold) by conduction, that is why we use insulation inside of the walls. Insulation has a very low thermal transfer rate, it conducts very little heat/cold by conduction.
As soon as I had finished insulating the ceiling I spent less time heating up the space. And since we just want to keep the temperature above freezing we go many days and nights without heating at all. There are easily 12 degrees Celsius difference to the outside temperature at night. If you want to keep a greenhouse from freezing, insulate, insulate, insulate! But insulation alone would not have such a big effect, there is a second thing.
Second Thing to Keep a Greenhouse From Freezing in the Winter is Thermal Mass
We have a water collection system in place that holds 2000 liters (528 US gallons) of water. In the fall that fact was stressful to us. What if the water freezes? Not to imagine the mess. It has not frozen yet, in fact, it keeps the greenhouse from freezing.
We have had some frost in the greenhouse. It got down to -5 °C (23°F). On very cold nights we made an interesting observation. We had two buckets of water sitting on the floor, one next to the water tanks and the other one next to the stove. The stove was being heated a few hours in the evening.
Guess which bucket with water was solid frozen in the morning?
…You were right, the one which was further away from the thermal mass next to the now cold stove. From this experience, we can conclude, that the thermal mass was radiating heat, and even though it was not much, it kept the surrounding area warmer than the rest of the space. It was more useful than the stove which cools down too quick.

Sure, in zone 3 climate, with temperatures going down to -40, we do need a heating system in place. But with good insulation and lots of thermal mass, it turns out to be more like just backup heating that is needed for winter vegetable growing. Besides, most winter vegetables do not mind at all if it goes a bit below freezing.
This puts things into a different perspective for us. We are working on adjusting to these important facts.
A great video on the importance of thermal mass is 'Heating Your Glasshouse. Passive solar greenhouse: A way to produce more local food and use less energy to do it'. We visited that greenhouse, you can read about it here.
We invite you to subscribe to Northern Homestead and follow us on Facebook or Pinterest for the latest update.
Inspiring books for winter gardening:
More posts you might enjoy