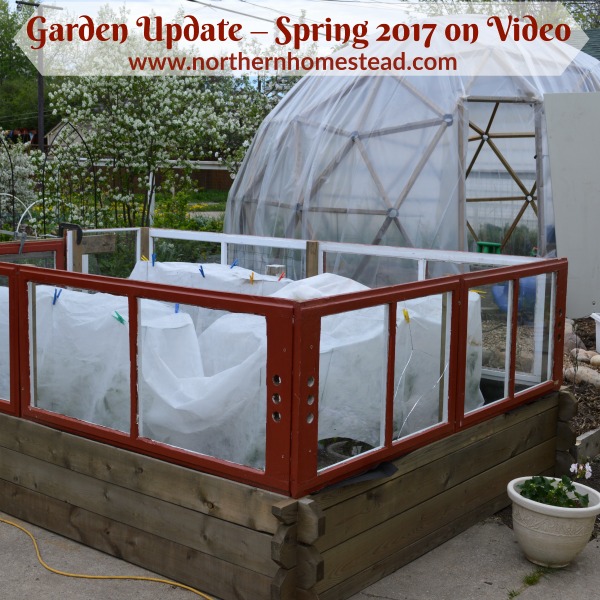 Welcome to our Spring 2017 garden update on video!
It is the start of a new season and there are many wonderful changes happening in our backyard, and we are excited to share with you what has been going on.
After successfully using  A Cold Frame For Tomatoes we built a more permanent structure of a raised garden bed with protection windows. It is the same idea of a micro climate as the cold frame. We will share how to build it soon, so stay tuned!
Something very exciting is the geodesic dome project. We shared How to Build a GeoDome Greenhouse after we built our first dome, years ago. In this new greenhouse we used a different method to connect the beams and build the greenhouse, a how-to is coming on that as well.
In the greenhouse we would like to grow hardy kiwi and sweet grapes that are planted outside the greenhouse (these plants are hardy) but grow into the greenhouse. This way the plants have access to the moisture and good soil outside, as well as all the heat to ripen fruit inside the greenhouse. The method of growing plants from the outside into the greenhouse is shown in this video:  An antique greenhouse at Royal Roads University in Victoria, BC (starts at the 3:42 mark). However, the weather in Victoria is very different than ours, so we do not know yet if this will work. If you have done this, or heard of someone who has, please share with us.
In the garage greenhouse the Wicking Bed is working great. However, we don't really use it as a wicking bed, but rather more just as a grow bed with good soil. We grow tomatoes vertically in the bed, read more about it here: How to Support Tomatoes. If you can't see the video below, go here.
We want to know what you're growing and building in your garden, let us know in the comments below!
If you like this post don't forget to subscribe to Northern Homestead and follow us on Facebook or Pinterest for the latest updates.