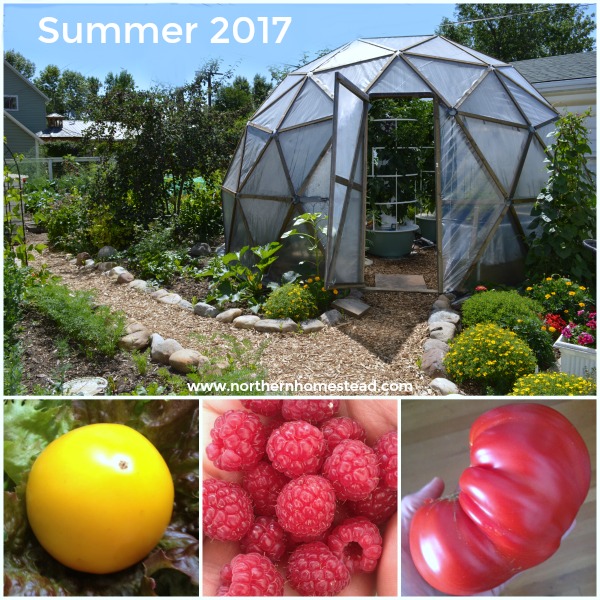 It is mid summer here at Northern Homestead – July 20, 2017. Everything is growing and ripening nicely. Today we want to take you on a tour through our garden in this summer garden update on video.
You will see many flowers that are still blooming. You can read more about our perennial favourites here. Most of these flowers came with the house and we enjoy them every summer.
Fruit trees and berry bushes are loaded with fruit this year. It seems to be the year for fruit. With the recently added pear tree we are at 11 fruit trees in our small garden. You can see a Pinterest board with all our trees, shrubs, and perennials.
The annual garden is doing very well, too. A list of our favourite annual vegetable varieties is here.
The new Geodesic Dome greenhouse is performing amazing. We are so glad we decided to build one again. It is like moving a portion of your garden south.
The garage greenhouse tomatoes have done satisfactorily, indoor growing is just not the same as outdoors.
Last but not least, the chickens are doing great. We have 6 this year and they each lay an egg a day. If you are thinking of having backyard chickens, here is a reality check on how much work it would involve. Plus they make great compost!
Enjoy the tour! We decided not to talk and just let you see for yourself. If you have trouble seeing the video, go here.
What is growing at your place? We would love to hear from you in the comments below!
If you like this post don't forget to subscribe to Northern Homestead and follow us on Facebook or Pinterest for the latest updates.