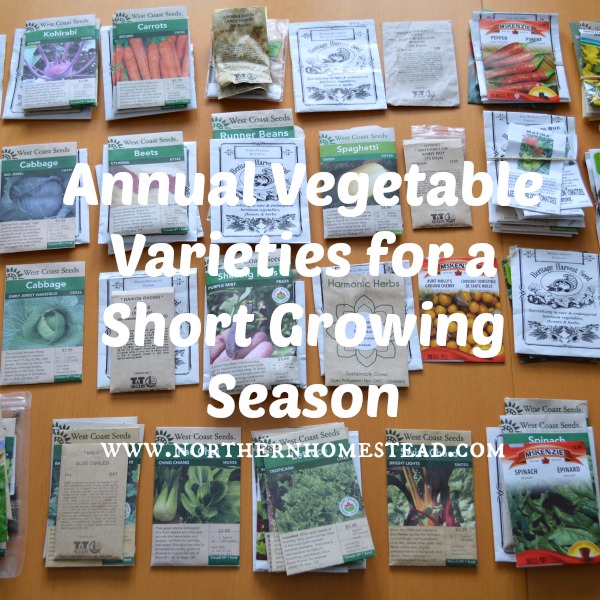 Annual vegetable varieties for a short growing season have to be quick maturing. Growing a productive garden takes time. Seeds need to be planted, germinate, established, the plants have to mature and produce fruit. In most parts of the world, there is plenty of time for this. The garden is planted in spring, grows all summer long, and is harvested in the fall.
In short growing season areas you don't have a spring, maybe not even a fall, so all you got is summer. Only 100 or less frost-free days are challenging. It requires a very organized gardener and plant varieties that grow and produce quickly.
According to Environment Canada officially we have 107 frost-free days. Here is a link for Canada and USA frost-free dates to find out what your area has.
Today I want to share some of these annual vegetable varieties that are suited for short growing seasons. We have grown most of them successfully in our garden.
This list is not exhaustive, there are many more plant varieties that are suited for a short growing season. We have tried quite a few and if we were to list them all here it would make a very long list. Also, if some plants did not do well, they did not make it into this list. I will add and remove varieties as we experiment more with them. I want this list to be up-to-date, with plant varieties that are worth growing.
Plant groups that we have an extra blog post, are linked in the name.
Beans
Purple Peacock (60-70 days for snaps) Beautiful and delicious Pole Bean, does not do well during a cool summer.
Yellow Bean Roma Gold  (55 Days) Reliable early bush bean.
Dragon Tongue Bean (60 Days) Very productive bush bean.
Pole Beans Scarlet Runner (65 Days) Beautiful as a flower and edible at any stage, a favorite.
Black Turtle dry Beans (85 Days) A dry bean that matures in our short season.
Tiger's Eye Bean (95 Days) Very yummy dry bean that does mature in our short season.
Beets
Cylindra (50-70 Days) Got it's name from the cylindrical shape, sweet and good, a favorite.
Bull's Blood (58 Days) Pretty edible leaves.
Beet Chioggia (58 Days) Striped beet that is better digestible than other beets I find, a favorite.
Broccoli
Calabrese (60 Days) A classic.
Rapini Sorento (35 Days) Early, can be grown indoors in the winter.
Gai Lan (50-60 days) WE grow it indoors all winter. Several harvests from one plant.
Cauliflower
Cucumber
Straight 8 (60 Days) A classic.
Patio Snacker (50-60 Days) Great for small space, a favorite.
Lemon cucumber (65 Days) So yummy pickled.
Cucumber Holland Greenhouse (64 Days) For indoor growing.
Aunt Molly's (70 days) Great producer and keeper.
Cape Gooseberry (80 Days) Very productive massive plants.
Eggplant
Kale
Kohlrabi
Lettuce
Spanish Candy (85 Days) Great yellow onion, stores well.
Greek Salad (105 Days) Good red onion.
Peas
Radish
Swiss Chard
Squash
Spaghetti Tivoli (74 Days) A small plant, very productive, early, tasty.
Burgess Buttercup (85 Days) Great all around.
Courgette Cocozelle (45 Days) Looks like zucchini, very productive and delicious, a favorite.
Zucchini
Tomatoes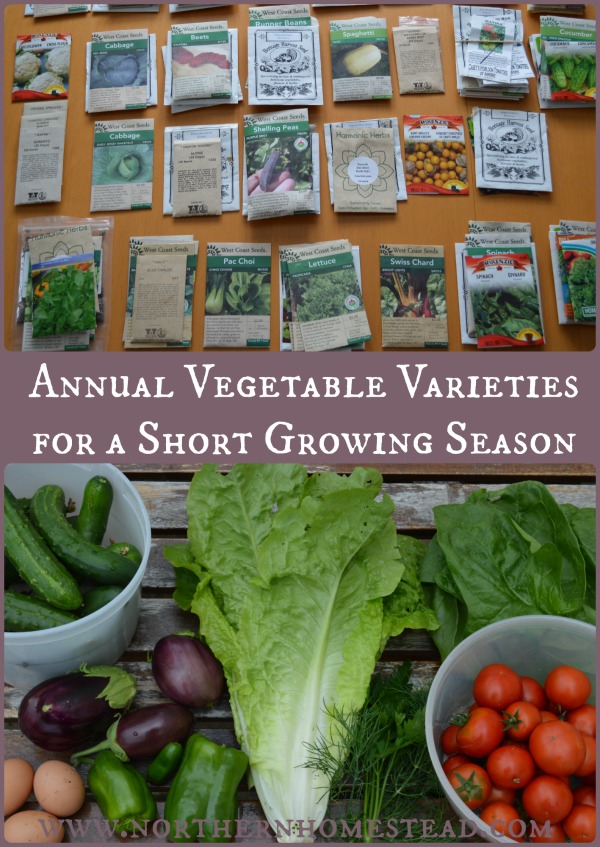 If you have short-season vegetable favorites that we have not mentioned, feel free to add them in the comments!
We invite you to subscribe to Northern Homestead and follow us on Instagram, Facebook or Pinterest for the latest updates.
More Seed Related Posts You Might Enjoy