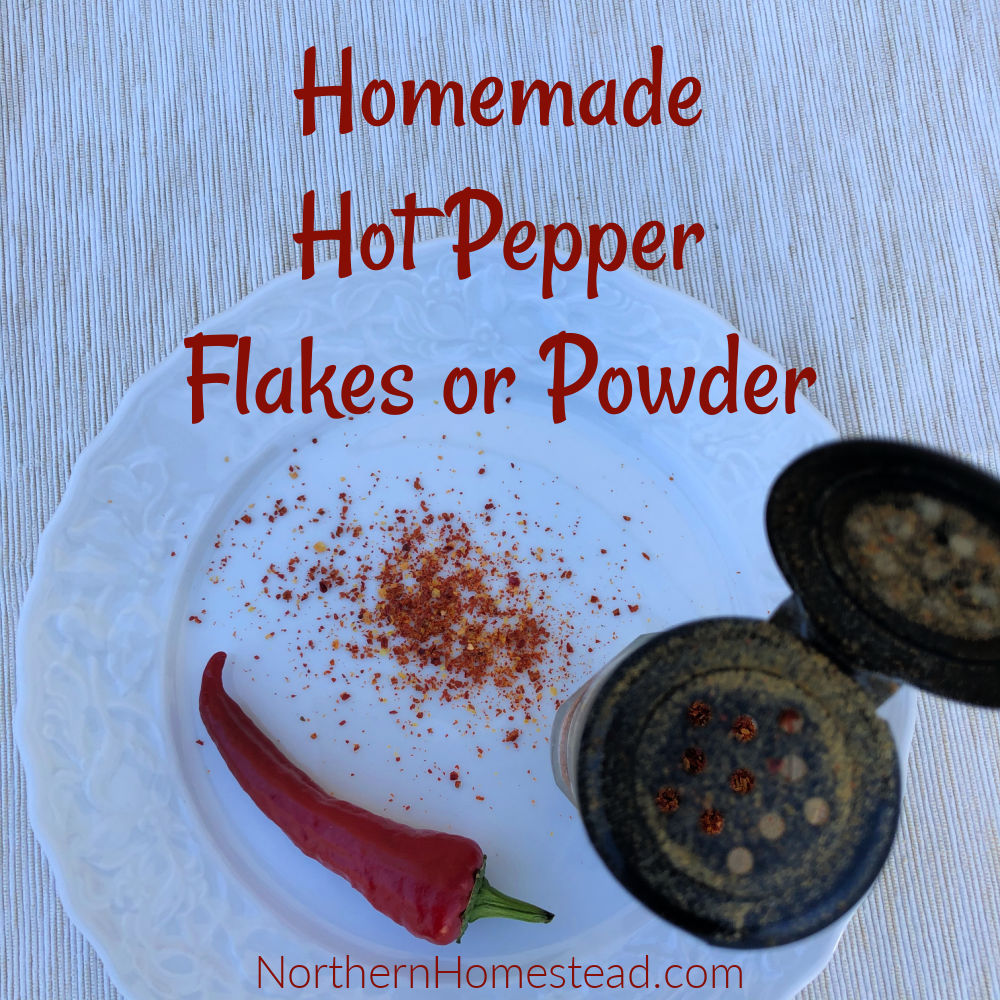 If you love spicy food this article is for you. But it also goes into the category of preserving the harvest. You might have already noticed if you grew any hot peppers, chilly or cayenne, they are productive! To make homemade hot pepper flakes or powder is the next best step to preserve them.
Hot pepper flakes or powder
It is really your decision if you prefer flakes or powder. The process is about the same, just the grinding method or time determines if you end up with flakes or powder. Using the food processor will give you flakes, a coffee grinder or blender will make powder in seconds. Choose what you prefer or make both if undecided.
Hot pepper varieties for flakes or powder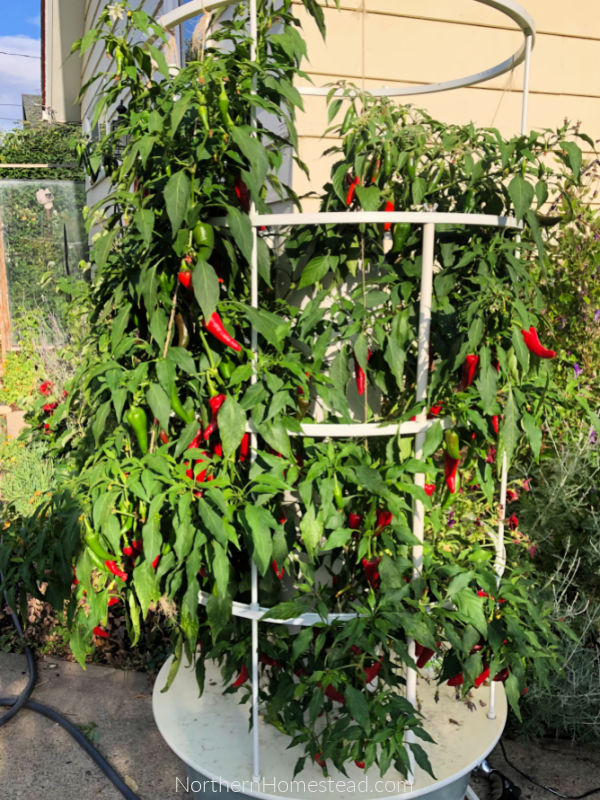 Any hot pepper that has thin skin will do for hot pepper flakes or powder, the thicker-skinned hot peppers are better for the fermented hot pepper paste.
The hotter your pepper variety, the hotter the end product will be.
We have had great success with super chilly as well as with other hot pepper varieties. Our new favorite is the Canoncito variety it develops heat along with the seeds as the peppers mature. Great for fresh use, or matured crushed for chili flakes. Read more about growing peppers in a cold climate here.
Protection while working with hot peppers
When working with hot peppers you might want to protect your hands with gloves and wear face protection.
If you choose to make powder out of very hot varieties, wear protection glasses. The powder does tend to blow up.
Be aware the hotter your pepper variety, the more careful you have to be in processing it so you don't burn your skin or eyes.
Just be conscious of what you are doing, and you should be fine. There is no reason to be scared just be mindful.
Harvesting the hot peppers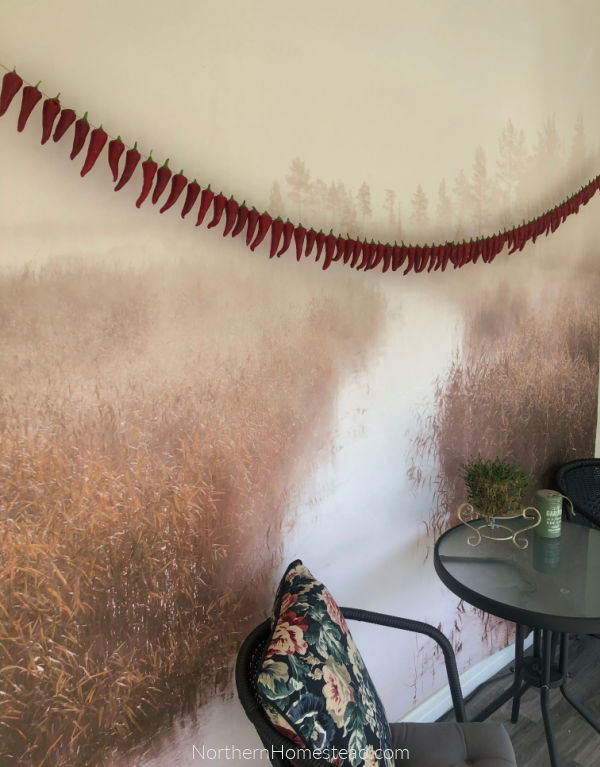 For pepper flakes or powder choose ripe peppers. Preferably those that have already started to lose moisture on the plant. You can feel it.
If you harvested too early, they will dehydrate for you too, it will just take longer.
That being said be also aware of your variety. Heat often develops with the seeds as the peppers mature. If you want less heat, harvest them earlier.
Preparing the hot peppers for dehydration
Wash the fresh harvested peppers and sort by size if they vary. The smaller ones will dry quicker.
Depending on the method to dehydrate, you want them to be left whole or remove the stem. Removing the stem will result in quicker drying, especially if you use the oven or a dehydrator.
Dehydrating the hot peppers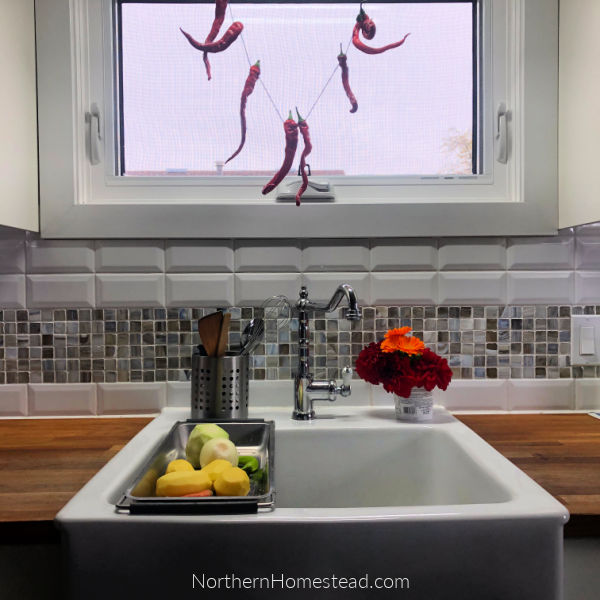 Dehydrating the peppers for hot pepper flakes or powder can be done in three ways.
Air-drying is our favorite method. Since our climate is very dry, especially in the fall, there is no need to waste energy for that. Hot pepper garlands can also look very decorative, or maybe just spooky. Only really thin-skinned peppers do well air-dried. Bigger ones tend to get moldy.
Dehydrating in an oven. Line your baking sheet with foil and spread the pepper in a single layer on the sheet. At 180F they will need 4-6 hours to dehydrate. Smaller will be done sooner, so check after 3 hours. Wear protection when checking the oven, the hot steam can burn quickly. Dehydrate till crispy dry.
Dehydrating in a dehydrator is another easy way to get them dry. Again, removing the stem is a good idea. Follow your dehydrator instruction, it can take 12 -24 hours to dehydrate the hot peppers.
Grinding the hot peppers
If you did not remove the stem from the hot peppers before dehydrating, do it now. It is a simple process of just breaking off the top.
To make pepper flakes use a food processor. Chop to the size you want the flakes to be.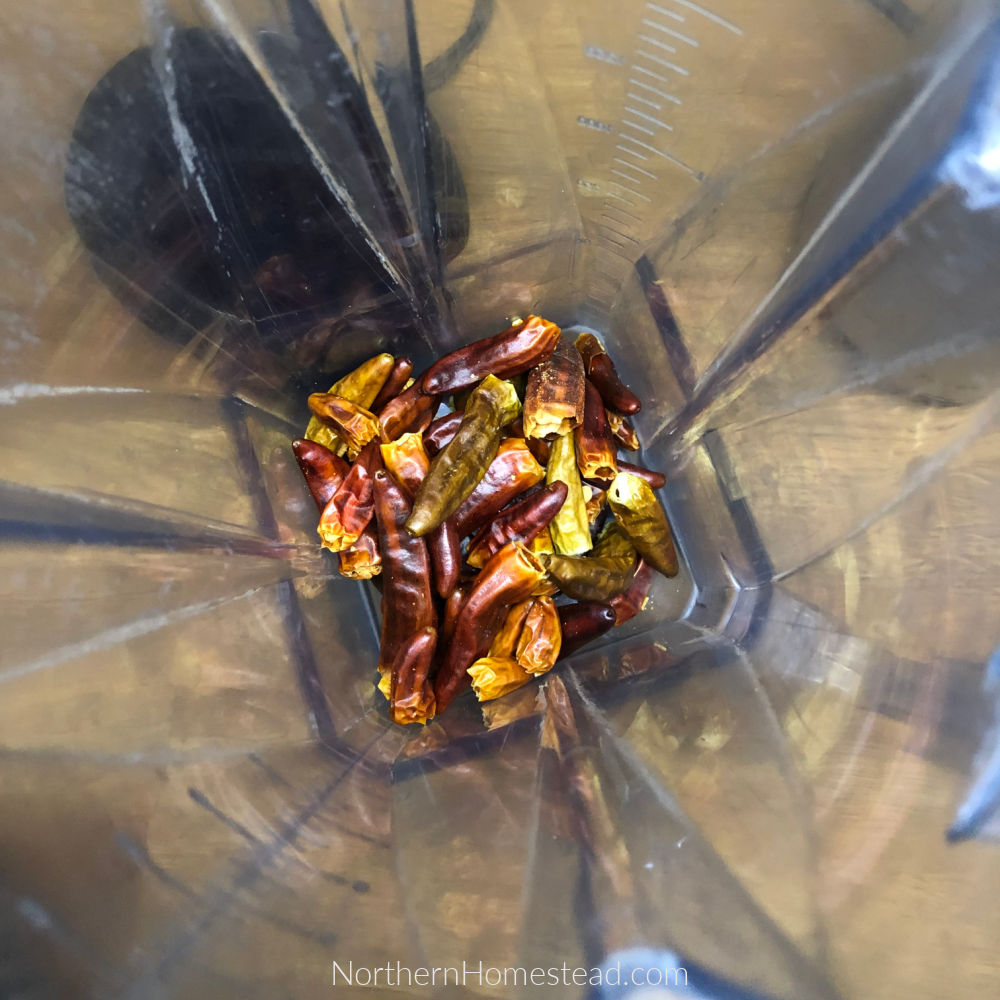 For powder, a coffee grinder or blender can be used. We have done both. It was a bit of a pain to clean the coffee grinder afterwords. Using the Vitamix blender is simpler.
Again chop to the consistency you like. When using a highspeed blender that might go very quickly, be aware.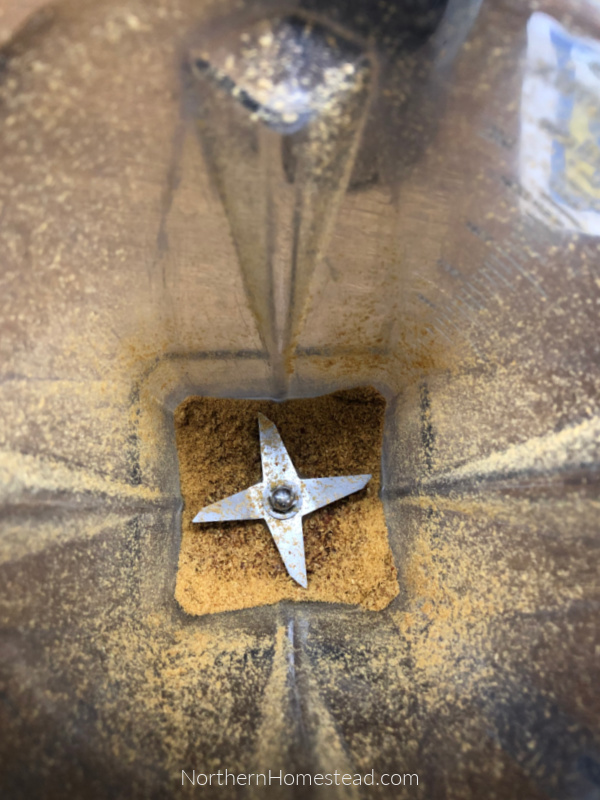 Whatever appliance you use, always make sure to let the blade come to a full stop, and the dust settles before opening the lid. If you tend to be less patient, wear proper protection.
Storage and use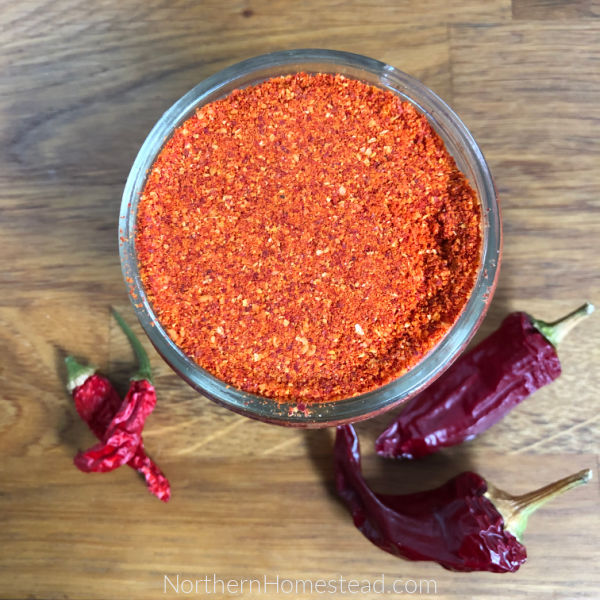 Store the pepper flakes or powder in an airtight container in a dry place. It will be good at least for a year till you can make fresh pepper flakes and powder.
If we have a lot of dehydrated hot peppers (more than we could use up in a few months), we store them whole. This way they keep even longer.
Use flakes on pizza and pasta, and powder for soups and sources, or whenever you want to spice up a dish.
We invite you to subscribe to Northern Homestead and follow us on Instagram, Facebook, or Pinterest for more great recipes.
More food preserving articles you might enjoy: