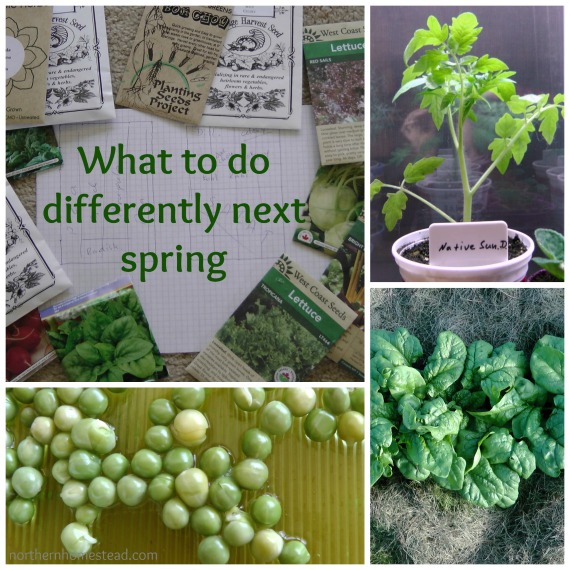 March is here, but it is still freezing cold outside. Spring is coming though! Reflecting on what was growing last summer, there were a few things that I would like to do differently next spring. At a northern garden we get just one shot. With most crops there is no time to redo something or to try one more time, because we only have about 100 frost free days. Now is the time to deliberate and make plans.
Start more plants early in the house
I start all our tomatoes, peppers, and eggplants from seeds; our house tends to become a greenhouse – hmm, but in a good way ;). There is not much room for more. Melons, squash, and celery needed to be started early, too. Planting them from seeds in the garden does not work. I need to find some way to start them early. Maybe a cold frame or a little greenhouse? However, our weather is so unpredictable that only a heated place is a safe one for summer crops.
Start cabbage crops and salad greens early
Cabbage, broccoli, cauliflower, kale, and bok choy as well as salad and swiss chard can be started much earlier than I did. It would give them a huge head start. Young winter crops do not mind frost (see how different plants react to frost), so why not do it.
Soak and sprout seeds
Sunflowers, corn, pumpkins, squash, cucumbers, etc. can be soaked and sprouted before planting. I just learned last spring (too late for our garden) that it speeds up the germination as much as 2 weeks for corn. That is a lot. I have sprouted peas before, but was not aware of how good it actually is.
Apply manure and compost
It is so important to build up the soil on a regular basis. The saying that manure only encourages the growth of greens is not true. Manure is good for the garden and so is compost.
Cover with mulch
This is the first year that we have our own garden, not on a rented property, yay! That means we can mulch as much as we want to. Straw, wood chips, or grass clippings are all good for mulching. Mulching will help to keep the weeds down and moisture in, a win/win.
Build quick row-cover hoops
A simple row-cover hoop house is easy to build and would extend the growing season tremendously. In fact, Eliot Coleman in his book: The Winter Harvest Handbook
shows how a quick hoop row cover can cover the same area as a 22-by-48-foot greenhouse at 1/20 the cost. He uses 1/2-inch plastic electrical conduit covered with Row Cover
. A easy and effective way to have a "greenhouse".
Start with permaculture
Permaculture design fascinates me, its techniques just makes sense. However, as the name says it is permanent agriculture, not realizable on rented properties. Now that we are owning some land, it is time to start with permaculture. To get us started I am reading the book: Sepp Holzer's Permaculture
.
If you like this post don't forget to subscribe to NorthernHomestead and follow us on Facebook or Pinterest for the latest updates.