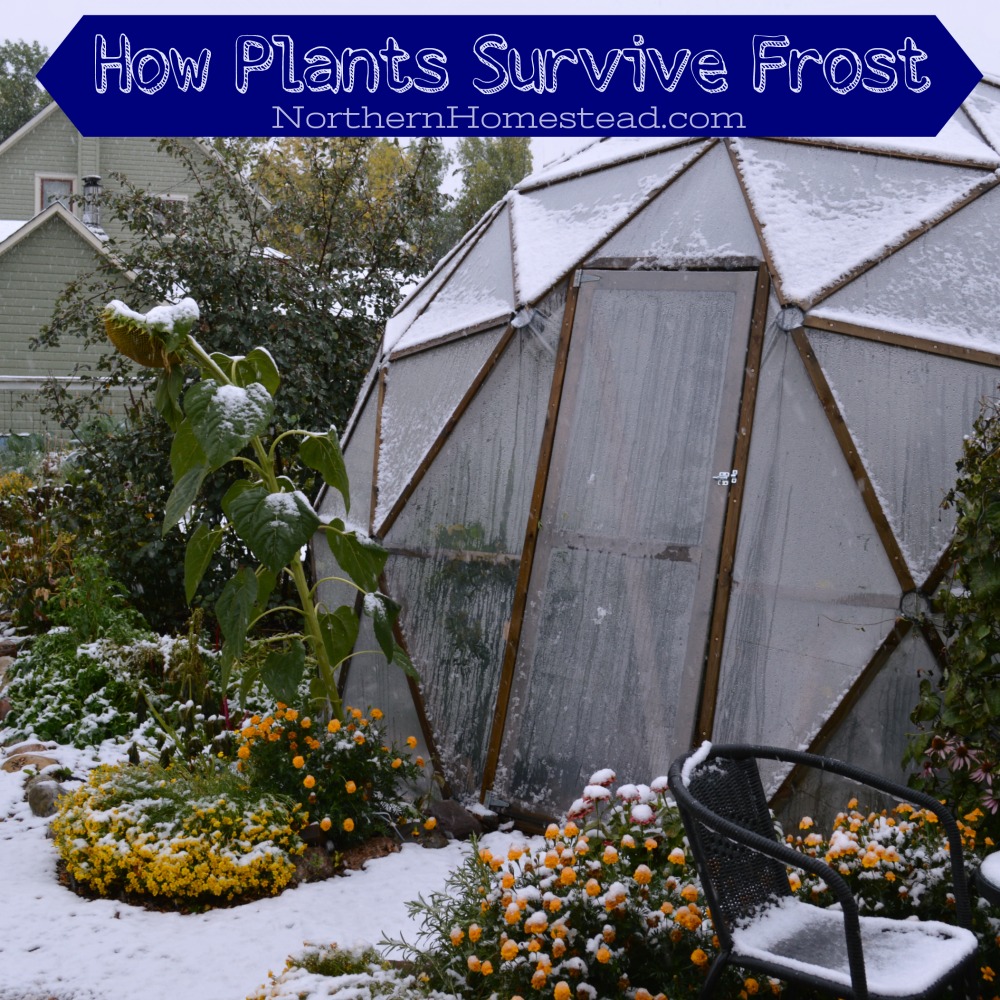 What
to do if there is frost in the forecast?
First, know your plants. We are talking here about the annual vegetable garden and some common flowers. Plants react very differently to frost. Also, young plants seem to be more resilient. When you know how your plants survive frost, it is easier to take action and protect those plants that need it from frost.
In this article, we share a picture and video comparison of how different plants survive frost. It was very interesting to observe it firsthand.
Why is it important to know how different plants survive frost
Growing a garden in the northern cold climate we constantly deal with frost. We can have frost as late as June, and as early as August, even though our official frost-free dates are around May 26 – Sep. 9.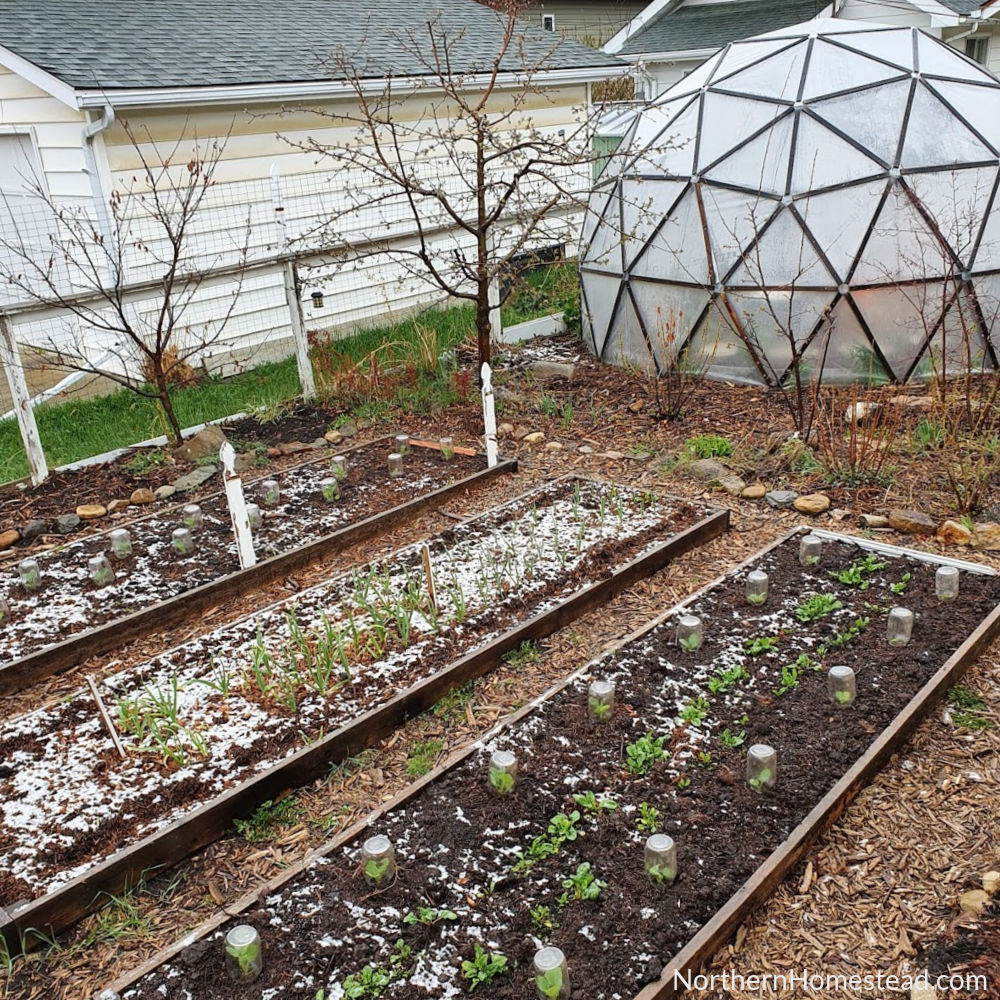 Knowing how different plants react to frost helps us to start hardy plants as early as we possibly can, see when to plant what. Extending the growing season is easiest in spring. Read also about the cold spring challenge in the garden to get more ideas.
In an event of sudden frost, we have to cover and protect only those plants that actually need protection, see protection from frost.
Picture comparison on how different plants survived the frost
The temperature outside dropped to -6 °C = 21.2 °F, and -2 °C = 28.4 °F in the greenhouse.
That is cold!
We took the pictures after the frost in the morning and a few days later; cold days!
See what happened.
All summer crop froze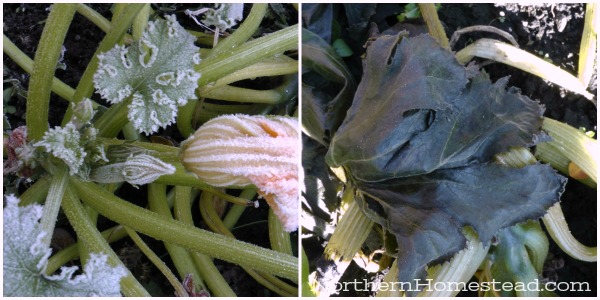 Summer crop plants freeze very easily. In the greenhouse, the temperature did not drop as much as outside, but the plants were all still frozen. The first picture in the collage was taken on the first morning after the frost, the second a few days later.
Summer crops are: Beans, Basel, Cantaloupe, Corn, Cucumber, Eggplant, Okra, Bell & Chile Peppers, Potato leave, Pumpkin, Squash, Sweet Potato, Tomato, Watermelon, Zucchini …
All of these plants need frost protection, or they will freeze. However, there is a difference between them.
Tomatoes will survive if the temperature goes down to 1C 33F, cucumbers and the whole squash family will not. Survive does not mean thrive. If possible we want to keep heat-loving plants above 8C (46F).
Fruit does not freeze right away

Even though the cucumber plant froze, the fruit did not. The same happened with the tomatoes. These were in the greenhouse where the temperature dropped to -2 °C. We harvested the last ones after the little frost in the greenhouse.
However, heavy frost would damage the fruit, too. In the video below you will see that the fruit did not hold -3 °C.
If fruit like tomatoes and peppers freezes, it can still be harvested right away. Frozen fruit can also be preserved in the freezer for later use. Just make sure not to let it thaw in between harvesting and freezing.
For ripening green tomatoes indoors make sure to harvest the fruit before there is a danger of frost, otherwise, they will not store and ripen well.
Young plants do not freeze as easily as mature plants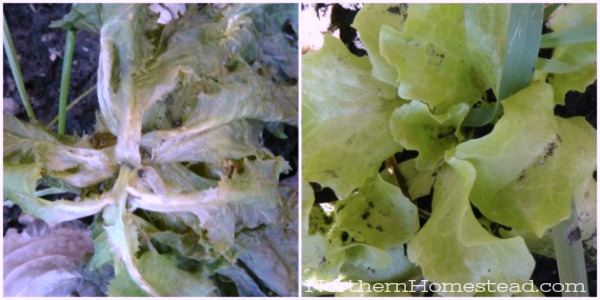 I heard about this before, but to see the huge difference between some young lettuce plants and the mature ones was amazing. Hard to believe that this young lettuce survived, uncovered, -6 °C = 21.2 °F!
It means that lettuce can be planted long before the last frost date.
Winter crops are hardy
Kale, Chives, Fennel, Garlic, Onions, Peas, and Radish are very hardy. Followed by Broccoli, Brussels Sprouts, Cabbage, Cauliflower, Kohlrabi, Lettuce, Pak Choi, Perennial Herbs, Radicchio, and Spinach leaves (the plants are very hardy). Artichoke, Celery, and Leek may need a little more protection.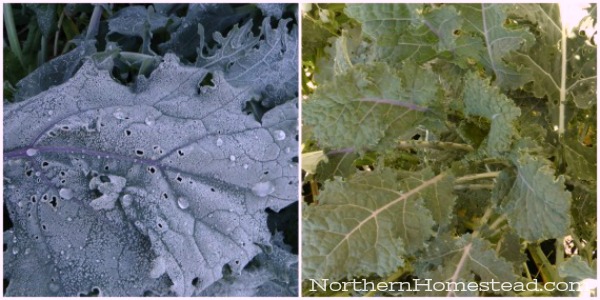 Kale is very frost-resistant. The first picture in the collage was taken on the first morning after the frost, the second a few days later from a different kale plant, but they survived the same.
However, kale does have its limits. Read more in our January garden update.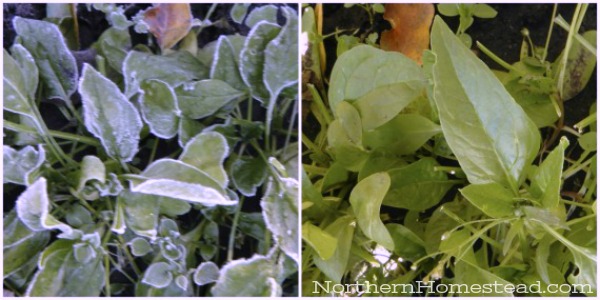 Spinach not only stands frost but also continues to grow. The first picture in the collage was taken on the first morning after the frost, the second a few days later. We grow overwintering spinach here in Zone 3. Plant some in late summer for early greens in spring. The plants are only covered with snow and continue to grow after -40 degrees winters.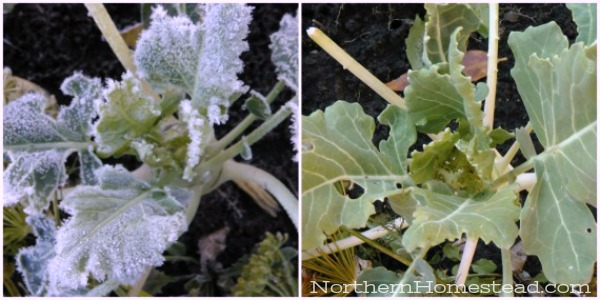 Again the first picture of the kohlrabi plant in the collage was taken on the first morning after the frost, the second a few days later.
Root crops can stand some frost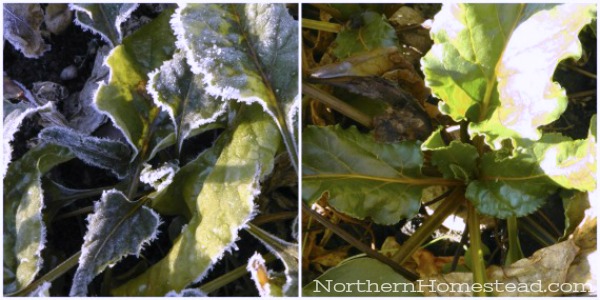 Beets and carrots will survive in the ground as long as the ground is not frozen. The first picture in the collage was taken on the first morning after the frost, the second a few days later.
However, beats and carrots are both biannual plants. Be a bit more careful in spring, even though frost will not kill them, it can trigger that the plant goes to seed because it thinks winter is over, it is time to make seeds.
Potatoes leaves will freeze, the tubers will be fine till the ground freezes. We always harvest potatoes after the frost in late September, early October after the frost has killed the leaves and the potatoes build some mature skin.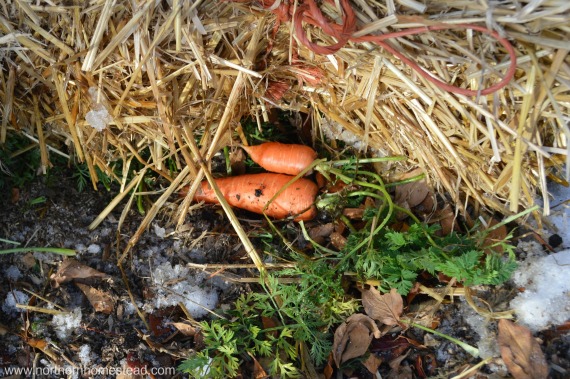 Carrots tend to become even sweeter. When covered, carrots can be left in the ground over the winter, read more: Growing winter carrots in a cold climate.
Some flowers are hardy to frost
Snapdragons are hardy flowers. I was amazed to see that even the blossoms that looked solid frozen in the morning, recovered nicely.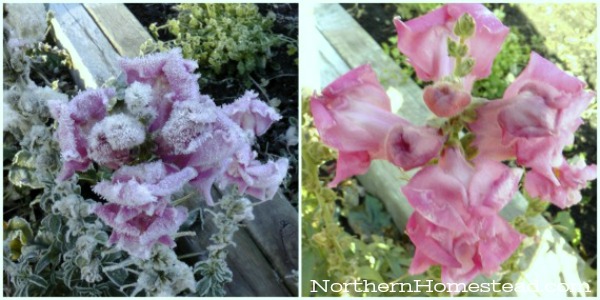 Hardy flowers: Alyssum, Anchusa, Centaurea, Dracaena, Dusty Miller, Larkspur, Nigella, Pansy, Snapdragon, Sweet Pea, Forget-Me-Not, Lavender, Petunia, Roses, Violet.
Some common summer flowers: African Daisy, Asters, Begonia, Bidens, Chrysanthemum, Dahlia, Fuchsia, Geranium, Hibiscus, Jasmine, Marguerite Daisy, Marigold, Mecardonia, Millet, Morning Glory, Napa Valley Fern, Nasturtium, Pentas, Sunflower, Tropical Hibiscus, Tropical Water Plants, Zinnia. All of these plants need frost protection or they will freeze.
A video update on how plants survive frost
Here is a short video on how different plants survive frost. We show the huge difference between summer and winter crops in the garden. If you can't see the video, go here.
Hope this helps you to see the big potential winter crops have in a cold climate garden. Many plant varieties do not just survive but thrive in freezing temperatures.
Inspiring books for winter gardening:
The Winter Harvest Handbook; Backyard Winter Gardening; Year-Round Vegetable Gardening.
We invite you to subscribe to Northern Homestead and follow us on Instagram, Facebook, or Pinterest for the latest updates.
More Gardening Posts You Might Enjoy: