Plants react very different to frost, some freeze easily, some plants are frost resistant. See how different plants react to frost with picture comparison.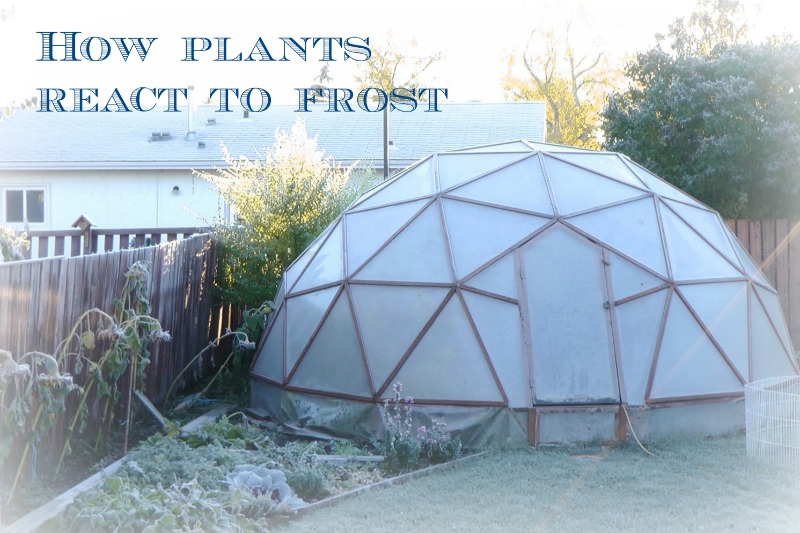 Freezing weather conditions kill vegetables in the garden, right? Well, it depends. Plants react very differently to frost. I knew about this, but it was very interesting to observe it first hand. We had a very mild September this year with just a little frost, so that most of our garden was still there when the killer frost came.
Here is a review of what happened with different plants in this weather conditions. The temperature dropped to -6°C = 21.2 °F outside, and -2°C = 28.4°F in the greenhouse. That is cold!
I took the pictures after the frost in the morning and a few days later; cold days!
All summer crops froze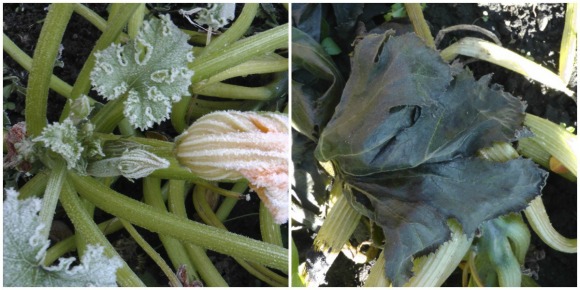 Summer crops freeze very easily. In the greenhouse the temperature did not drop as much as outside, but the plants were all still frozen.
Summer crop vegetable are: Cantaloupe, Corn, Cucumber, Eggplant, Okra, Peanut, Bell & Chile Peppers, Pumpkin, Squash, Sweet Potato, Tomato, Watermelon, Beans, Basel, Zucchini.
Some common flowers: African Daisy, Asters, Begonia, Bidens, Chrysanthemum, Dahlia, Fuchsia, Geranium, Hibiscus, Jasmine, Marguerite Daisy, Marigold, Mecardonia, Millet, Morning Glory, Napa Valley Fern, Nasturtium, Pentas, Sunflower, Tropical Hibiscus, Tropical Water Plants, Zinnia.
All of this plants need frost protection or they will freeze.
Fruit does not freeze right away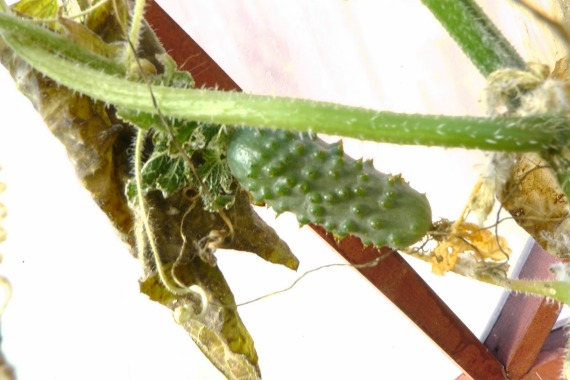 Even though the cucumber plant froze, the fruit did not. The same happened with the tomatoes. I harvested the last ones after the little bit of frost in the greenhouse. However, heavy frost would damage the fruit too.
Young plants do not freeze as easily as mature plants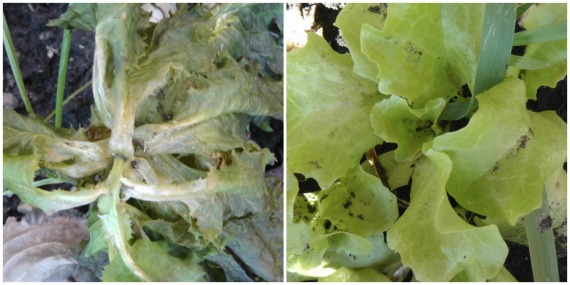 I heard about this before, but to see the huge difference between some young salad plants and the mature ones was amazing. Hard to believe that this salad survived, uncovered, -6°C = 21.2°F! It also means that salads can be planted long before the last frost date.
Winter crops are hardy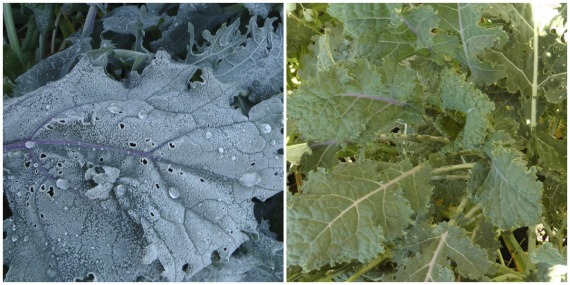 Kale is probably the most frost resistant plant and also the most nutritional vegetable there is. The combination of these two astonishes me. Our Creator God created plants that are able to survive in hard conditions to feed us with some very important nutrition.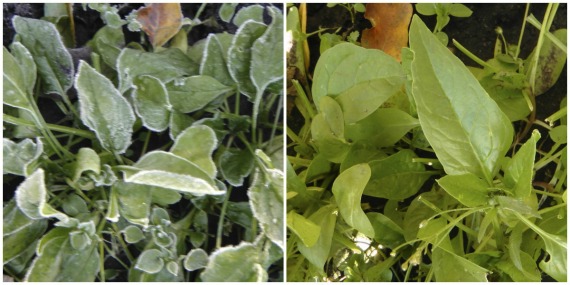 Spinach not only stands frost but also continues to grow. I have had spinach growing in the spring after a cold Alberta winter. Wow! It is worth it to plant some in the fall for early greens in spring.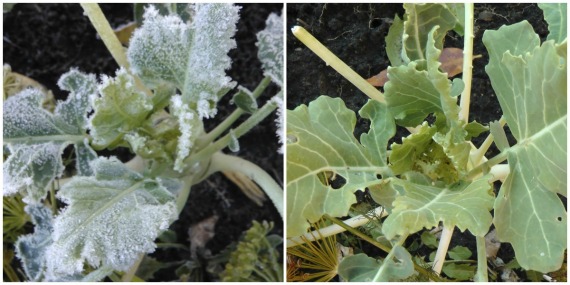 Asparagus, Chives, Fennel, Garlic, Onions, Peas, Radish and Strawberry are very hardy. Followed by Broccoli, Brussels Sprouts, Cabbage, Cauliflower, Kohlrabi, Lettuce, Pak Choi, Perennial Herbs, Radicchio, Rhubarb, Spinach. Artichoke, Celery  and Leek may need a little more protection.
Root crops can stand some frost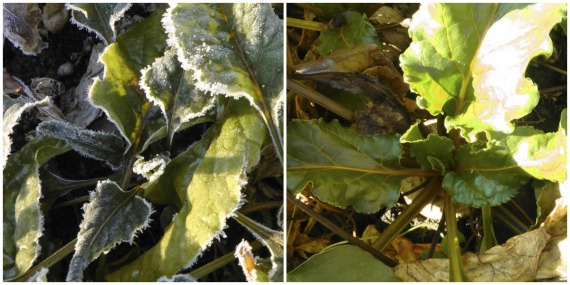 Beets and carrots are OK in the ground as long as the ground is not frozen solid. Some say that Potatoes are very hardy as well. Carrots tend to become even sweeter after the frost.
Some flowers are hardy to frost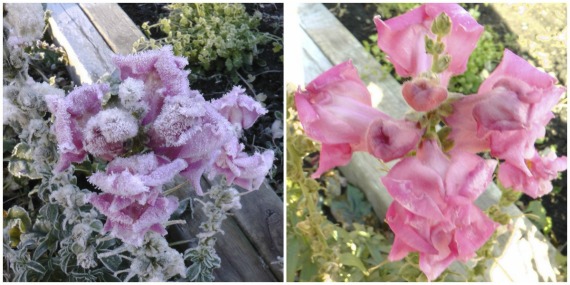 Snapdragons, are hardy flowers. I was amazed to see that even the blossoms that looked solid frozen in the morning, recovered nicely.
Hardy flowers: Alyssum, Anchusa, Centaurea, Dracaena, Dusty Miller, Larkspur, Nigella, Pansy, Snapdragon, Sweet Pea, Forget-Me-Not, Lavender, Petunia, Roses, Violet.
He sends His commandment to the earth; His word runs swiftly.
He gives snow like wool; He scatters hoarfrost like ashes.
He hurls His ice like crumbs; before His cold, who can stand?
He sends His word and melts them; He blows His wind; water runs.
Psalm 147:15-18
We invite you to subscribe to Northern Homestead and follow us on Facebook or Pinterest for the latest updates.
Inspiring books for winter gardening: