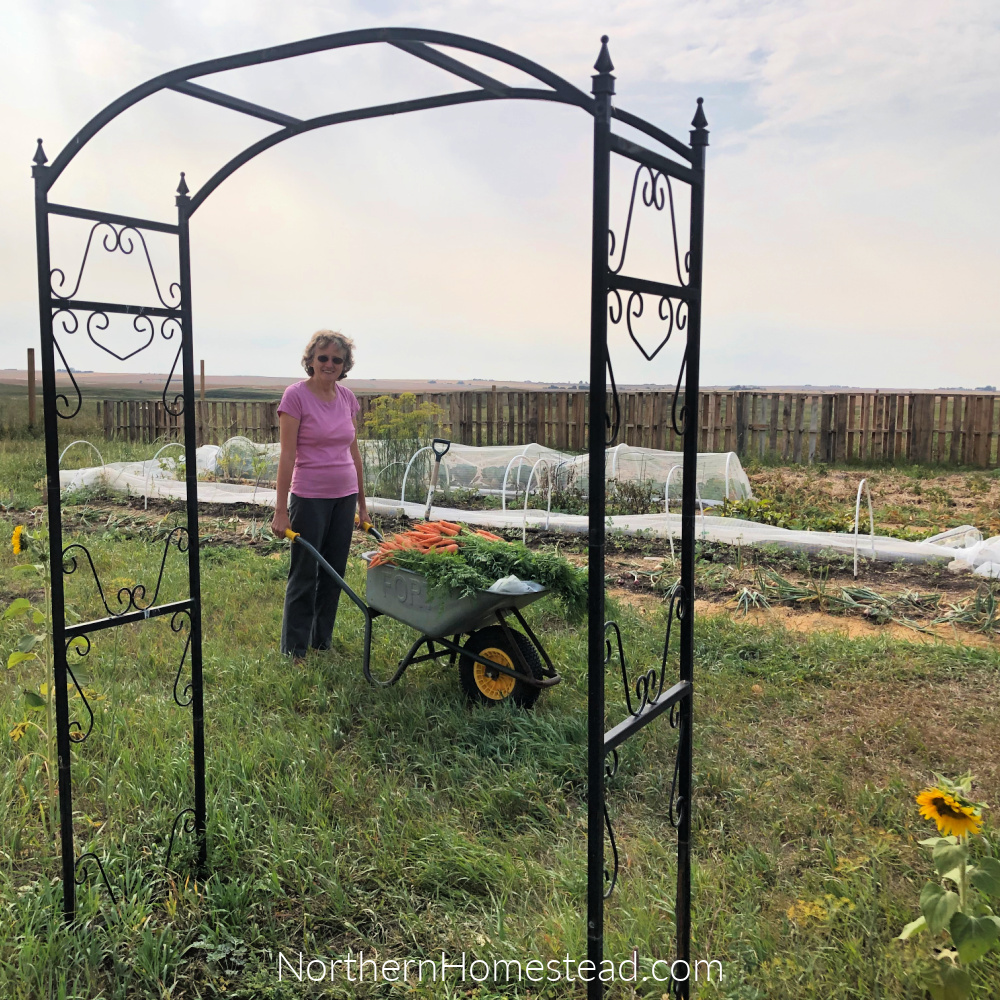 Have you heard of sowing carrots in cornstarch? It is said to be a way of planting lots of carrots quickly and easily for great germination no thinning needed and preventing seed waste.
Wow, that's a lot to ask from a planting method, especially if it comes to something as finicky as carrots.
With starting a new garden in the country this spring, and lots of things to do, we needed a no-fail method. After watching this video, I had to try it myself. Here we share our experiment with sowing carrots in corn starch.
Preparing the seeds
The seeds can be soaked for 6-24 hours and kept moist for two days so they start to sprout. Soaked or sprouted seeds are great because they give you a head start. However, once they sprout they absolutely have to be kept moist. Since I knew that we could not be there to water, I went light on the sprouting. I still soaked them overnight but did not wait till they sprouted.
I would think that sprouting the seeds is optional, but if you want to do it, handle them with special care.
Prepare the cornstarch mixture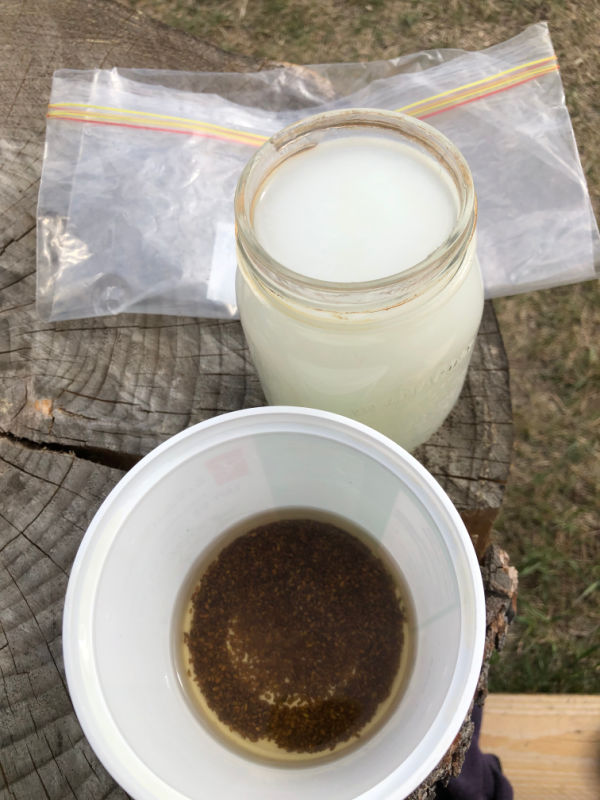 The corn starch mixture is 1 cup of water to 2 tablespoons of corn starch.
For a standard seed package, you will need about 2 cups.
Mix it in and bring it to a simmer so it becomes a nice jelly texture.
Let the cornstarch mixture cool completely.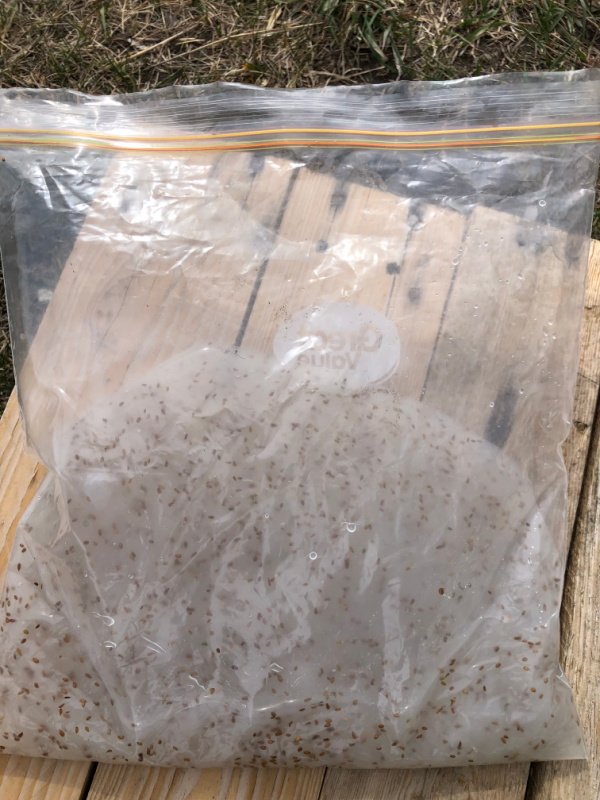 Pour the cornstarch jell into a freezer bag, add the carrot seeds, and mix well.
Now you are ready to head out into the garden to start planting. Take scissors with you, you will need them.
Planting the carrot seeds in cornstarch
At this point make sure that your garden soil is ready to plant. We share more about growing carrots here.
When you are ready, cut a little corner of the plastic bag with the cornstarch, and carrot seed mixture. In my first attempt, I made the hole a bit too big, so too many seeds came out.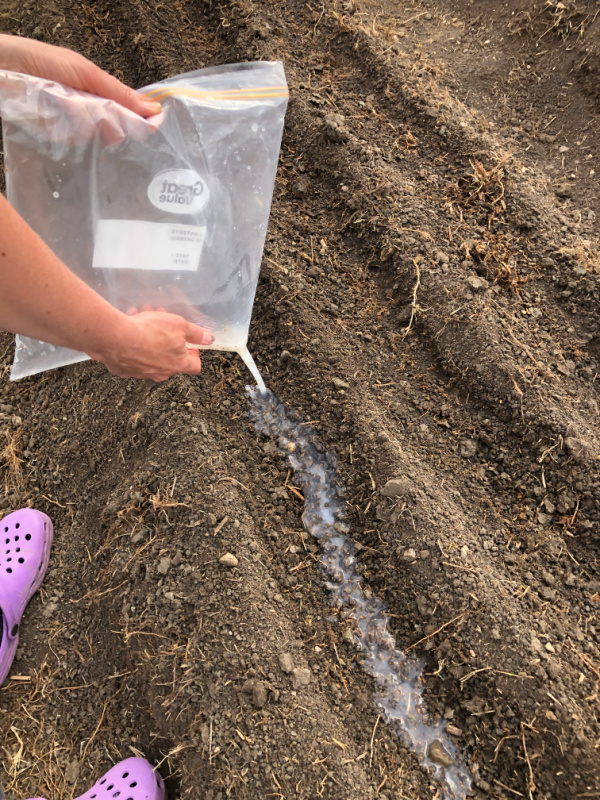 You really want to have a small hole, so the seeds are spread out evenly, and thinning is unnecessary. I still have to practice a bit more.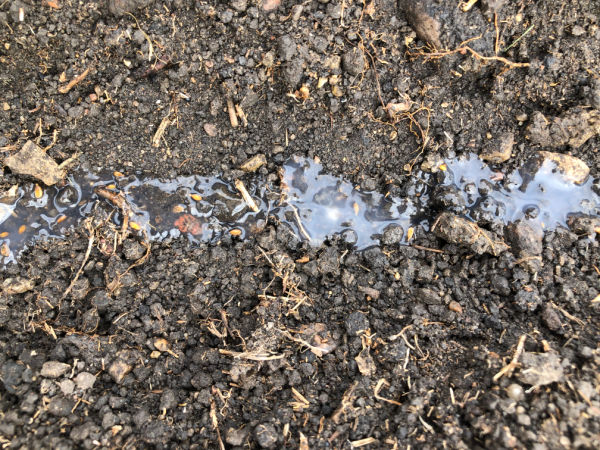 Cover the seeds with a little bit of soil, so they do not dry out.
Great germination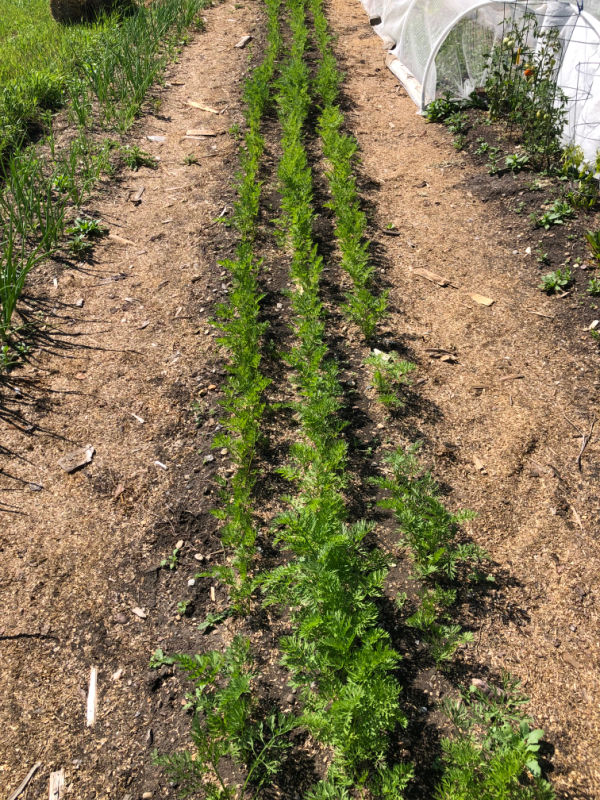 The result was great germination. As I said before, this was in our country garden, so we could not water much. We still watered whenever we were there, about once a week, or maybe twice on the weekend, but definitely not daily. It was also a dry spring.
If nothing else, the soaking and the corn starch did help with germination. To see the dense rows was very encouraging.
Did we have to thin them?
However, the dense rows also meant we had to thin them. I noticed though, that even though we had to thin the carrots, the thining was relatively simple. It seemed that there was still at least a little bit of space between, not like sometimes a cluster of seeds would germinate that is almost impossible to keep apart.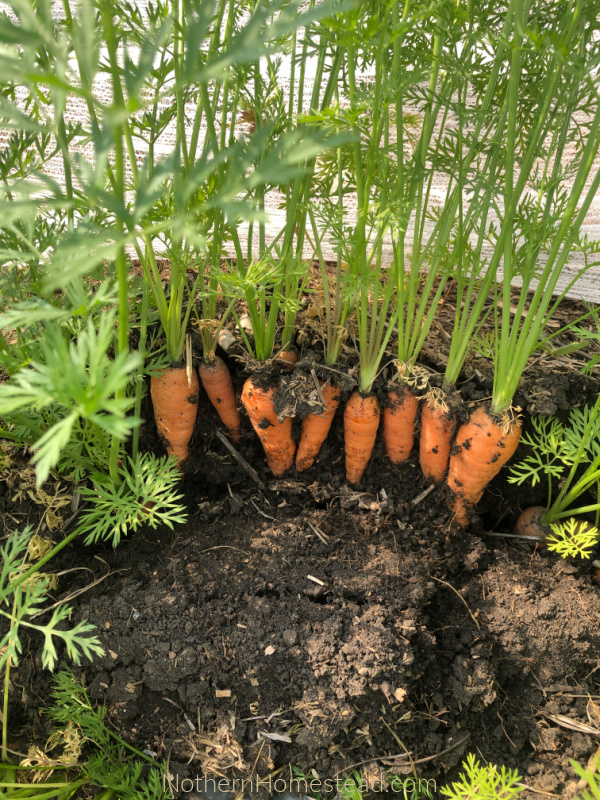 We thinned them a few times during the growing season and used the baby carrots. What was left, was still a dense row of carrots. In the picture above I opened up a row at the end of the season. They are beautifully growing mostly one by one.
Since we love fermented baby carrots, we did not worry too much about thining them perfectly.
Recap of our experiment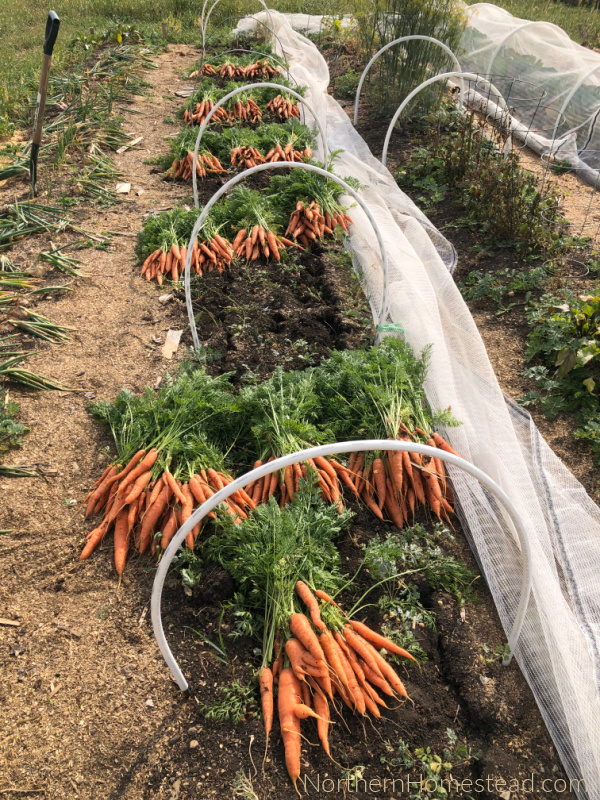 The fact that the cornstarch jelly helped to keep the seeds moist was very beneficial. That alone is worth doing it this way.
The thining, even though still needed (at least in our first experiment) was easy to do.
We ended up with a great harvest.
What is your way of sowing carrots? We would love to hear it.
We invite you to subscribe to Northern Homestead and follow us on Instagram, Facebook, or Pinterest for the latest updates.
More posts you might enjoy