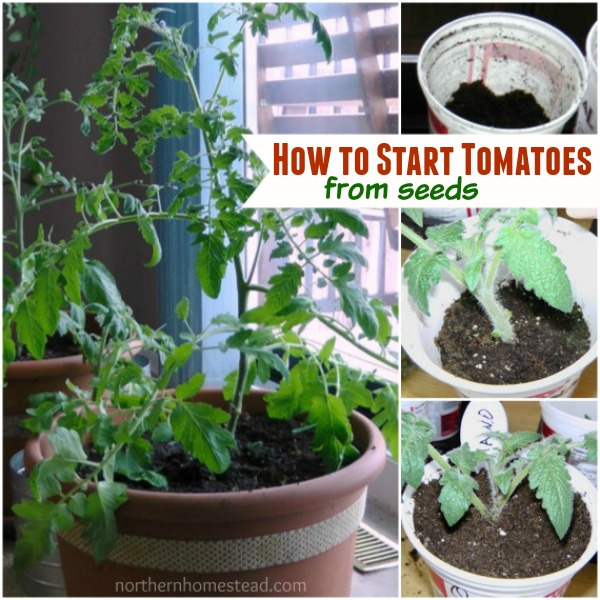 Growing tomatoes is just as much fun as it is rewarding. In this article, I'm sharing how to start tomatoes from seeds using a 'no-fail method' that involves less work, which has worked for me for many years. With this method, you can go from seed to harvest in less than 4 months.
Where to get tomato seeds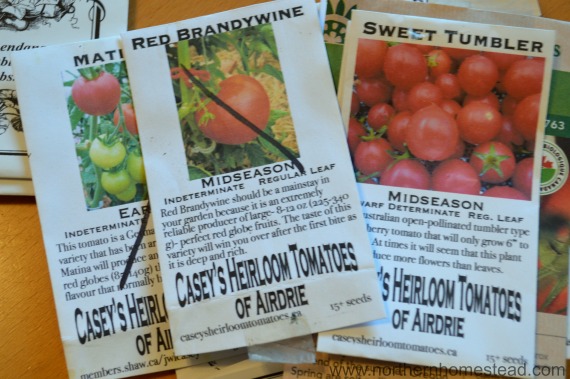 We like to grow heirloom tomato varieties, they just seem to have so much more flavor. Since our weather conditions are very unique we like to buy the seeds locally because plants have to adjust to the climate they are in.
We always try to stick to a variety that needs a short growing time (days to maturity), preferably less than 70 days. Read more about getting seeds for the new growing season and what Heirloom tomato varieties we grow in a northern garden.
When to start tomato seeds
We like to start our tomatoes 6 to 8 weeks before the last frost day (here is a link for Canada and USA last frost dates). If you have a greenhouse you can plant the tomatoes out about two weeks before the last frost day, so start them two weeks earlier.
If you have been confused over when to start tomatoes from seed, reed our separate article When to Start Tomatoes Indoors.
What pots and potting soil to use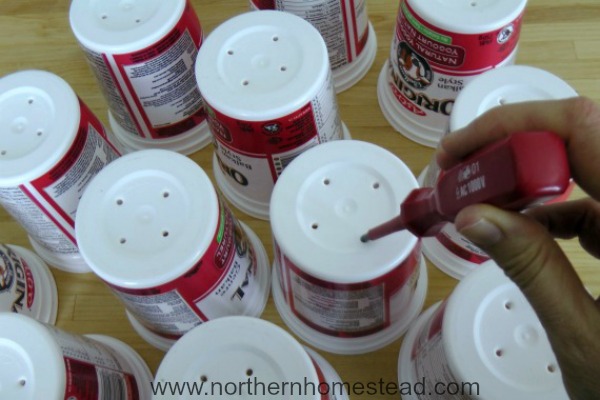 For tomatoes (and peppers as well) we like to use about quart-size pots. We often use the (free) yogurt containers, they have the optimal size for those plants. First, make some holes in the bottom for drainage, then fill the container about half with potting soil (You will see later why just half full).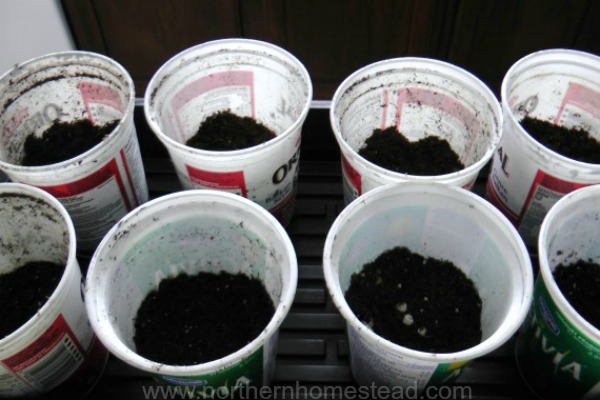 Seed starting mix or soil, that is very fine and sterilized, might be important for some seeds that are very small and hard to start. For tomatoes, we simply use a potting soil mix.
When choosing a potting soil or a growing medium make sure to read the label. Some are really just growing mediums with no compost or fertilizer.
Make your own potting soil, Mel's Mix from the Square Foot Garden book. Mix together: 1/3 compost, 1/3 vermiculite, and 1/3 peat moss.
You can find all of these ingredients in a garden center or Home Depot. Read more about the DIY container soil here. It is a good mix that we have used in grow bags and raised beds as well.
Plant the seeds
Here is a wordless video on how we start tomatoes from seeds. To watch the video on YouTube go here.
Make sure the soil for seed starting is moist. You do not want it to be dry or really wet. Now plant 2-3 seeds into each container to make sure that at least one germinates. Covering the container with plastic also helps to keep the soil moist for better germination.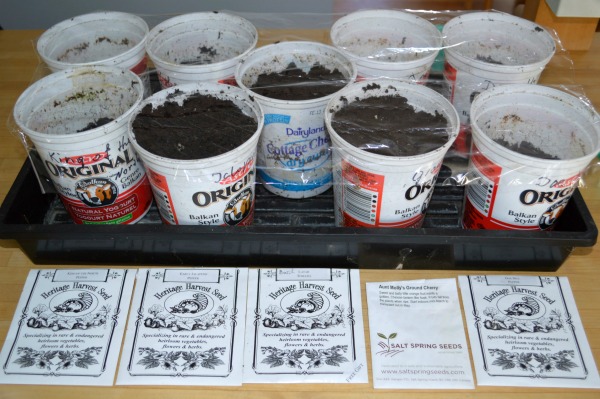 If more than one seed germinates, you can cut the little plants off and use them as cuttings. See also how to grow tomatoes from cuttings. It is a great method for those who have trouble starting tomatoes from seeds.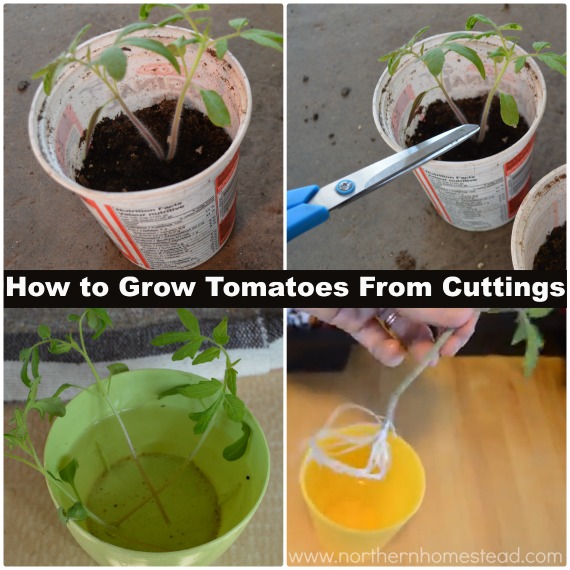 A sunny window or grow lights
For germination, a seed needs moisture and warmth, not so much light. Find a nice warm spot in your house. Using a heat mat can be helpful too. We usually use the top of the washer and drier in our bright and warm laundry room. As soon as the seeds are up, young plants need a lot of light.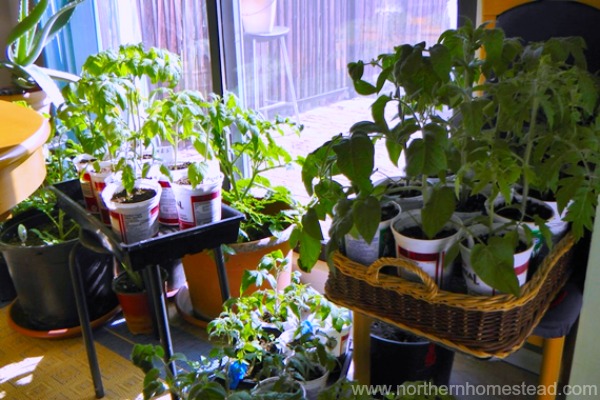 If you have a south-facing window to grow your seedlings at, that's great. If not, you might need to add a grow light. For an east window, you can add light in the afternoon, a west window really benefits from additional light in the morning.
There are many grow lights to choose from. We use 54W high output T5 fluorescent lights with a bulb life of 20,000 hours. This is a small investment for many years of healthy seedlings.
Labeling plants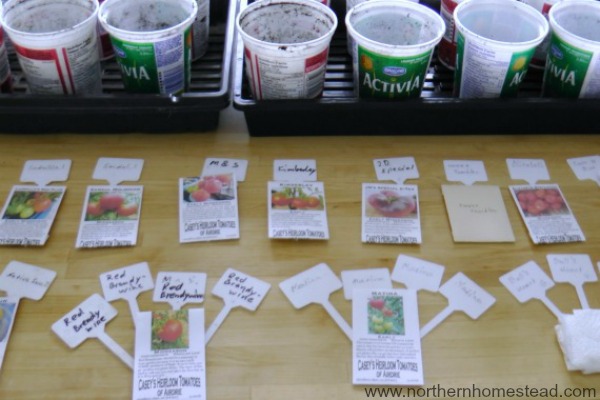 Labeling is important, so you know what you are actually growing, do not assume that you will remember them all. It does not matter what kind of labels you use. Garden labels are great, but a plastic spoon works just as well. If I have many plants of the same kind, I just label the plastic containers.
Transplanting tomato seedlings
Tomatoes belong to the nightshade plant family along with eggplants, peppers, and potatoes. There is a unique thing about nightshade plants: they grow roots along the stem. This is important! In order to have a healthy, not leggy, tomato plant it is good to plant the seedling deep into the soil.
If I had started tomatoes in smaller containers, or bought seedlings from a greenhouse, I would transplant them into a bigger pot and bury as much as I can of the stem as soon as they are a little taller. Sometimes the plant is so leggy that the leaves only start at the top of the plant. This shows that the plant did not have enough light. Transplant it to a bigger pot anyway by burying the stem, provide more light, and it will start to get stronger and healthier.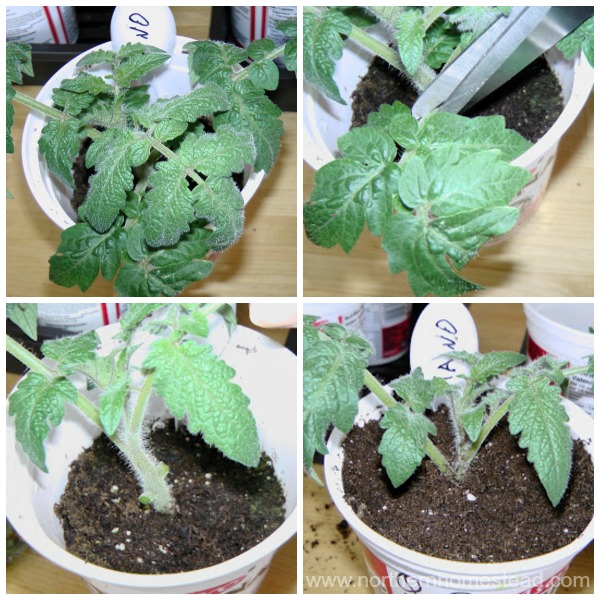 You see, since my seedlings are already in a bigger container I save myself some work ;).
Once the little plants germinate and grow taller than the container, gently cut off the lower leaves, and fill the pot with potting soil to the top. This way the seedling also does not go into a transplanting chock, we do not disturb the roots at all, we just add soil.
At this stage you can also mix some compost or warm casting into the soil to add to the container, the plants will grow even better.
In a few more weeks they will be ready to go into the ground or their final container. Read all about transplanting tomatoes into the ground here.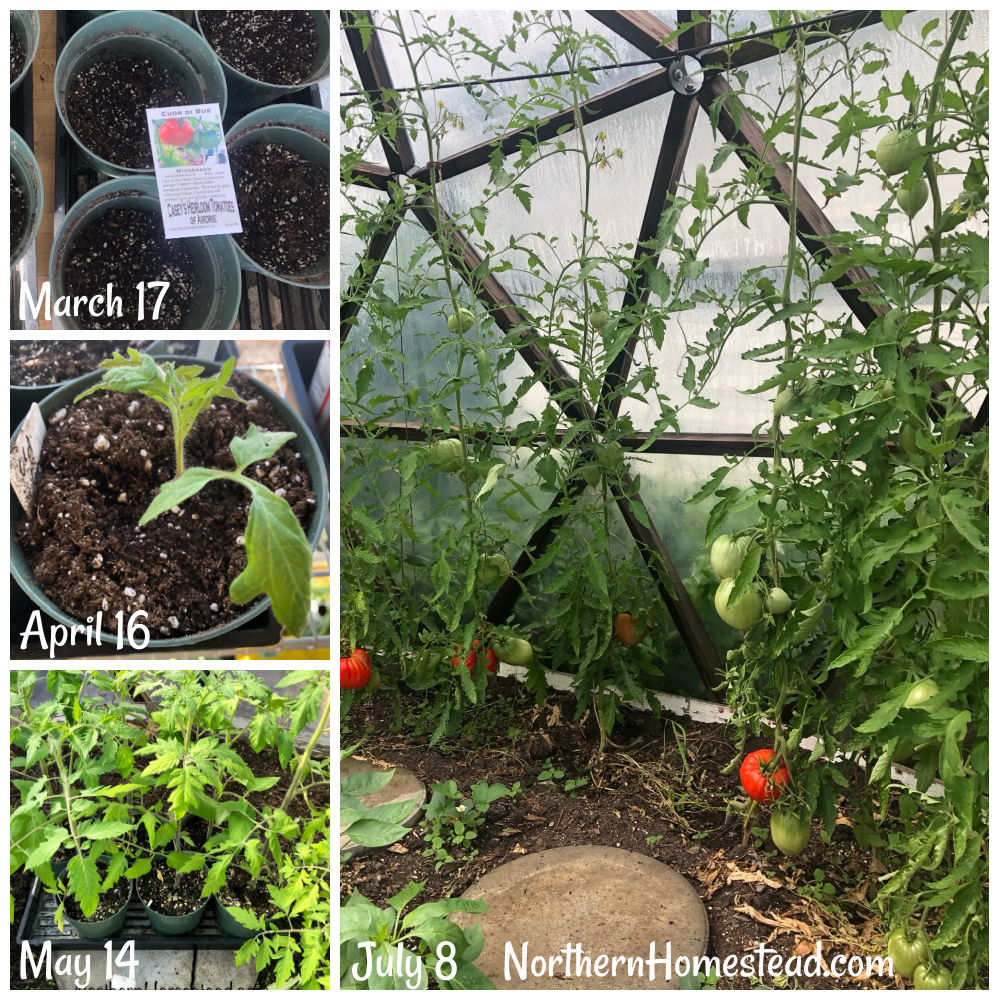 And here is a picture diary for the simple seed starting method: Seeds started on March 17, the pot refilled on April 16. The plants were ready to be planted into the ground in the greenhouse on May 14, they are just putting out buts, not flowering yet. And in early July we are already enjoying the yummy, ripe, big tomatoes. This is the Bulls Heart tomato variety.
There are many ways to start tomatoes from seeds. This way has worked for us. Share your method in a comment below.
We invite you to subscribe to Northern Homestead and follow us on Instagram, Facebook, or Pinterest for the latest updates.
More Growing Tomatoes Posts You Might Enjoy: