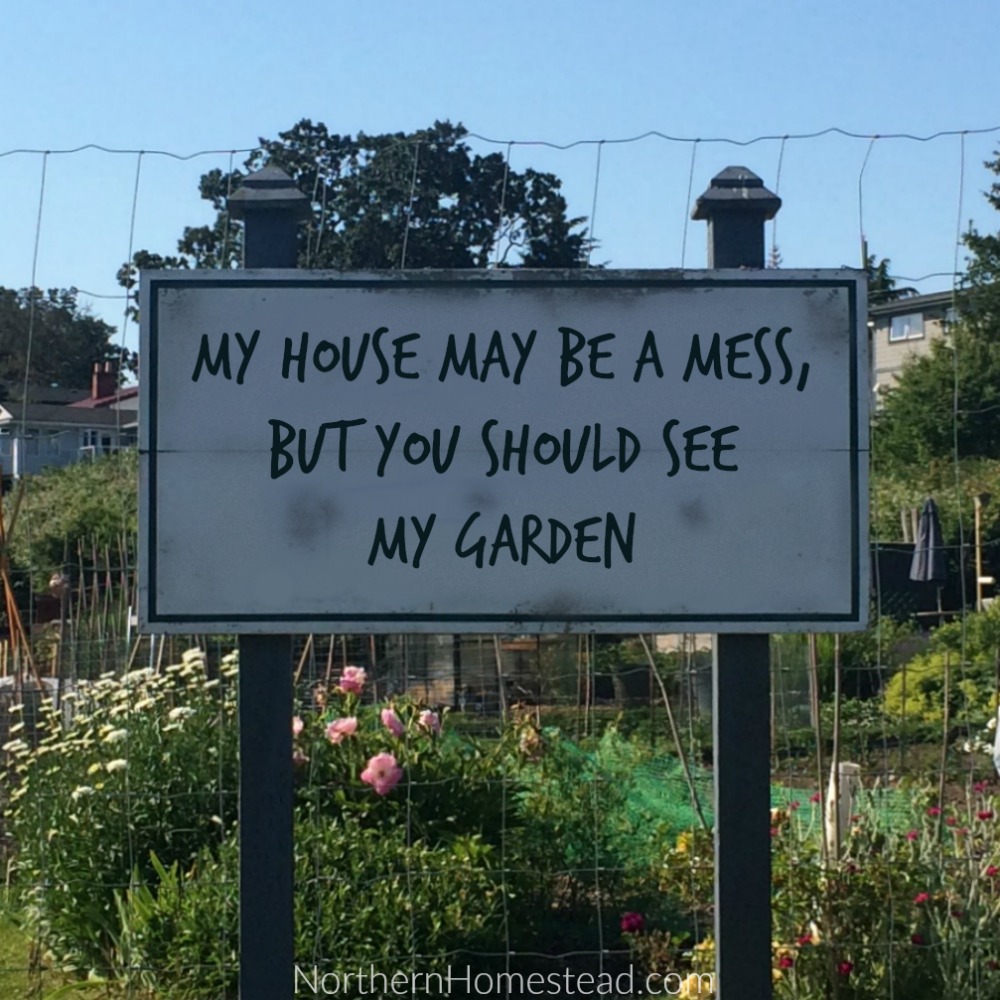 "My house may be a mess, but you should see my garden" – can you relate? As a homesteader, we could add "but you should see my pantry, or my barn, or my cellar". It seems there are always more important things to do than cleaning and organizing the house. The FlyLady system comes to the rescue for homesteading.
FlyLady is a housekeeping system, founded by "The FlyLady", Marla Cilley. It is aimed at people who have trouble to stay organized and keep the house and life in order.
The FlyLady system also works great for people who have very little time for housekeeping and in this regard, it is great for homesteading.
Winter is a great time to start with the FlyLady system, so when the busy spring planting comes around you can ditch that old sign because your house will be in order.
Personally I heard about the FlyLady many years ago. At that time I watched a few videos, and all that stuck with me was the timer. As Marla Cilley says, "You can do anything in 15 minutes". That alone was life-changing. Did you know that most house cleaning tasks really do take less than 15 minutes?
Over time, I have added more from the FlyLady system. She offers so many good and helpful tips, take what you like and apply what is helpful.
Daily routines
Daily routines is the framework of the FlyLady system. Most homesteaders are already using routines. If you don't have any yet then start with establishing some daily routines like making your bed, and dressing to shoes. Even if we work from home, it does not mean that we should not be dressed nicely.
Laundry and cleaning the hotspots are also part of daily routine as well as the FlyLady's famous shiny sink.

Routines are great in the garden as well, to keep gardening easy. If you spend about 20 minutes each day in your garden, you will never have to work your garden much. Plant a bit, harvest a bit, take care of some weeds, some compost, some pruning. I personally hardly ever work beyond having fun.
Add another 20 minutes each day to preserve the harvest, you will be surprised how much food can be preserved.
Daily Focus
Daily focus is another one of FlyLady's helpful tips. Each day of the week you focus on something. Her list is this:
Monday – Weekly Home Blessing
Tuesday – Plan and Play
Wednesday – Anti-Procrastination Day
Thursday – Errand Day
Friday – Clean-out your Purse and Car Day
Saturday – Family Fun Day
Sunday – Renew your Spirit Day
These are just suggestions, I don't plan and play much, instead, I have a 'work on the blog' day. My purse and car also do not need weekly attention, instead, I might have a baking day.
The weekly home blessing is a cleaning routine of the main area of the house. You can take 10 minutes each day, or a good hour on one day, that's up to you. The FlyLady's tasks on Weekly Home Blessing includes vacuuming, dusting, quick mopping, polishing mirrors and doors, purge magazines and catalogs, change sheets, empty all trash cans.
A daily focus on a homestead, even if it is just one, can also help you to feel more accomplished. If you would need a single management tip that was to help you to accomplish more and feel great at the same time, here it is: Making progress on one thing a day.
Cleaning Zones
Zones, cleaning and decluttering is another of FlyLady genial ways for cleaning and organizing the house without ever needing a deep clean. The FlyLady zones for the month are as following:
Zone 1: Entrance, Front Porch & Dining Room
Zone 2: Kitchen, Pantry
Zone 3: The Main Bathroom and One Extra Room
Zone 4: The Master Bedroom, Bath, Closet
Zone 5: The Living Room, Den, Family Room
You can change the zones according to your needs and house, but the idea is to clean and organize through the main areas of the house for a week each month. That doesn't mean that you work on it all week, but take each day a bit of time to clean something in the zone area.
For example in the kitchen: take one day to clean the windows, another the oven, yet another to sweep through the drawers and so on, you get the idea. I also like to can my dry beans in that week, since canning is almost no work, but requires me to be in the kitchen for hours. While I'm waiting, the kitchen cleaning gets done.
During the summer I also add weeding tasks to the zones. For example: during the entrance zone week – the front yard gets weeded, during the bedroom zone week – the garden beds. Read more about how to deal with garden weeds here.
During very busy homesteading times, I might not clean in my zones at all. After all, they got attention all year, and can easily wait for another month without becoming a disaster. The FlyLady system for homesteading keeps cleaning and organizing the house simple.
Where to get more information
The book: "Sink Reflections: The FlyLady's Simple Flying Lessons Will Show You How to Get Your Home and Your Life in Order" is a great start.
There are also Facebook groups, newsletters and even an app for the system. You can find all of this on flylady.net
If you have experience with the FlyLady system, please share it in a comment below. Personally I think it is a great way to keep housekeeping really simple in order to have more time to do what we love.
We invite you to subscribe to Northern Homestead and follow us on Instagram, Facebook or Pinterest for the latest update.
More posts you might enjoy