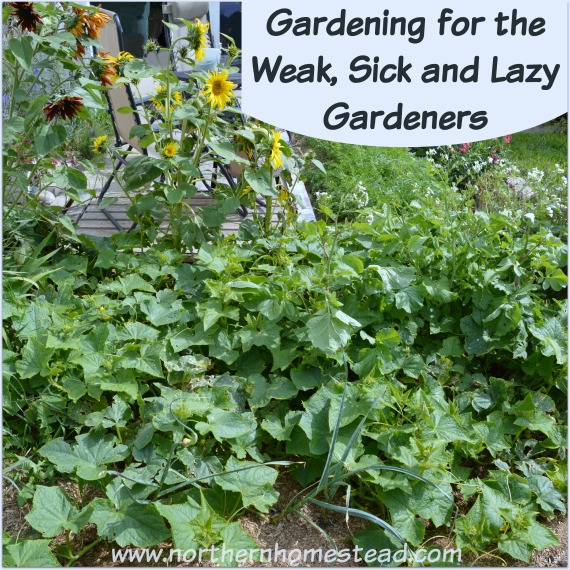 Since I write a homesteading/gardening blog you could get the impression that I am a hard-working gardener, always on top of things. Well, that is not true, and I feel that I have to apologize if I have given you this false impression. The truth is that I am a weak, sometimes sick, and a bit lazy gardener. Having said that, I do enjoy gardening and we grow a lot of food year after year. And every year I learn a bit more on how to successfully garden the easy way.
I wrote this article 6 years ago and thought it is time for an update. Health and strength-wise I'm doing better now than I did back then. Some special exercises and regular yoga have helped a lot with that. Read more in gardening without pain. Still, we like to keep things simple and with minimal effort obtain maximal results. So if you are into that, keep reading.
Note: this article is not for the hard-working, traditional gardener. If you enjoy what you do, good for you. I am not saying that everyone should garden the easy way. Some really enjoy all the work and the look of a worked garden.
Here are 7 practical things to make gardening for the weak, sick, and lazy gardeners more enjoyable and successful. Proven gardening methods anyone can do.
1. Do not till
Well, we do not even own a tiller and I can't dig, even if I would want to. There have been times where I had a hard time getting a spade into the ground. I prefer to work with a hand spade. And in most cases, it is all that needs to be done anyways.
We use 'no-till garden' methods; it was work to set it up, but so worth it. See how we replaced our lawn with food production and converted a hayfield into a garden. There are several no-till gardening methods to choose from, find what works for you.
Constant tilling only hardens the soil and creates more work. A 'no-till garden' gets better over time because beneficial insects and bacteria take over the work for you. Read also to till or not to till the garden.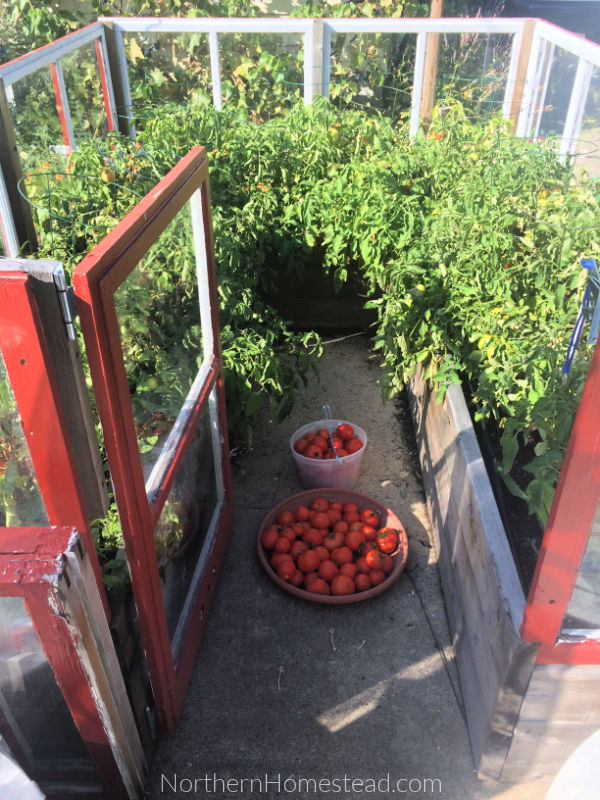 Growing in raised beds also makes gardening easier on the back. A square foot garden can be raised even higher, so it is wheelchair assessable.
2. Cover the ground
This goes along with no-tilling, except for the square foot garden method, all other no-till methods really only work with a good cover.
And really any garden benefits from a good layer of mulch. Look around in nature, there is no naked and exposed soil. It is always covered. I think that is why leaves fall in Autumn, so the ground gets a cover. Covered soil stays moist and soft.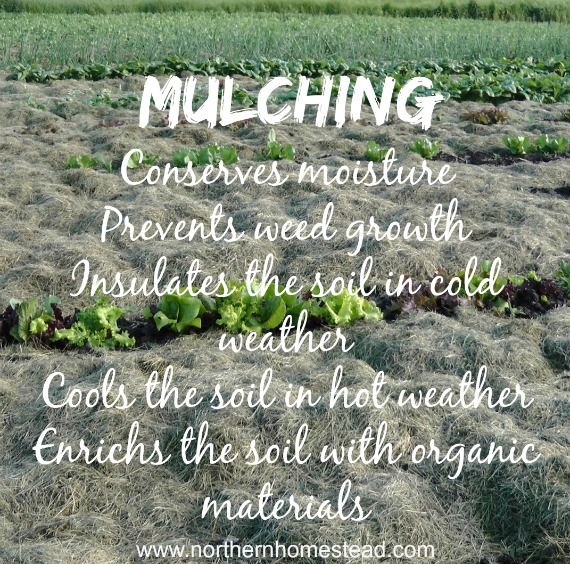 If you can, find great organic mulch like compost, wood chips, hay, grass clippings, or shredded leaves to cover your garden with. If you have no access to those kinds of mulch, cover it with newspapers, a Plant Protection Blanket
, or Weed Control Fabric. Natural mulch has an advantage in that it decomposes and enriches the soil, but any cover is better than no cover. So yes, cover the ground.
Personally, our favorite cover in the garden is compost. We add about 3 cm (1,5 inches) right before the snow in the fall or right after the snow melts in spring. For the perennial garden, we prefer wood chips.
3. Plant in succession
Planting everything at the same time is a lot of work, and it often leads to weeding everything at the same time and harvesting everything at the same time. Read also when to plant what and why not follow that general rule.
Following our indoor seed starting schedule, we start seeds according to when they can be planted out and hardly start anything earlier than 8 weeks before that time. Practically that means for us that before March there is no work to be done for the summer garden, instead we grow an indoor garden.
Start planting as soon as the soil is workable and continue with succession planting all through the summer. The first plants we plant out are cabbage family plants. But they are not the first plants that are growing in the garden. There are overwintering spinach and garlic already growing from last summer/fall planting.
4 Prevent weeds
Single-row gardens can look beautiful if worked hard. If mulched well, they can function with less work. Even less work is needed if there is no room for weeds to grow and for a tiller to go through.
Plant densely. If you have never heard about the Square Foot Garden, the book is a must-read to understand how dense plants can grow together. You do not have to follow the method, but planting more densely is helpful to prevent weeds from growing.
Plants love to grow together and support each other. Plant squash and spinach together, cabbage and beets, cucumbers, and radish. Before the bigger plant will need the space, the small one will be harvested, but you will not have to pull weeds in the process.
If the ground is not covered by useful plants or mulch, the weeds will try to take over. It's a natural mechanism to protect the soil from the heat of the sun. Read more about weeds at how to deal with garden weeds.
Also, get yourself some knee pads or a bench to make the planting more enjoyable.
5. Simplify composting
Composting can be a lot of work in an organic garden. It does not have to be, though. There are easy ways to simplify composting.
If you have chickens, let them do the work. A true deep litter method creates great compost. All the garden waste is processed by the chickens.
A tip from the Russian growers that we haven't tried ourselves, but I thought is worth sharing: turn a potato bed into a passive compost pile. Potatoes need to be hilled anyways, why not hill them with garden waste? They will not mind and grow tall and cover the mess nicely. When done, cover the messy bed with some weed control fabric. Next spring it will be a great squash bed. Squash likes to have warm feet, if there is still composting happening it will make the plants even happier. Now plant your potatoes in another bed that needs some soil improvement.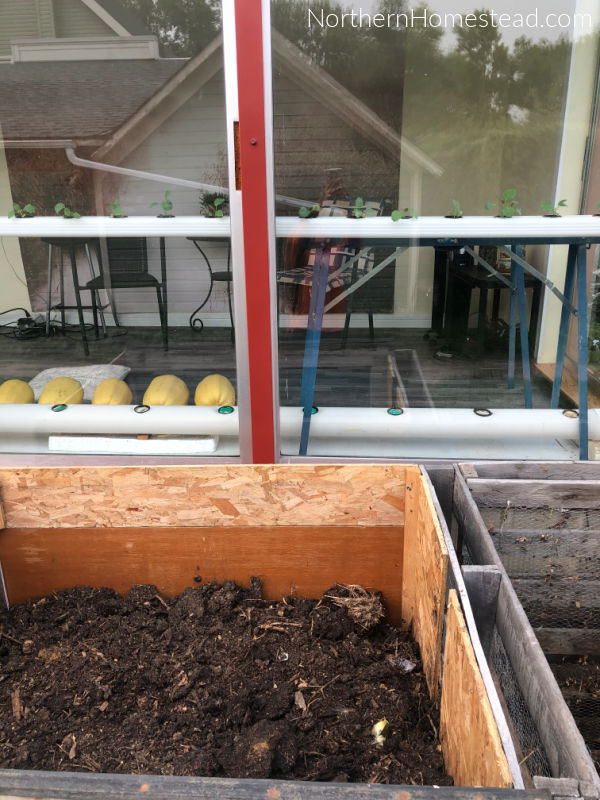 Or build two to three compost bins out of old pallets or building scraps. While one is getting filled, the other one has time to mature. In a cold climate, everything takes a bit longer, since the bins are frozen a good portion of the year. Layering green and brown will prevent the bin from smelling and it will compost on its own, just give it enough time. Ariel at Fy Nyth shares great results in a similar cold climate.
6. Simplify watering
A well-mulched garden does not need as much watering. The mulch helps to keep moisture in the soil. Watering, in most cases, is not needed any longer. See also how to water your vegetable garden.
However, sometimes our spring is very dry, so establishing young plants can be challenging. When transplanting seedlings, water the hole before planting the seedling so the roots will grow deep to reach the water. If you plant the seedling into a dry hole and water from above, the plant will develop shallow roots, always looking for more water. Deep watering young plants helps them find moisture in deep soil on their own.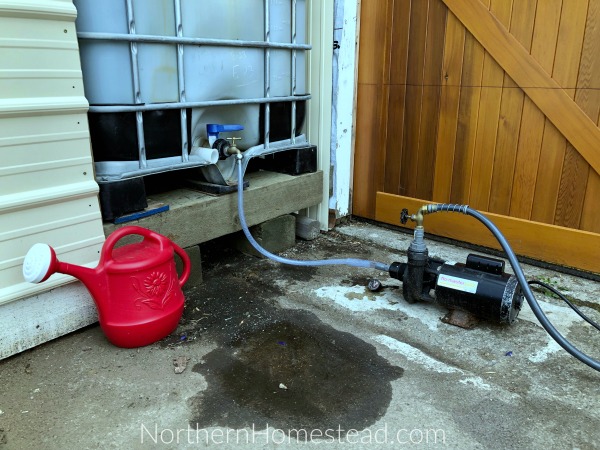 To simplify watering we installed rainwater harvesting for use in the garden with hoses and pomp so that we can easily reach the last corner of the garden. We have played around with drip systems, but have not found them simpler for our needs than a hose.
7. Be consistent
Even an easy garden does not get done by sitting in a rocking chair. No, you have to go out there and do something. As you see, there is not much to do. But little by little, if not taken care of, it accumulates.
The key is to be consistent.
If you spend about 20-60 minutes each day in your garden, you will never have to work your garden hard. Plant a bit, harvest a bit, and take care of some weeds, some compost, and some pruning. I personally hardly ever work beyond having fun. Come join me by becoming an easy gardener as well. You will see how much fun and rewarding gardening can be.
Here is some good information on less-work gardening methods.
We would love to hear from you, about how you simplify gardening.
We invite you to subscribe to Northern Homestead and follow us on Instagram, Facebook, or Pinterest for the latest updates.
More Posts You Might Enjoy