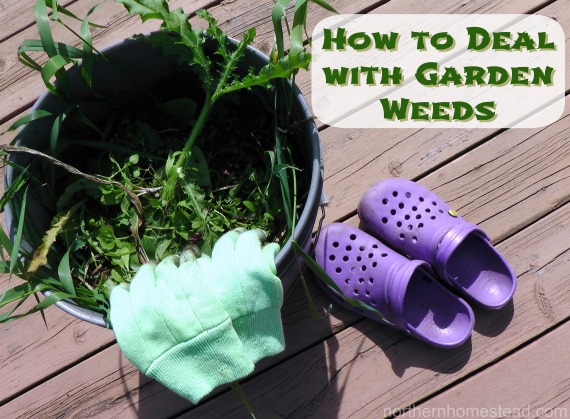 Do you agree that there would be a lot more gardeners if there weren't any weeds? At least more gardeners would enjoy what they are doing. "It grows like a weed" is a saying to describe what is thriving. In fact, the weeds always seems to be there. How to deal with garden weeds in order not to lose the joy of gardening? I try to go with the weeds, not against them. What do I mean by that?
1 Change your attitude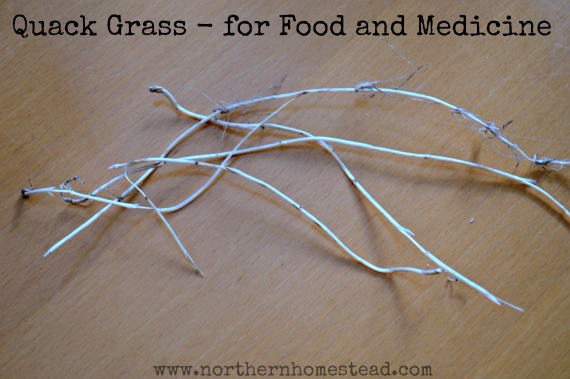 Did you know that most weeds that we see as weeds are not weeds at all? They are health plants. For example dandelion is one of the most nutritious plant. Always make sure to leave some deep rooted dandelions. They will bring moisture and nutrients up to more shallow rooted plants. Quack grass is a health plants as well. What makes beneficial weeds so nasty is their ability to thrive and reproduce. In itself though they are great for the garden, for the bees, and our health. Get to know some of the health benefits for common weeds and it will help you to see weeds more relaxed, even somehow enjoy them. A great read: Backyard Medicine: Harvest and Make Your Own Herbal Remedies
. Start using some of them for healthy teas for yourself and the garden. It will help you to have a more positive attitude towards weeds, even the real once.
2. Prevent weeds
As with most problems, prevention is the best course of action. This is no different with weeds. Even if the weeds are always there and will be always there, you can keep them largely in check by:
Leaving no space for the weeds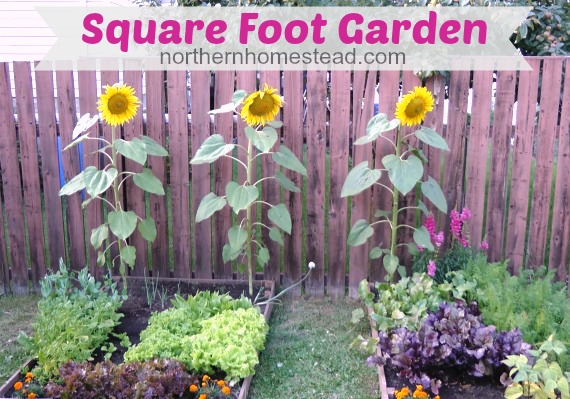 The more space you leave between the plants the more the weeds can unfold. The Square Foot Garden
– planting system is helpful to space plants so that there is no room left for weeds to grow.
Cover the soil
If you cover the soil with some kind of cover weeds will not grow as much as they do without mulching.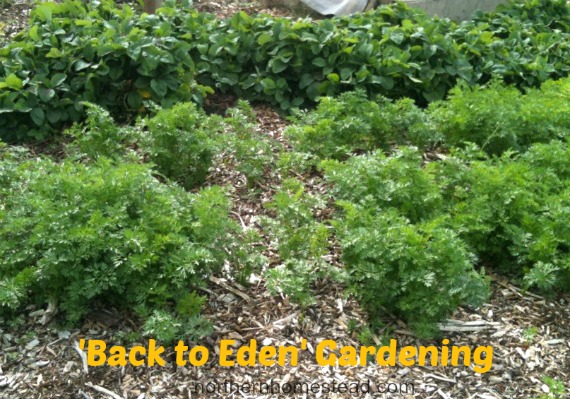 Natural mulch like wood cheeps, grass clippings, straw or hay are all great for the garden. The mulch will prevent weeds from growing and keep the soil moist.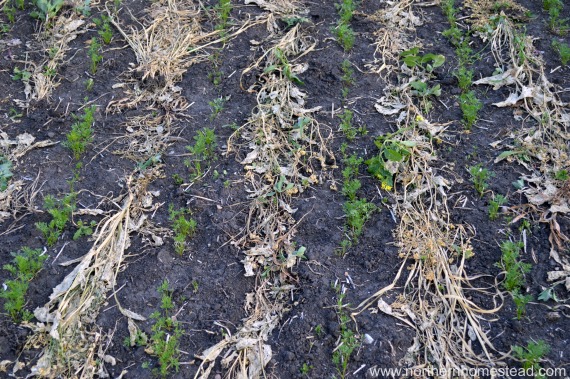 Use the weeds to mulch the garden. Pull the weeds by hand and lay them down between the rows. If new weeds grow do the same. This is also called Chop-N-Drop – Mulching Permaculture Style. Permaculturists like to grow specific plants to mulch with, but eh, weeds are all already there. Just mulch with weeds.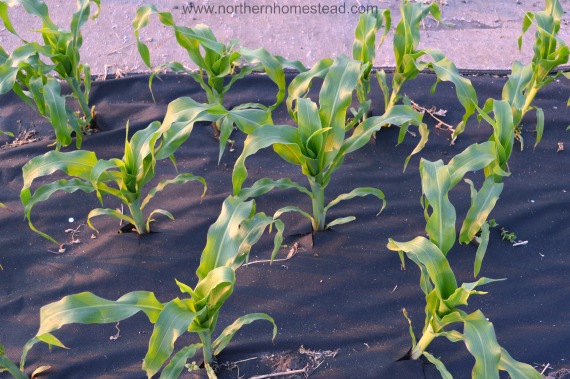 Cover the soil with Weed Control Fabric. This is especially great in cool climates for heat loving plants, since the black cover will warm up the soil. But remember, you do not want to use weed control fabric permanently under some mulch, just on top of the soil as mulch.
Make a weed barrier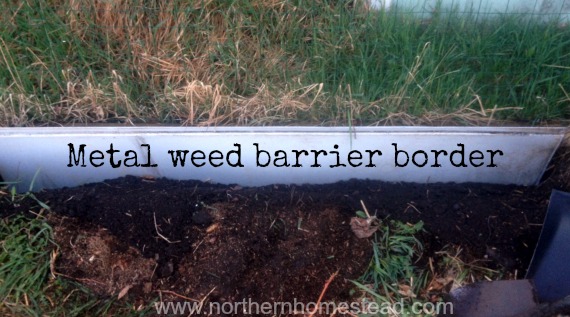 Some weeds are more aggressive then others. If you have lots of weeds that spread by roots (Like Quack grass), it is helpful to separate the garden from the rest, by installing a weed barrier border, about a foot deep. This will help to have less of these weeds in the garden.
Never let weeds go to seeds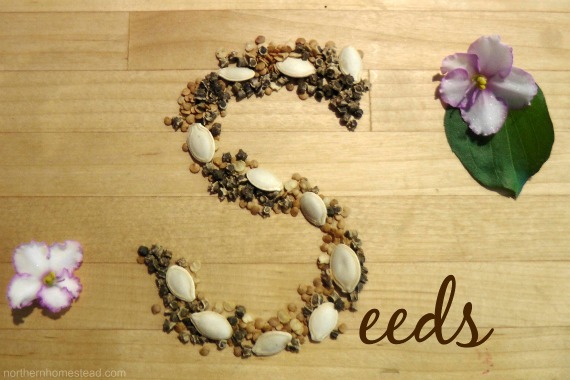 It's OK to have some weeds, but you should be careful that they do not bear seeds. One weed brings hundreds of seeds. Especially at the end of the season one is tempted just to let it go. What you are actually doing is seeding a garden of weeds! But if you give the weeds no chance to go to seeds you will see how much less weeds there will be next year.
3. Weed by hand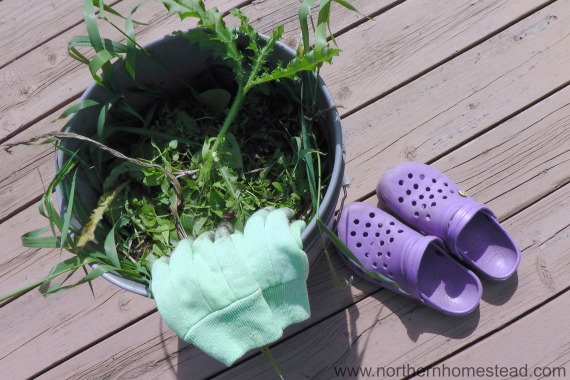 A fresh hoed garden looks very nice. However, hoeing breaks up the soil and more and more seeds come to the surface and germinate. Even worse is hoeing for deep rooted weeds. The more you chop the roots the more plants are propagated. The weeds that you pull by hand and use as mulch or collect in the bucket are gone! If you have chickens, feed the weeds to the chickens, they will give you even yummier eggs. If you do not have chickens and do not want to use weeds as mulch, you can fill that bucket of weeds with water and make some nutritious tea for the plants. Next time you go into the garden drain out the weeds and water the plants with it, then fill the bucket again, repeating the process. The garden will thrive like never before. Beside, you cant hoe a mulched garden.
4. Kill some weeds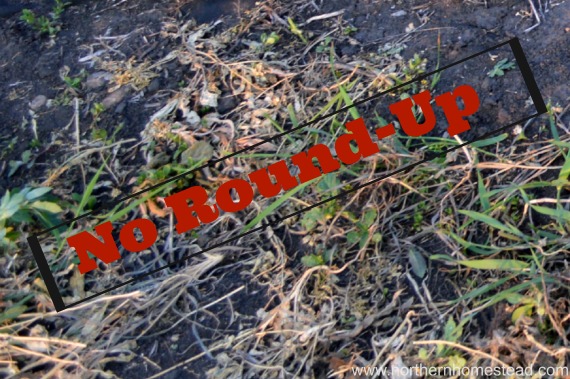 I do not suggest to kill all the weeds. As we have seen many weeds are beneficial and are great companion plants. But sometimes you just have to kill some weeds. The best way to kill weeds or any plant for this matter is by cutting of the top. A plant that has no leaves above the ground will die. It simply starves the roots to death because no photosynthesis is taking place. No round up is needed. Read how dangerous Round-up herbicide is, so please do not use it!
5. Be consistent
On a beautiful summer morning it is a real joy to go into the garden to see the plants and to weed some weeds. No, not weed the whole garden. Just set yourself small goals, such as one bed, one row or a bucket filled with weeds. It helps not to see the weeds as an overwhelming evil, but to celebrate small successes. Then you will enjoy doing it again. If you weed regularly a little bit, you will never have to weed the whole garden.
6. Be Yourself
We are all different, some of us have lots of energy and some are more laidback. Weed your garden according to your energy type.
If you a fun lowing person, make your weeding fun. Don't plant single boring rows, plant beds with flowers and vegetables together so weeding will be fun.
If you are a connecting, flowing person (that's me), connect weeding to something more meaningful. As I mentioned before, for me weeds are a special treat for my chicken girls. The connection between weeds (negative) and treats (positive) makes weeding a great activity.
If you are a go-getter, make weeding a project, you are the one that loves a row garden and will weed it in one go and admire the outcome.
If you are a perfectionist you will make a plan to do it just right and on time. A fun, connected garden sounds ridiculous to you. But that's just your personality.
You want to find your personality type, go here.
7. Be realistic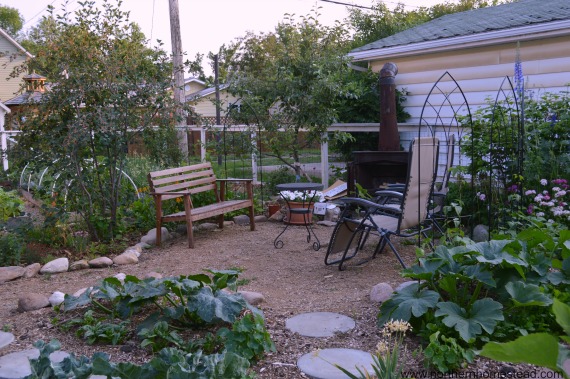 Just because aunt X has no weeds (at least not visible), it does not mean that you and I shouldn't have any. It is only important that you master the weeds and not the other way around. With these 6 easy tips of how to deal with garden weeds, weeding can even become rewarding, useful, and fun! Enjoy your garden!
Don't forget to subscribe to Northern Homestead and follow us on Facebook or Pinterest for the latest updates.

More Gardening Posts You Might Enjoy: