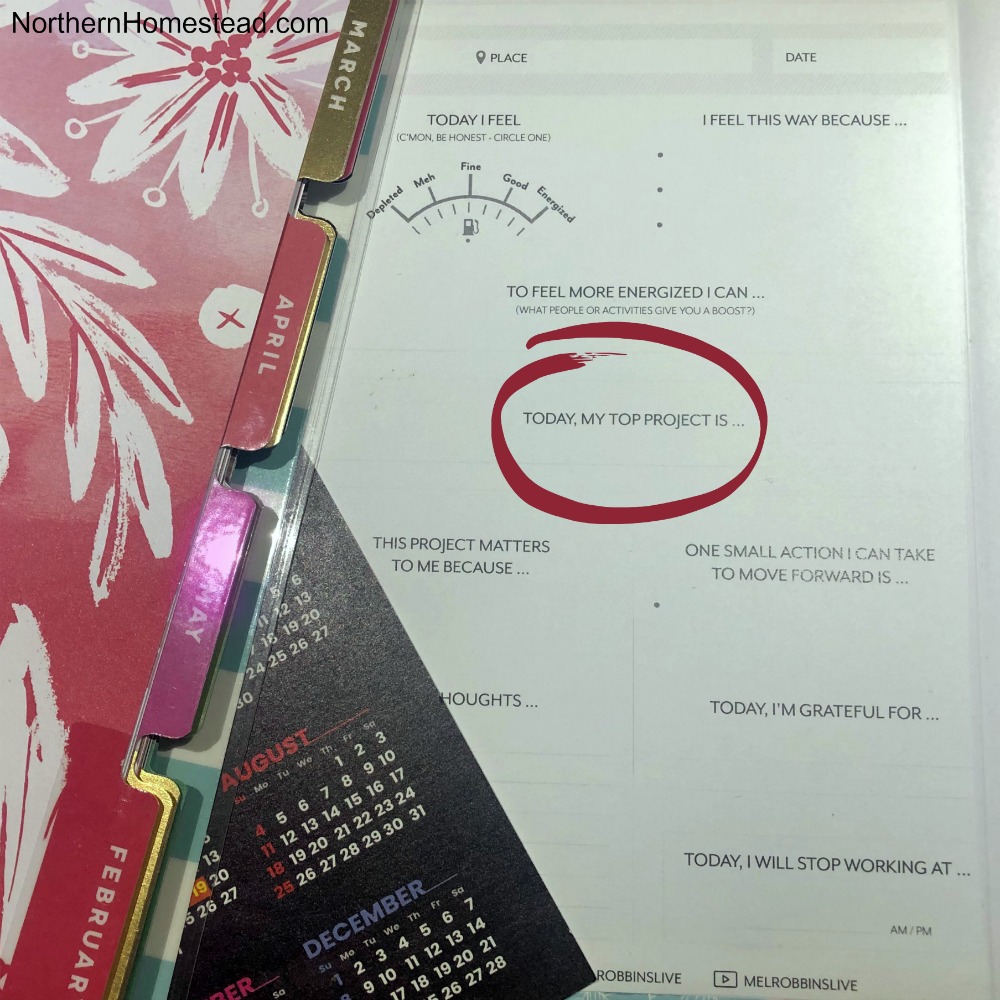 Do you ever feel like there are never enough hours in a day to keep up with the garden, harvest, homestead, and household responsibilities? If you're looking for a management tip to help you accomplish more and feel better about it, here's one: focus on making progress on one important thing each day, your top priority project.
For years, I have been using this technique in various situations without realizing that it is a scientifically proven method. One morning a video suggestion came up on my YouTube channel: "Focus on one thing a day! Mel Robbins". It caught my attention, and from the entire video, I would say this one-and-a-half minute of her speech is worth watching. Mel Robbins is the author of "The 5 Second rule" book and a very successful motivational speaker.
The Progress Principle
I learned that being focused on something every day is called 'The Progress Principle'. To feel that you are making progress on something that matters and makes you happy, successful, and fulfilled. The nice thing about it is that you do not have to be a powerhouse pushing forward 5 things at once to have progress. Because by having small wins you can feel the sense of accomplishment and the confidence to get things done. And it is not just a feeling, the results are measurable.
We are most effective if we sense that we are making progress and are getting things done. Making progress on one thing a day does exactly that. As a result, to focus on one thing a day is empowering.
Throughout our day, we tend to accomplish many tasks, but often these tasks are routine and lack excitement. Additionally, some tasks may be reactive and not proactive, causing us to feel stressed. While we may not be able to avoid reactive tasks, we can choose one project that is important to us and that we genuinely want to pursue. By doing so, we will be more fulfilled and motivated.
How to find the one thing a day
Days can be busy and slip by so quickly with everyday tasks like laundry, making dinner, doing homesteading chores, etc. During the summer months gardening tasks seem to consume all the extra time. Even though there is always something to do, it can seem like there is no accomplishment.
Looking at all the tasks and projects that need to be done, and it can be a long list, what is the one item that would matter to you the most? The one that would make you feel accomplished? The one thing that is a top priority. Work on that one project preferably first thing in the morning.
In The 5 Second Journal, Mel Robins suggests that we also write down why this top project matters, because this way we are more likely to focus on the project we want to accomplish. Now that you know what your top priority is, find this one action that you can do today.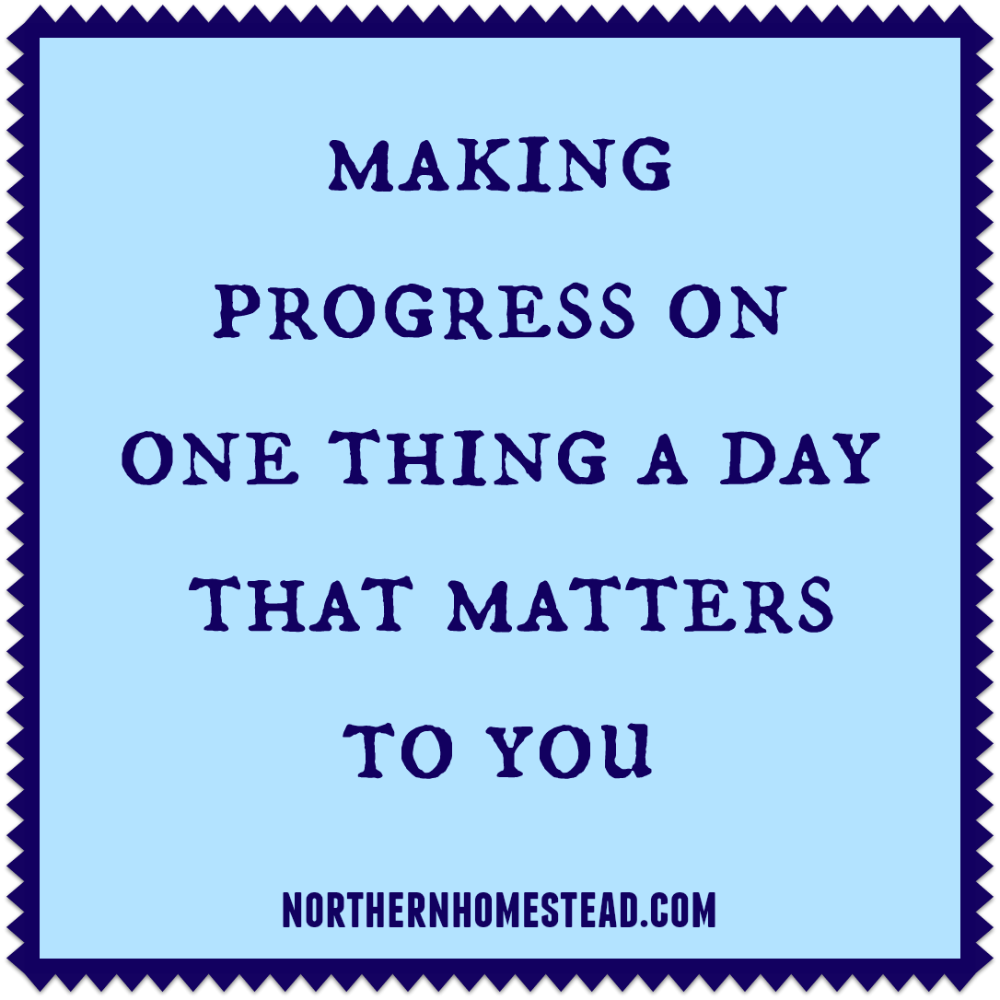 It can also be something that you really do not want to do but it still needs to be done. As the "The FlyLady", Marla Cilley would say: One can do almost anything for 15 minutes a day! Set your timer and work on it, and if you do it every day, you might be surprised at how fast it's completed. Read more about the FlyLady system for homesteading here.
If we consistently engage in actions that contribute to our goals, we will witness progress and feel empowered.
Getting things done on the homestead
During the summer on the homestead, my main focus is growing, harvesting, and preserving food. These tasks cannot be completed in a single day, as plants also take time to grow and ripen. Nature teaches us that progress is made gradually, day by day.
I would like to share some examples from our homestead regarding growing food. You may find further inspiration on the topic in our article titled "Gardening for Weak, Sick, and Lazy Gardeners". I am uncertain whether we fall under the category of weak or lazy gardeners, as we simply prefer to take the easy route.
During the spring season, planting becomes a top priority. It's important not to plant everything at once, but to follow the "one thing a day" principle and spread it out over a period of time. This will also prevent the need to harvest everything at once, making the task more manageable. Read also when to plant what.
When weeding, it's helpful to break the task down into manageable pieces. For example, you could focus on one garden bed per day or aim to fill one bucket with weeds. Read more on how to deal with garden weeds.
The same is true for harvesting. It is advisable to harvest a smaller and more manageable amount of produce daily and either use or preserve it. Here are 5 ways how we preserve food. Bringing in a large amount of harvest can make processing almost impossible. Our focus is not on competition or sharing pictures on social media. Our priority is producing food, rather than seeking recognition.
For example, when the raspberries are in production, picking the raspberries and freezing them for winter is often my one thing a day, to achieve my goal to harvest and preserve food. Our raspberry patch produces at peak times about an ice cream bucket of raspberries a day. That's not much one would think to feel any progress in storing enough food for the winter. But by doing it every day during the raspberry season, we pick and preserve most of the raspberries we consume during the year. And we eat raspberries almost every day.
Canning is also a great way to make progress every day. By filling one canner with five jars per day, we can process 50 jars of home-canned food in just 10 days. We also offer many canning recipes that make about 5 jars. Being consistent pays off, even if you are not able to preserve a lot of food at the moment.
Bigger projects can be divided not just by days but also by years. If you start just one garden bed a year, in 5 years you have 5 garden beds. And soon your whole yard will be turned into a garden.
An effective way to complete tasks is to concentrate on achieving one thing per day. To enhance your productivity, begin by selecting one task each day. Kindly share in the comments section how this strategy has affected your progress.
We invite you to subscribe to Northern Homestead and follow us on Instagram, Facebook, or Pinterest for the latest update.
More posts you might enjoy