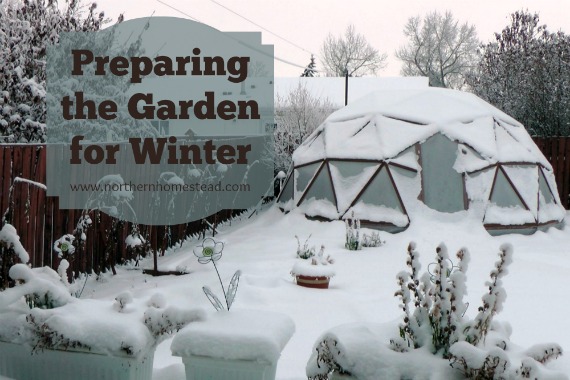 Preparing the garden for winter is important for the garden soil and the perennial plants. We are in Zone 3 meaning winter temperature can drop to -40 degrees. In our particular area, this does not happen very often, but it might happen after a warm spell, where most of the snow melts. Protecting the soil and plants is especially important here.
Know your winter weather. Preparation might be different depending on the weather. Still, you might get some ideas reading the steps we do.
Harvesting and Planting
Before the frost kills everything, we want to make sure that we harvest our produce. After all, that's why we grow a garden, so we can harvest nutritious foods. However, frost does not kill every plant alike. See how different plants react to frost.
Do not rush the harvest!
Cucumbers and summer squash have to be harvested first, they do not tolerate temperatures close to the freezing point. Tomatoes and peppers will be next on the list. See how to ripen green tomatoes indoors.
Last on the list to harvest are the frost-hardy crops. Carrots become sweeter with lover temperature and can be left in the ground with protection even over the winter, learn more at growing food – carrots. Brussels sprouts become more tender after there is a real freeze.
We plant spinach in late summer with the intention to let overwinter in the ground. Spinach survives unprotected (just regular mulch) in our Zone 3 garden. Read more on growing overwintering spinach here.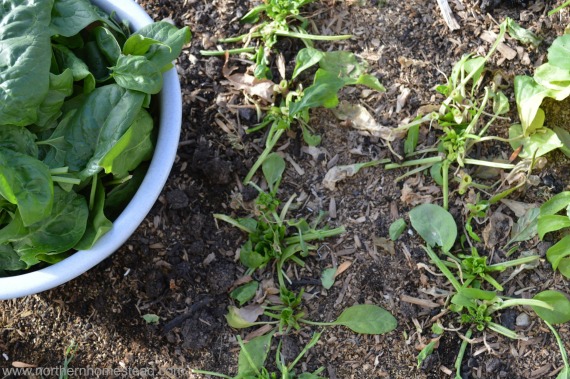 By harvesting greens (herbs and green onions too), cut the tops and leave the roots in the ground. You never know how many will survive the winter and continue to grow in spring. These greens will provide you with early salads and will protect the soil from weed overgrowth long before you can start planting.
We let herbs like cilantro and dill go to seed intentionally. They seem to grow better than planted in spring.
Garlic is planted a few weeks before the ground freezes. You can read all about it in Growing food – Garlic.
Only when outdoor temperatures drop to -10°C (14°F) do we consider the garden and greenhouse done for the season. Read also how to prepare the greenhouse for winter.
If your area does not get temperatures that low, or it is just an unusual event, you can keep harvesting all winter long. Learn more about it: The Winter Harvest Handbook: Year Round Vegetable Production
. Here at Northern Homestead, we talk about winters that are much colder than that.
Cleaning the garden
Cleaning the garden is much overrated, read more below about covering the soil. It is better for the garden, the insects, and your back if you leave most of the cleaning till spring.
Here at Northern Homestead, we like to get out and into the compost most of the annual plants, simply because they tend to make a big mess, so it is good to clean them up. This way, the annual garden is also ready to be mulched, read more about it below.
Legumes (peas, beans, peanuts, lentils, alfalfa) are nitrogen fixers. In order to take advantage of this wonderful natural fertilizer, we cut off the tops and toss them into the compost pile, but leave the roots in the ground.
Perennial plants are mostly left as they are in the garden. We do not worry about cutting back all perennials or cleaning up the leaves, plants survive the harsh winters better if we leave both.
We do however cut back most seed pods of the perennials, otherwise, they will seed themselves all over the garden.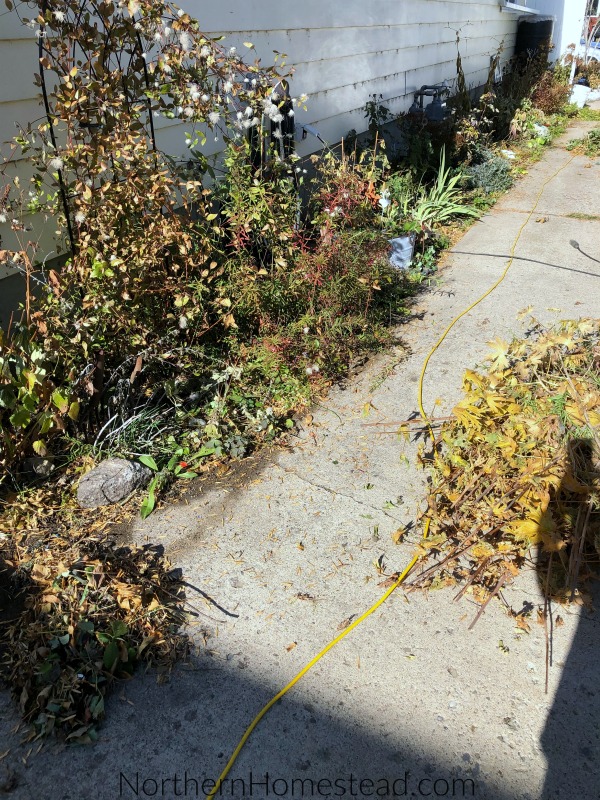 Also, when cleaning the perennial garden, we think about snow removal. Anything that reaches into a path, is cut back, and we cut back perennials that are in the way of piling up snow.
The majority of plants though are left right where and how they are, along with fall leaves that naturally protect the soil and provide a hiding place for beneficial insects during the winter.
Cover the garden soil
The garden soil is our most valuable matter in the garden. To protect it is a high priority.
This is a controversial topic because I know many nice people, caring people, even good friends who instead of covering the soil, till it. Some do it unknowingly, others because that's the way they always did it. Others because they like it this way.
Too often gardens at the end of the season look like this: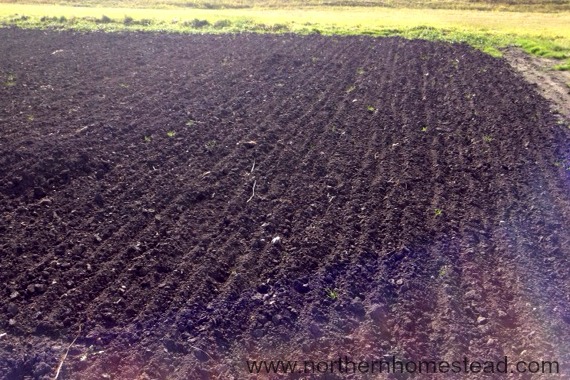 No, this is not spring, this is fall. Does your garden look like this? If yes, you might be on your best way to ruin your garden soil. Read more here: To till or not to till the garden.
Think about this, leaves fall to the ground in autumn. I am sure the purpose is not to make a mess for us to clean up. The leaves cover the soil keeping it warm and nurturing it at the same time.
Garden soil is a living organism, it gets cold too. A garden clean and exposed for the winter will struggle. Microorganisms will die. Worms will look for a new home. Beneficial insects will leave your garden. And part of the soil will be blown away by the wind and will lead to soil erosion.
However, if we cover the garden the soil will get better year after year.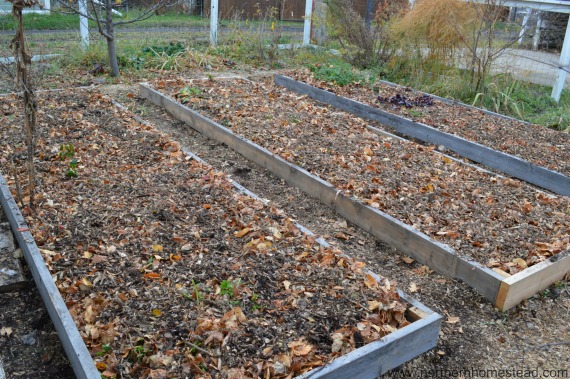 How much material and what to use for a cover you might ask?
The best and easiest cover to work with is compost. It can be an all plant compost or a mixture of well-rotted manure and compost. You will need annually about 1in/3cm.
In dry climates, wood chips work well for mulch, make sure you use the right wood chips for the garden because you will be planting into them in spring. Add annually about 1in/3 cm.
You can also use shredded leaves or hey the Ruth Stout method way.
The best material is the one that is available to you. As a rule of thumb, you need annually about 1 inch 3cm of compacted material. So if you use more loose material like hey, add more.
Experienced gardeners living in the mountains of Kluane in the Yukon Territory shared with us: "We use a blending of bio-intensive, permaculture, and no-till on our homestead. Our experience over time in our garden has shown us that any mulch other than compost needs to be applied after the plants reach a certain size in early summer. When we leave other mulches covering our beds over winter we provide nesting habitat for mice and especially voles that explode in population and cause a great deal of damage to our garden. As well, mulch applied in autumn or spring has created major cutworm issues for us. There is no doubt that no-till with mulching has many benefits for soil health and structure, but like any gardening method, there are some limitations".
Keep in mind that there is no need to turn the soil either in the fall or in spring. A covered garden turns into a no-till garden right away.
Cover perennial plants
Covering the garden soil also helps the perennial plants to survive the winter cold better. Mulching helps to prevent winter kill. If you have tender perennials, gather more leaves around them.
We cover our blackberries, kiwi, grapes, and lavender plants with bags filled with leaves. These leaves are great all summer for composting, too.
Strawberries can be buried under mulch. In spring only healthy plants will make it through the cover, making a healthier patch. Most years we leave strawberries uncovered though. Just whatever leaves accumulate around them.
Most of the perennials are covered with leaves falling and blowing around. We simply don't clean, and they are automatically covered.
Water trees, shrubs, and perennial plants
When putting trees, shrubs, and perennial plants to sleep in the autumn, we want them to have a frozen root ball. That way when they wake up in the springtime the roots will have access to moisture. Since water collecting systems need to be emptied for the winter anyway, this is a good use for it.
Note, you don't want to water the plants too early, it might prevent them from going dormant. Water just before the ground freezes.
As soon as snow covers the ground, it is also a good idea to hill up some snow around precious plants. Snow protects and also gives much-needed moisture in the spring.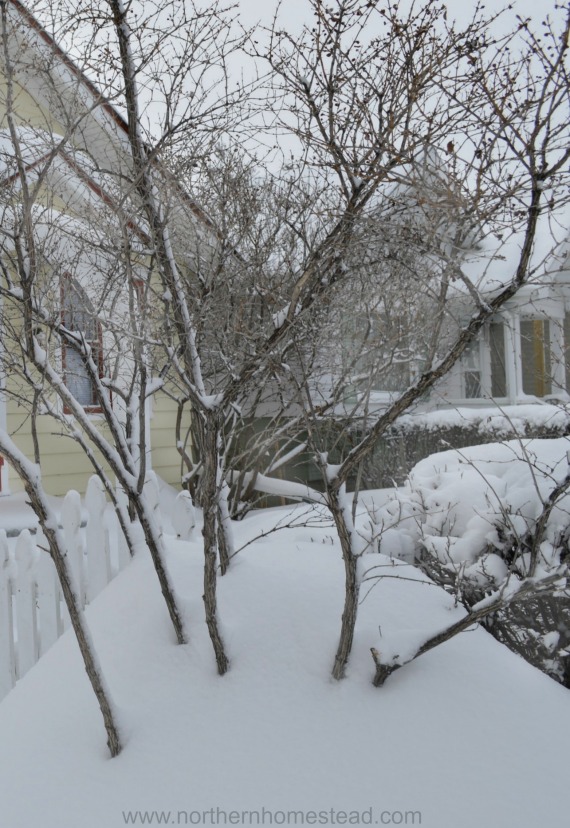 It sounds like a lot of work, it is actually not. Nature is in our favor if we work with it. Harvest, cover, and water – preparing the garden for winter is easy, but still very important!
If your weather allows you to continue to grow a garden even in the winter, here are some inspiring books for winter gardening: The Winter Harvest Handbook, Backyard Winter Gardening, Year-round Vegetable Gardening.
We invite you to subscribe to Northern Homestead and follow us on Instagram, Facebook or Pinterest for the latest updates.
More posts you might enjoy