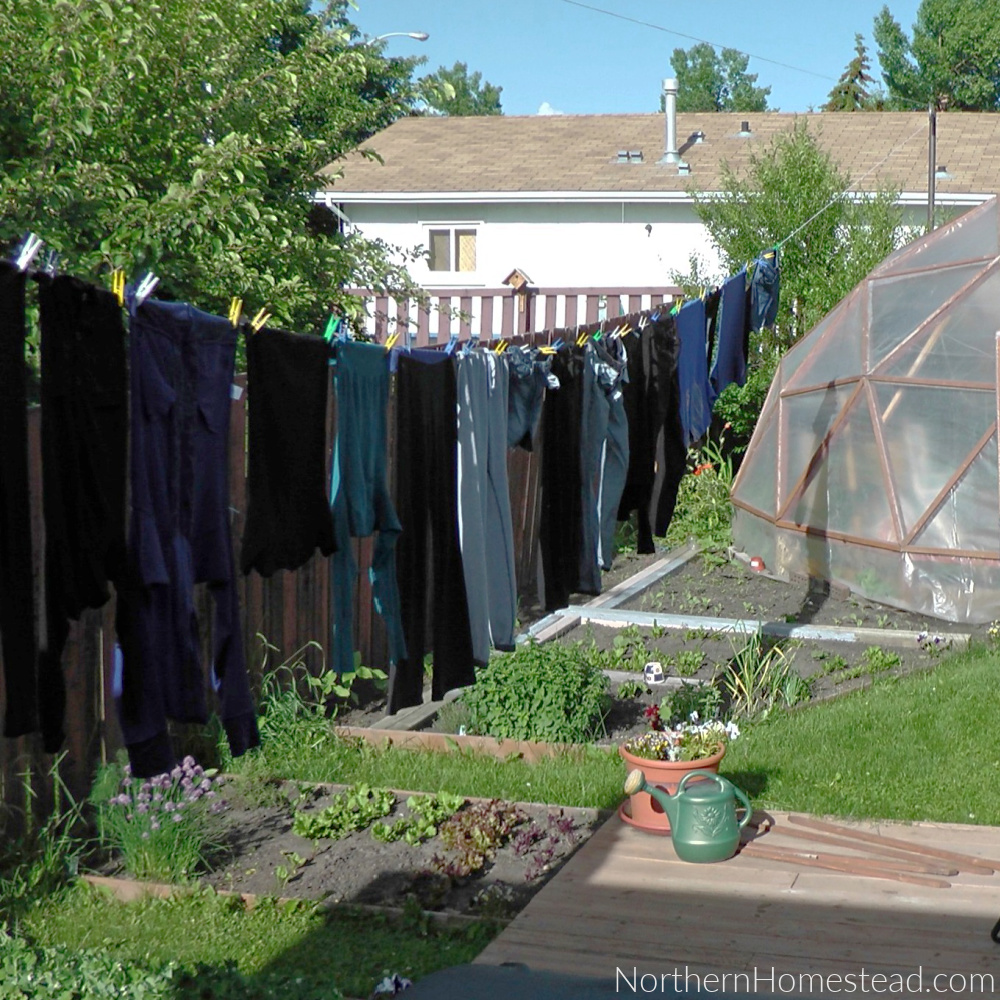 With utility costs rising, line dry laundry is becoming interesting again. Growing up I did not know there was another way of drying laundry except line drying. Maybe growing up you did not know there is another way than a dryer. That's how things have changed. Anyway, if you want to know how to line dry laundry, you came to the right place. Here is everything you need to know about line-drying laundry.
Why line dry laundry
I have been line-drying all our clothes all my life. It started with helping my mother to hang laundry as soon as I could reach the cloth line that was running through our garden. We would line dry year-round in the heat of summer as well as the frost of winter. In the winter the laundry would often freezer dry. We simply had no other option.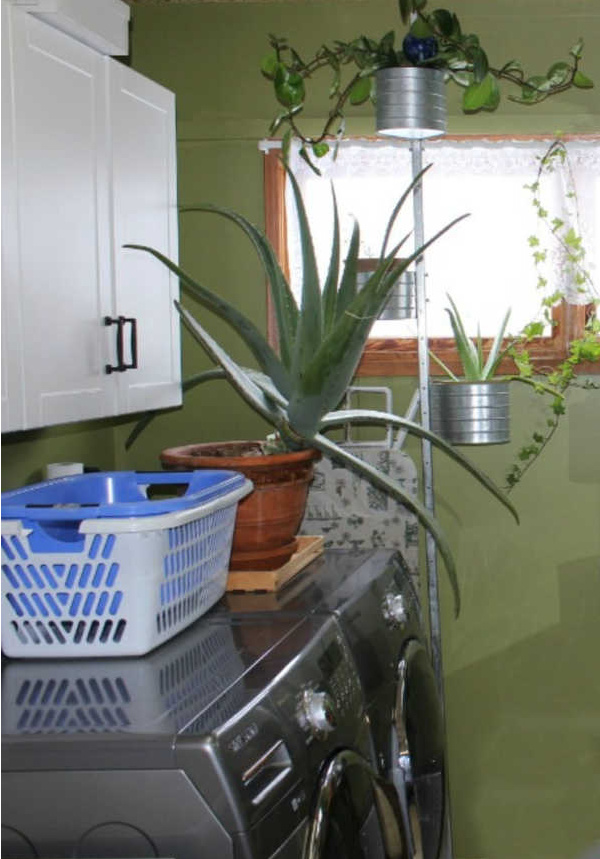 Today there is another option, the dryer is a very convenient appliance right along with the washing machine and dishwasher. Having the option to choose, we still line-dry all our clothing. We use the dryer for towels and bedding though. It is not that those things can not be also line dried, they can, but need a bit more room. I also love the softness of the towels that have been in the dryer.
On the other hand, for clothing, we prefer line drying. It could be just habit, but line-dried clothing has a different smell and feel that we like. Line-dried clothing also lasts longer, which goes very much with my Type 2 nature. If I love something, I want to wear it for a very long time.
Line drying of course saves a lot of energy, it is better for our budget and the planet. It is very much possible to not use a dryer at all, personally, we are more for a middle way.
To line dry laundry is simply a good homesteading practice. If something can be done the simple way, why not do it?
What you need to line dry laundry
Line dry laundry is not difficult, but you do need a space for it. Laundry can be dried as well outdoors as indoors.
1. Outdoors
Drying laundry outdoors is the most common practice. Laundry dries very quickly on a sunny day, and it is nice to be able to hang laundry outdoors to dry.
Drying laundry in fresh air and sunshine also sanitizes the laundry. Some stains go away when exposed to sunlight.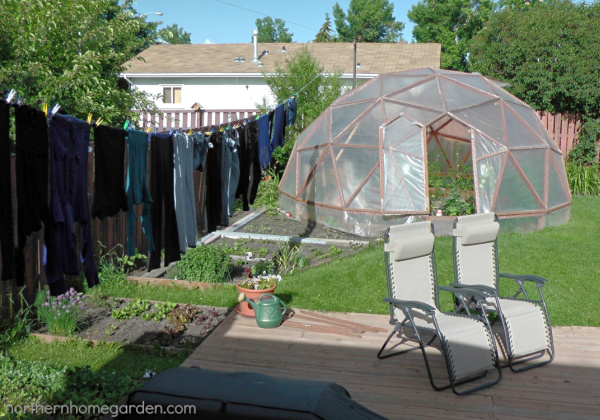 Over the years I have used many different setups. An old-fashioned Ben-More clothesline is probably my favorite, if there is room for a long line, go for it. And there is something nostalgic about a clothesline across the yard. That would also be my first choice if I wanted to line-dry everything, including bedding and towels.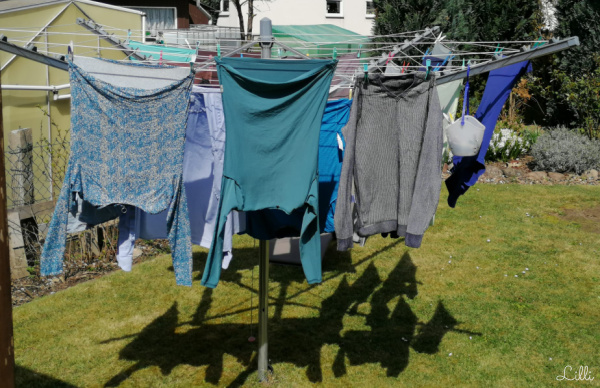 An outdoor clothes rotary dryer works well too. However, do not go for a portable, unless your area gets no wind at all. It has to be installed in concrete to be stable and stay in place in the wind.
A clothes drying rack has the advantage that it can be used indoors and outdoors, and even be moved if needed. If not in use, it can be folded and the rack takes up very little space. It is also a great rack to air out pillows or lay out a blanket. We get so many uses out of it, that I think no homestead should be without a drying rack.
In small spaces like a balcony, a retractable clothesline is great, we have used one indoors and outdoors.
To protect clothing to be carried away by the wind, you will need some Clothes Pegs that come in many different shapes and colors. Environmentally friendly the wooden clothes pegs would be top, but they tend to discolor, and even stain the laundry. Since pegs last a very long time, we prefer using plastic Clothespins. The clothes pegs can be stored in a basked or clothespin bag.
2. Indoors
When line-drying laundry indoors we have to make sure there is enough airflow. In our very airy climate, we want added moisture. In a humid climate, however, ventilation is key.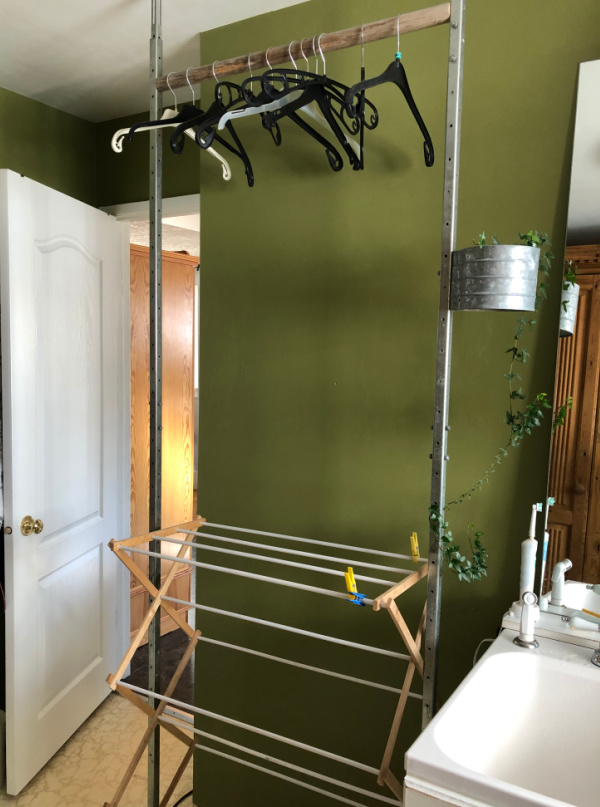 This is our current setup. The area gets enough airflow between the heating shaft and the door. Since there is not so much room, we just have a foldable drying rack and a bar for hangers.
How to hang laundry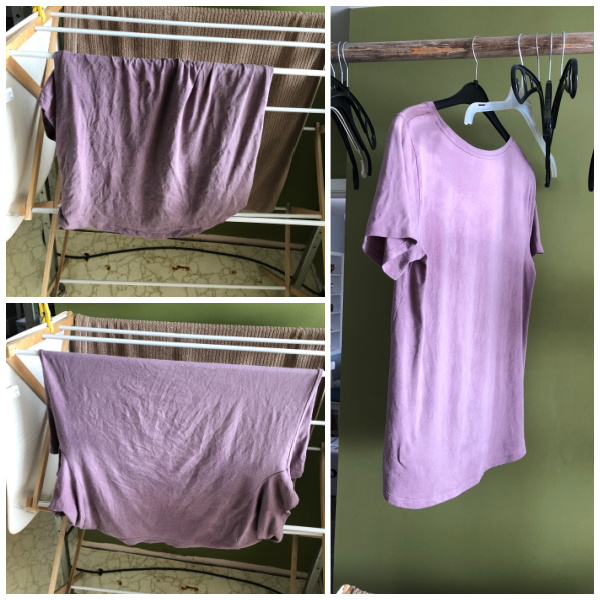 It does matter how you hang laundry. In the example picture, I hang the same shirt in 3 different ways. All of them would dry, however, the hanger example will dry more quicker, and the first example will be very wrinkled.
My practice is when taking out a piece of wet clothing shake it gently so it looks less wrinkled. It also helps to dry a bit quicker.
Tops are easier to dry on hangers, and bottoms on a drying rack.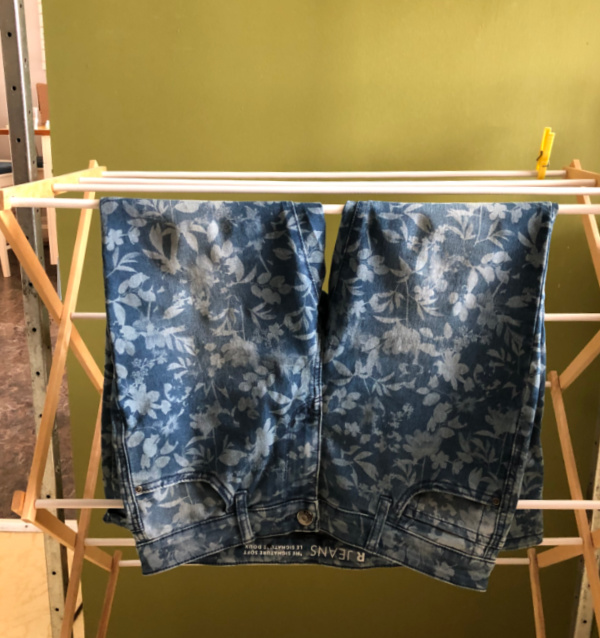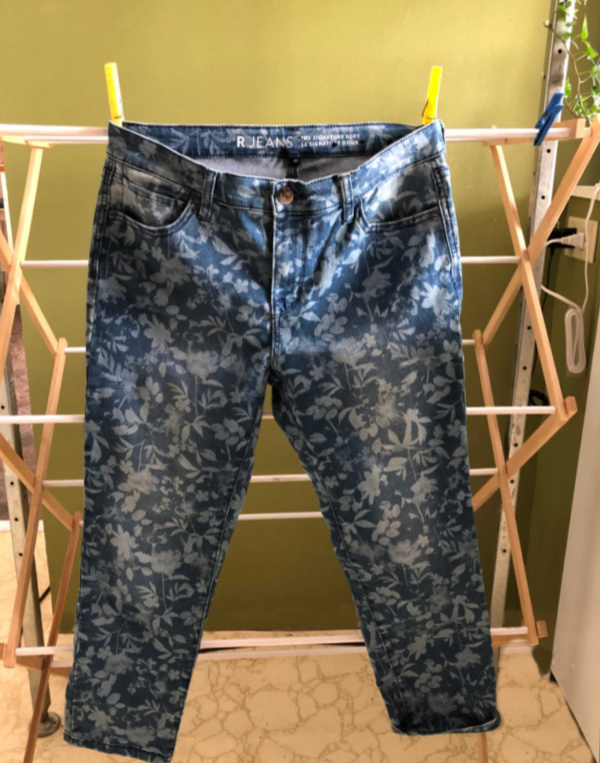 When hanging jeans or any other heavy fabric, making sure there is some airflow inside possibly helps to dry faster as well. If clothing needs too long to dry, it will start to smell musty. How you hang it can make all the difference (see picture above).
Socks, underwear, and small pieces can be hung on a special drying rack.
Towels and bedding need a bit more space. They can be hung folded, but you do want to spread them out as much as possible. Flipping over bigger pieces during the drying process is helpful too.
How to deal with challenges in line-drying your laundry
As great as line-drying your laundry is, it also can represent some challenges. A reader asked about the problem of birds parking on the line and soiling the freshly washed laundry. This is particularly troublesome with a line on pulleys since there is a return line above the one with the laundry on it.
Or there are times when bugs are so abundant, that they stick to everything. Dust can be another challenge if you live on a dusty street, or if air pollution in your area is extreme.
Rain, wind, and sudden changes in the weather can all make line drying complicated.
All of these are things that we have little to no control over. What we can do is move our laundry away from those unfavorable things.
When installing a cloth drying line, make sure to choose a location away from trees, and dust sectors. You might not be able to control birds or bugs, but you can choose a system that works best for your situation.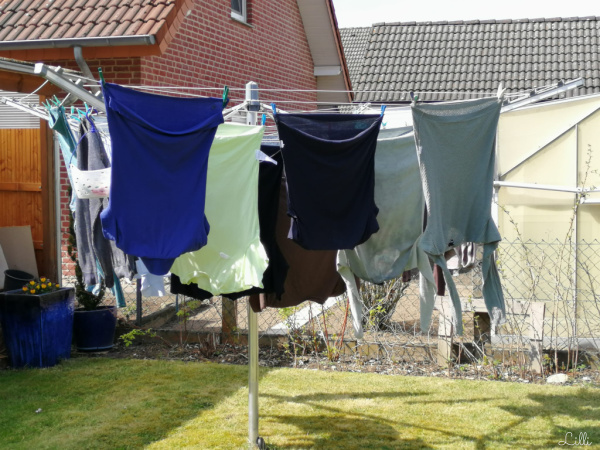 A German friend just recently shared with me that she has given up on her great rotary dryer because the weather in her area is never predictable. Now she uses a rack instead, that she can keep under her covered deck. Rotary dryers are very common in Germany, the picture is from another friend.
In winter laundry can be freeze-dried. After being frozen for a couple of hours it can be taken indoors to get the rest of the moisture out. Be careful not to break the fabric though, if it is stiff frozen.
Indoors the biggest challenge can be moisture build-up. Again, having a movable rack can help, to get a few hours outdoors, and finishing drying indoors can help.
Be creative about the location, from the basement to the attic every place can be used. A greenhouse in the off-season is also a great place.
Most of the line drying practice comes from experience. It depends on humidity and drying equipment. Just start, and after a while, you will see what works best for you. Keep in mind, that airflow is the key.
Happy line drying your laundry.
We invite you to subscribe to Northern Homestead and follow us on Instagram, Facebook, or Pinterest for the latest update.
More posts you might enjoy