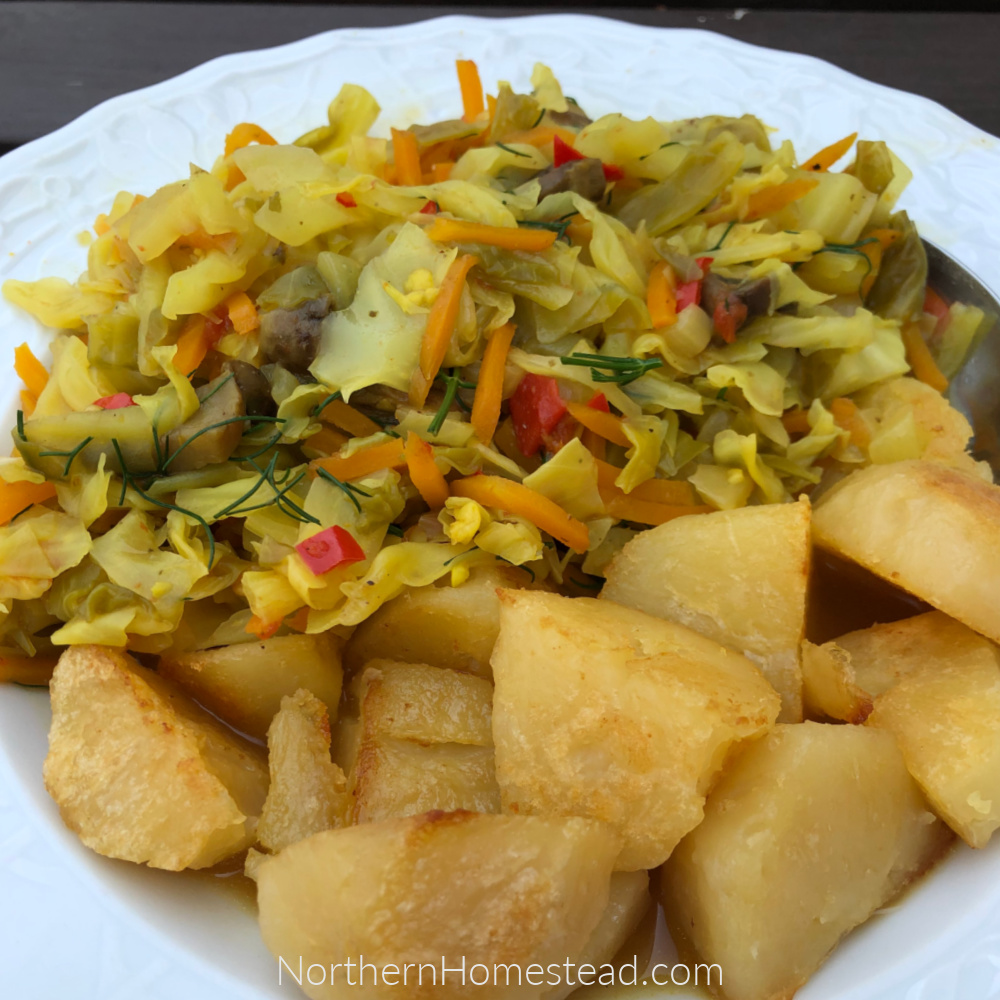 The stewed cabbage is another garden-to-table traditional recipe. It tastes great with summer cabbage fresh from the garden, along with other fresh veggies. That's my favorite way to make it. 
I have yet to have success with growing winter cabbage in our short growing season. If you know of a great short-season winter cabbage variety please let me know in the comments.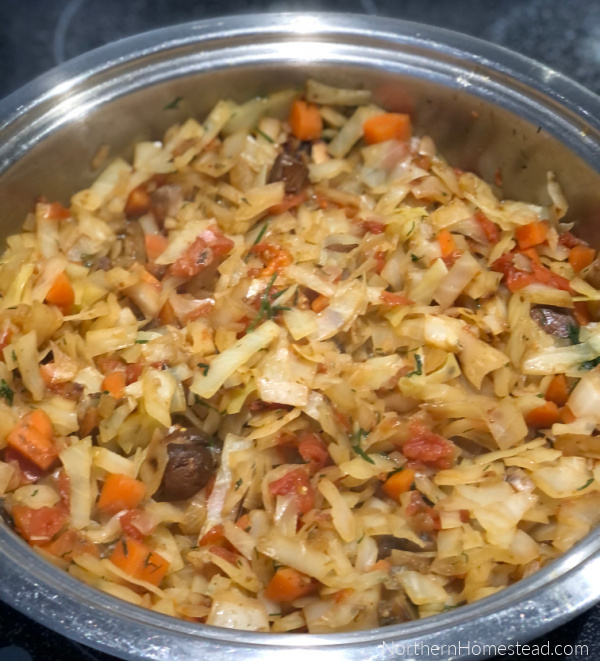 Stewed cabbage also works with winter cabbage, you just have to cook it a bit longer. Speaking about cooking time, my mom would always braise cabbage till well done. The whole dish would turn brown by the time it was finished. Somehow people in the past liked soft cabbage, being it in homemade sauerkraut that was tamped till it was all soft or in cooking. I do not do that as we like crunchy cabbage. However, if you like it well done, you can surely double the cooking time. 
I also use fresh or frozen diced tomatoes, canned work too. Canned tomatoes usually have more acidity, it might be just what you love. Try both options and see what matches your taste. If using canned tomatoes, the liquid from the can might be enough, you would not need broth.
On the same note, I do not add vinegar to the stewed cabbage recipe, again since we like it more sweet than sour. If you always make cabbage with vinegar, go ahead and add some to your taste.
Traditionally mushrooms are not used in stewed cabbage. I love mushrooms and add them to many dishes. It is totally optional, however, I think they make stewed cabbage even better.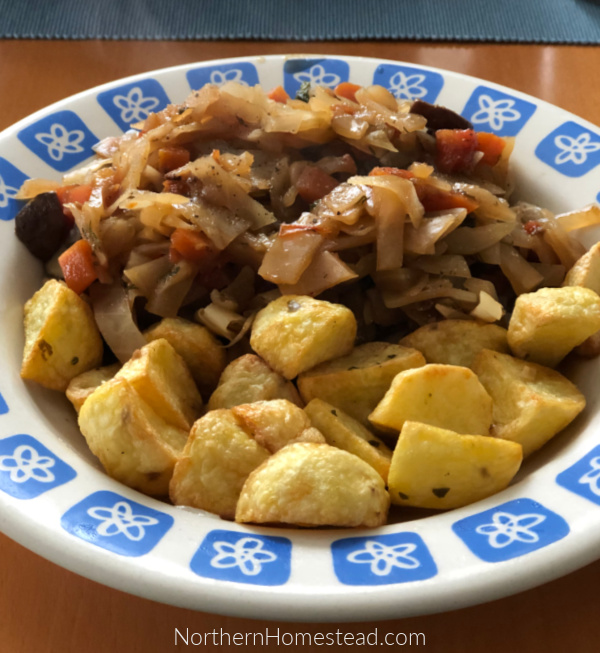 Stewed cabbage goes well with potatoes, pan-, or air-fried as well as mashed. Noodles or rice are other options, it's really up to your preference.
Stewed Cabbage Recipe
Stewed Cabbage Recipe
Author:
Anna @ Northern Homestead
Ingredients
1 onion diced
1-2 crushed garlic cloves
1 carrot chopped or grated
1 pound cabbage sliced
1½ cup tomatoes diced
1-2 tablespoons fresh dill chopped
1 cup vegetable broth
Olive oil to fry optional
4 sliced mushrooms optional
Hot and or black pepper to taste
Salt or Brags liquid amino to taste
Instructions
In a large saucepan on medium heat saute the onions in 1 tablespoon oil or water till glassy
Add garlic, carrots, and mushrooms if using, and saute for 2-3 minutes
steer in the cabbage and tomatoes
add vegetable broth and cover
cook on low heat for 20 minutes or until cabbage is tender to your liking
Season and add fresh dill
We invite you to subscribe to Northern Homestead and follow us on Instagram, Facebook, or Pinterest for more yummy recipes.
More Recipes You Might Enjoy: